GHM appoints new management for upcoming developments
10 January 2017
Team leaders announced for The Chedi Mumbai and Al Bait in Sharjah
SINGAPORE — Three seasoned hoteliers, with deep-rooted understanding of GHM's branding and operating philosophy, have been appointed as the senior management of the luxury hotel management's upcoming projects at The Chedi Mumbai in India and a new brand, Al Bait, in the United Arab Emirates' city of Sharjah.
Said GHM President Hans R. Jenni, "We are excited to see the progress and potential for these two projects, both of which are worthy representations of GHM's enduring philosophies as a luxury resort operator… these fine gentlemen at the respective helms will no doubt set the expected standards that we demand of these hotels in their destinations."
The Chedi Mumbai, India
The 316-room Chedi Mumbai, GHM's highly anticipated hotel opening for 2017, will come under the leadership of Italy-born Giulio D'Alberto, certainly no stranger to the GHM family. Giulio's first encounter with GHM was in 2007 when he was promoted from the Director of Finance role to General Manager of The Chedi Milan, a position he held for more than two years. He returned to the GHM group in 2012 where he was assisting with pre-opening task force activities for new hotels, like The Chedi Andermatt in Switzerland. Giulio's varied roles involved him in development, finance, sales and marketing and even talent management. Giulio was most recently with the Ahn Luh team for the Qiandao Lake project before taking on this exciting project in Mumbai.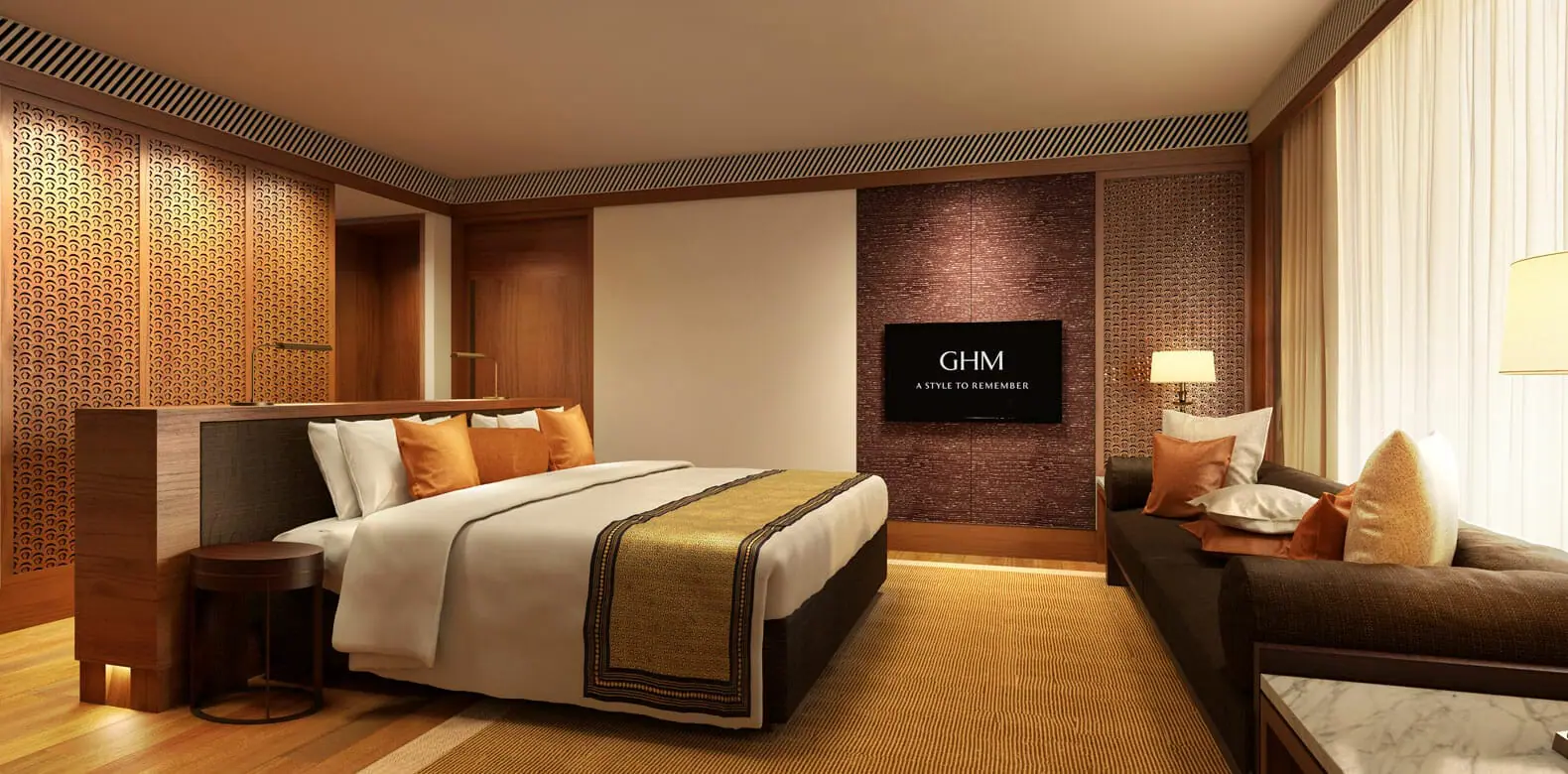 Giulio enthused, "The Chedi Mumbai is a new milestone for GHM. Though it is a hotel in a bustling city, its location in northern Mumbai sets it apart and will showcase GHM's expertise in transforming the hotel into a destination.
Giulio will be supported by another longtime GHM staff – Christoph Girsch, the former Executive Assistant Manager in charge of hotel operations at The Chedi Muscat in Oman. Christoph joined The Chedi Muscat as the resort's Director of Food & Beverage in 2009 and has been instrumental in the numerous awards and accolades won by The Chedi's stable of restaurants. Christoph's role requires him to interact with a large multilingual and multicultural team, participate in marketing-related events on behalf of the property, meet topline budget expectations, all of which further sharpens his management skills. In this appointment as The Chedi Mumbai's Resident Manager, effective from December 2016, not only does Christoph's skillsets complement that of Giulio's, his experience in various aspects of hotel operations and administration will be brought to the fore as they raise the bar for luxury hospitality in India's most dynamic city.
Al Bait Sharjah, UAE
Located in what is considered the cultural hub of the United Arab Emirates, Al Bait in Sharjah will be a distinct luxury accommodation that weaves the emirate's historic fabric into its design and product offering. The 54-room property is set to welcome guests later this year to experience the perfect blending of tradition with modern charms.
Al Bait Sharjah will be headed by Florian Leven, formerly the Resident Manager of the award-winning Nam Hai Hoi An in Central Vietnam. Florian took charge of The Nam Hai's day-to-day operations, focusing on quality control, service and product consistency and staff training. The excellent LQA (Leading Quality Assurance) scores demonstrated by The Nam Hai throughout his supervision are a testament to Florian's spirit of distinction and superior work ethics.
With this promotion and more than 17 years of international hotel experience under his belt, the first-time General Manager remarks, "Al Bait and Sharjah will be a compelling destination for today's travellers – it boasts a rich history, an exotic culture, an unexplored landscape and discoveries waiting to be made by the intrepid seeker. It's a privilege for me to be part of this adventure that GHM is bringing to the industry."
Florian's expertise in the daily hotel operations is complemented by his finance and revenue management background, making him an effective and all-rounded hotelier.
Before joining the GHM team in Vietnam, Florian's work stints had brought him from his home in Germany to Switzerland and then to Hawaii in the USA.
---
ABOUT GHM
Established in 1992, GHM (General Hotel Management Ltd.) is known for conceptualising, developing and operating an exclusive group of hotels and resorts. With an expansive portfolio and more projects in the pipeline, GHM prides itself in providing guests with an unrivalled lifestyle experience.
Each GHM property is an original. A symbiotic relationship between the hotel and the local culture enables GHM to provide guests with a genuine, close-up experience of the best each destination has to offer. The signature GHM style melds contemporary interpretations of Asian designs and distinctive local touches to create inspired, memorable spaces.
GHM's portfolio includes:
GHM properties currently under development:
The Chedi Luštica Bay, Montenegro
The Chedi Ninghai, Zhejiang, China
The Chedi Huangbai Mountain, Henan, China
The Chedi Khorfakkan, Sharjah, UAE
The Chedi Xinchang, China
The Chedi Zhudong, Hsinchu, Taiwan
The Chedi Club Zhudong, Hsinchu, Taiwan
The Chedi Residences Zhudong, Hsinchu, Taiwan
In addition to these, GHM has joined with like-minded partners and entered into meaningful collaborations to deliver innovative brands, continuing its legacy of setting new benchmarks of excellence in the hospitality industry.
Ahn Luh
Ahn Luh is a joint venture partnership forged among Duan Qiang, the co-founder and chairman of Beijing Tourism Group (BTG), Adrian Zecha, the visionary behind Amanresorts, along with Hans R. Jenni, President and Director of GHM and Duan Wei Hong, the founder of Great Ocean Group.
It is a brand that combines the essence of Old World Chinese hospitality in today's context of contemporary elegance, reflecting in its service, architectural design and interior décor, how tradition and modernity can intertwine to present an original, urban resort concept.
The Ahn Luh portfolio includes:
Ahn Luh Zhujiajiao, Shanghai (open)
Ahn Luh Lanting, Shaoxing (2017)
Ahn Luh Qiandao Lake, Hangzhou (2017)
Ahn Luh Yanqi, Beijing (2017)
Ahn Luh Zhangjiajie, Hunan
Tin Hotels
Tin Hotels is a mid-scale hospitality brand providing accommodation that is tasteful as it is affordable. It understands and reflects the lifestyle needs of its customers – one that demands breathtaking designs, the partaking of wholesome foods for one's holistic well-being, a consciousness and appreciation of local art and culture, an awareness of the larger eco-environment – so that its product offerings and services connect each guest to these same ethos, creating a sense of belonging to the Tin Hotels culture.
---
For more information, please visit www.GHMhotels.com or contact:
GHM Public Relations
General Hotel Management Ltd
32 Gilstead Road
Singapore 309075
T  (+65) 6223 3755
F  (+65) 6221 1535
pr@ghmhotels.com