The Unconventional New Wisdom in Sharjah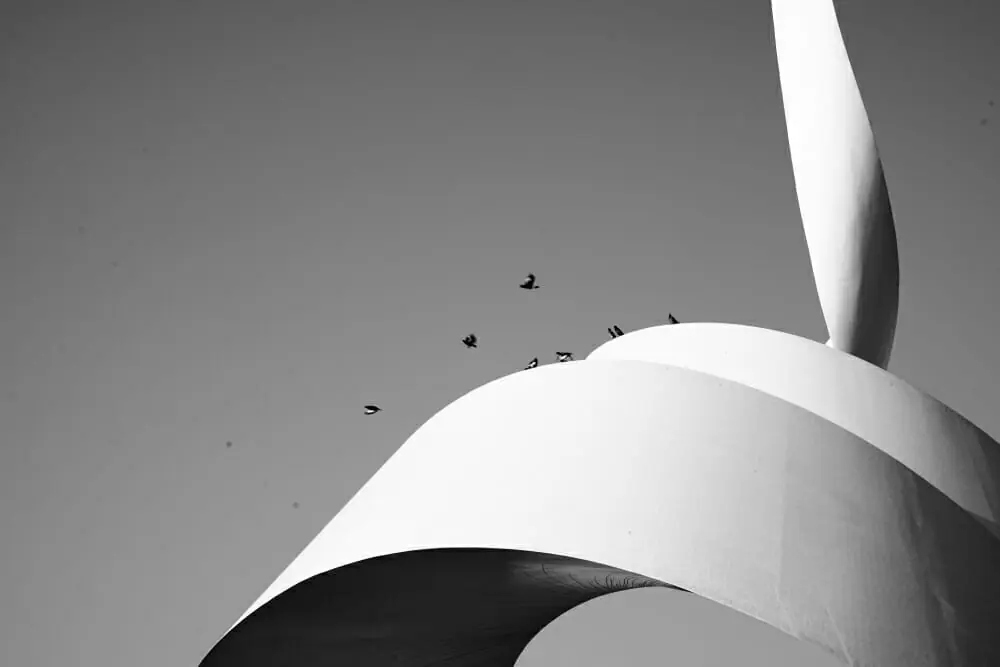 It materialises through the desert haze like a mirage. The sandy scrub that skirts the highway linking Sharjah International Airport with the emirate's main city gives way to a modern architectural masterpiece. Sharjah is regarded as a beacon of culture and enlightenment, and a centre of excellence for education, in the Middle East. And the new House of Wisdom — a library and cultural centre covering an area of more than 12,000 square feet and is home to a staggering 305,000 books — is a worthy addition to the heavy artillery in the emirate's intellectual armoury.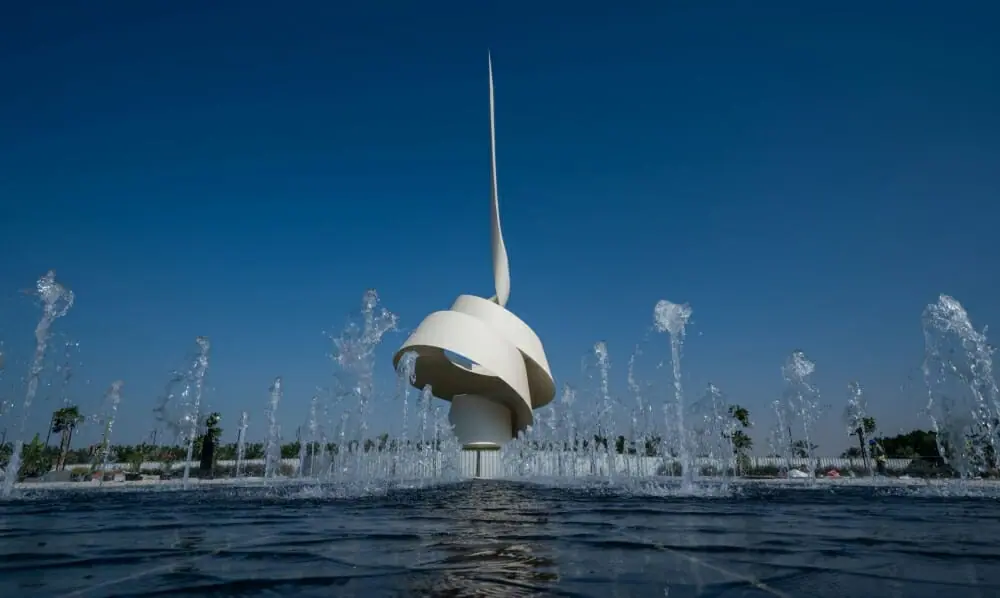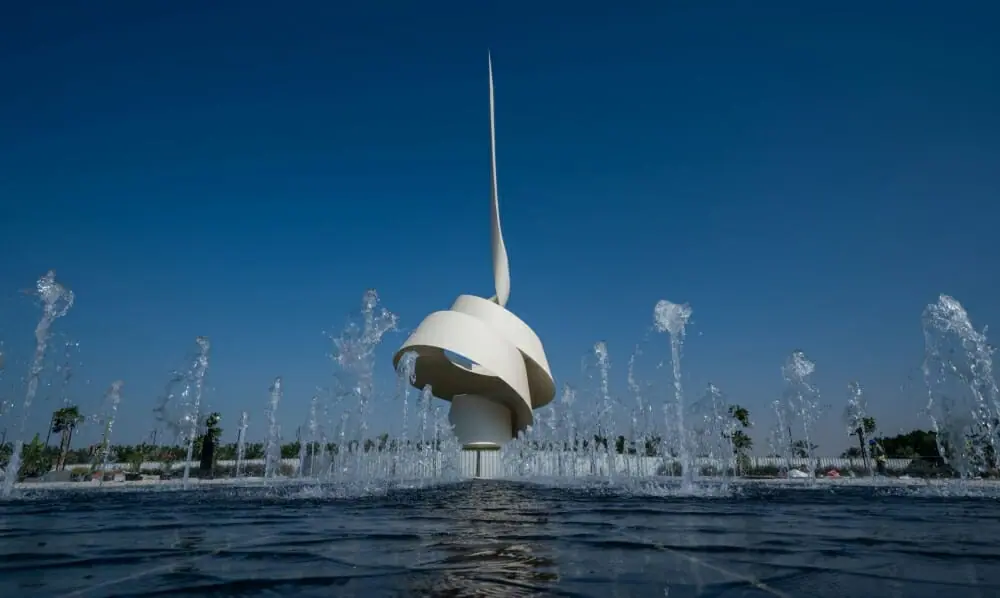 Says Architectural Digest: "In an artistic expression of cultural tolerance and exchange, British artist Gerry Judah's The Scroll is likely to create a few lasting impressions." (Credit: House of Wisdom)
Designed by legendary UK practice Foster + Partners, the two-storey structure is notable for its sense of clarity and lightness. Its facades, meanwhile, are shaded by the building's most striking feature: its large floating roof. Surrounding the building is an oasis of landscaped gardens featuring 331 trees, including fig, ghaf, and palm species, and sculptor Gerry Judah's iconic Scroll monument, designed to look like an ancient Arabic scroll looping 36-metres towards the sky. The facility — "a magnet for curious minds, dreamers and learners", according to Marwa Al Aqroubi, House of Wisdom Director — is a cultural achievement on a par with any in the Middle East, a region that has become synonymous with ambitious public buildings.
To get more insight on Sharjah's latest landmark, GHM Journeys posed some questions to Al Aqroubi and Gerard Evenden, Head of Studio at Foster + Partners.
Q: Sharjah is well known as a centre of learning and culture in the Middle East. How will the House of Wisdom enhance this reputation?
Marwa Al Aqroubi: Conceptualised as a library and social hub for the 21st century, the House of Wisdom is intended to be a futuristic gateway to knowledge and culture and plays a fundamental role in building Sharjah's social capital. Much more than just a library, this interactive and creative space fosters an environment of a lifetime of learning for people of all ages and nationalities. The focus here is on boosting both the formal and non-academic learning of its users, and easing access to education and knowledge for all, paving the path for progress and prosperity.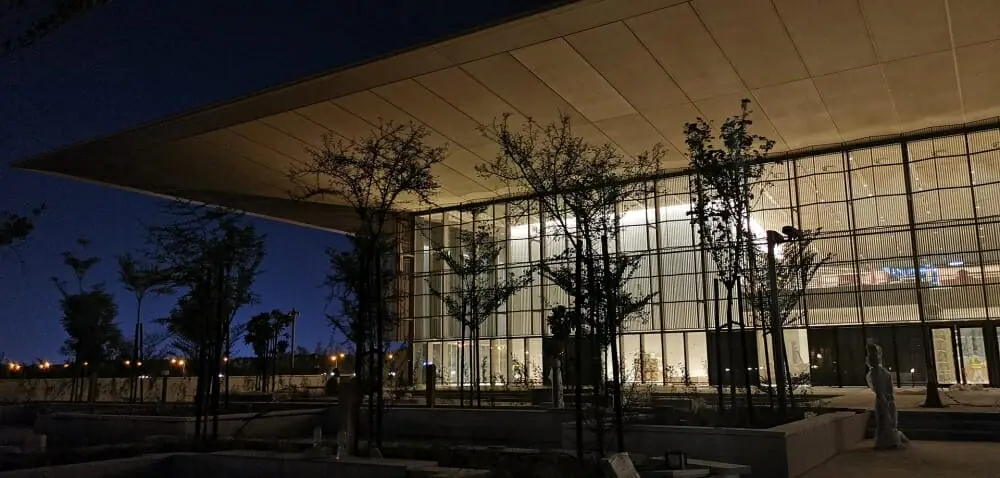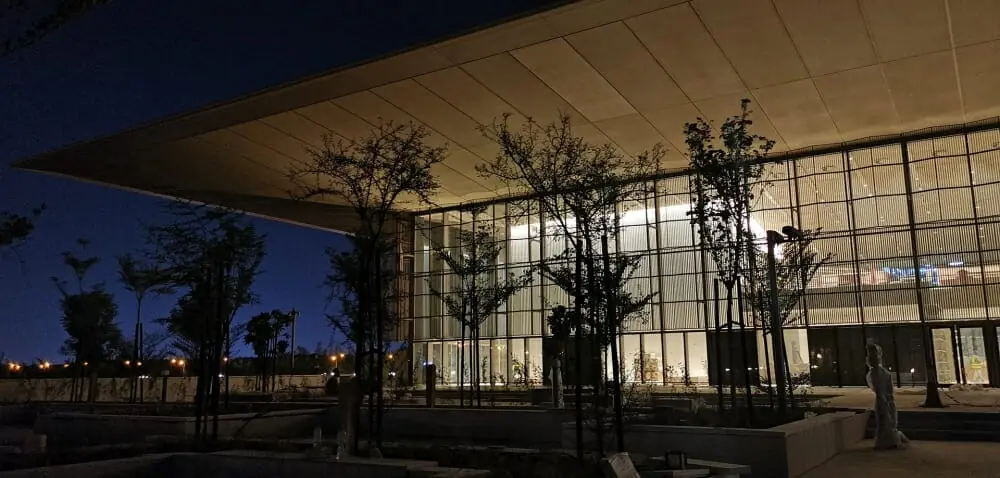 Opened December 9, 2020, the House of Wisdom is a library and cultural center and was designed by the architecture firm Foster + Partners. (Credit: House of Wisdom)
Q: Can you tell us about the design concept for the House of Wisdom?
Gerard Evenden: Very simply, to create a library for the future, one that would allow people to gather, learn and exchange ideas. The aims of the building had many parallels with one of the world's earliest scholarly institutions, which informed the design process. The project was initially referred to as the Digital Library. But through our research, we found parallels with the original House of Wisdom, which was set up in Iraq in the 4th century as a place for scholars to exchange ideas.
Q: Can you pick out a few of the building's design highlights and explain the thinking behind them?
Gerard Evenden: Light is key to the design. We have developed several approaches to mitigate the harsh sun and reduce solar gain. We studied the local Barasti architecture, which inspired the design of the screens that allow dappled light into the interior spaces. This light changes throughout the day, giving the spaces a dynamic quality. Sustainability was another major factor in our thinking. One of the first questions we asked ourselves was: how do we maintain good natural light and environment without allowing too much sun and heat into the building? We wanted to do this by passive means, which inspired the overhanging roof that shelters the building during the hottest parts of the day.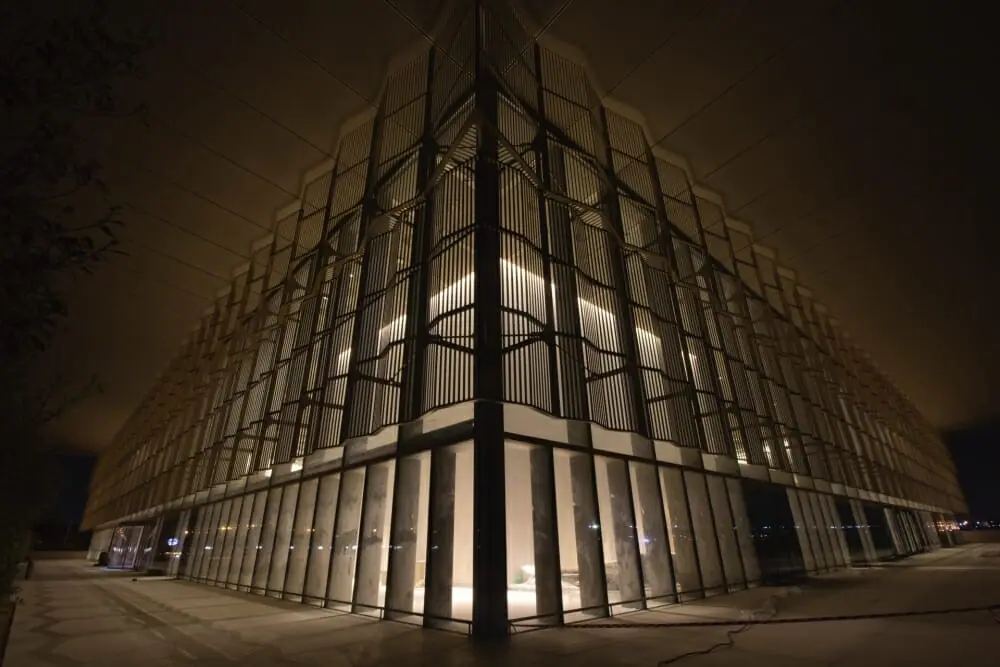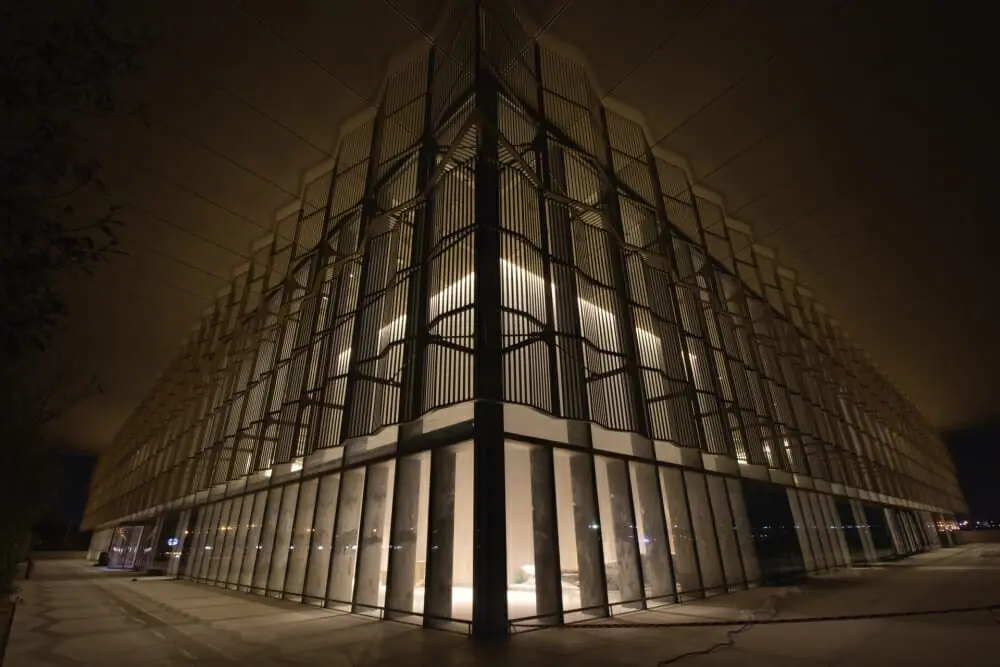 Says Gerard Evenden, head of studio at Foster + Partners: "The House of Wisdom in Sharjah is a forward-looking conception of what a library should be in the 21st century." (Credit: House of Wisdom)
Q: What are some of the highlights of the House of Wisdom for visitors?
Marwa Al Aqroubi: The House of Wisdom is a magnet for curious minds, dreamers, and learners. It is designed as a space to enhance cultural understanding and cross-cultural communication between nations while offering continuous opportunities for learning and gaining knowledge. The futuristic 12,000 sqm library is home to 105,000 books in varied languages and formats equipped with vast digital resources, cutting-edge technology to print and bind books within minutes, and a fabrication lab with a 3D printer to build prototypes of experimental projects. Sharjah's new knowledge centre and digital library complex include lecture halls, reading lounges, exhibition spaces, a dedicated children's educational area, a central courtyard, a café, and a restaurant.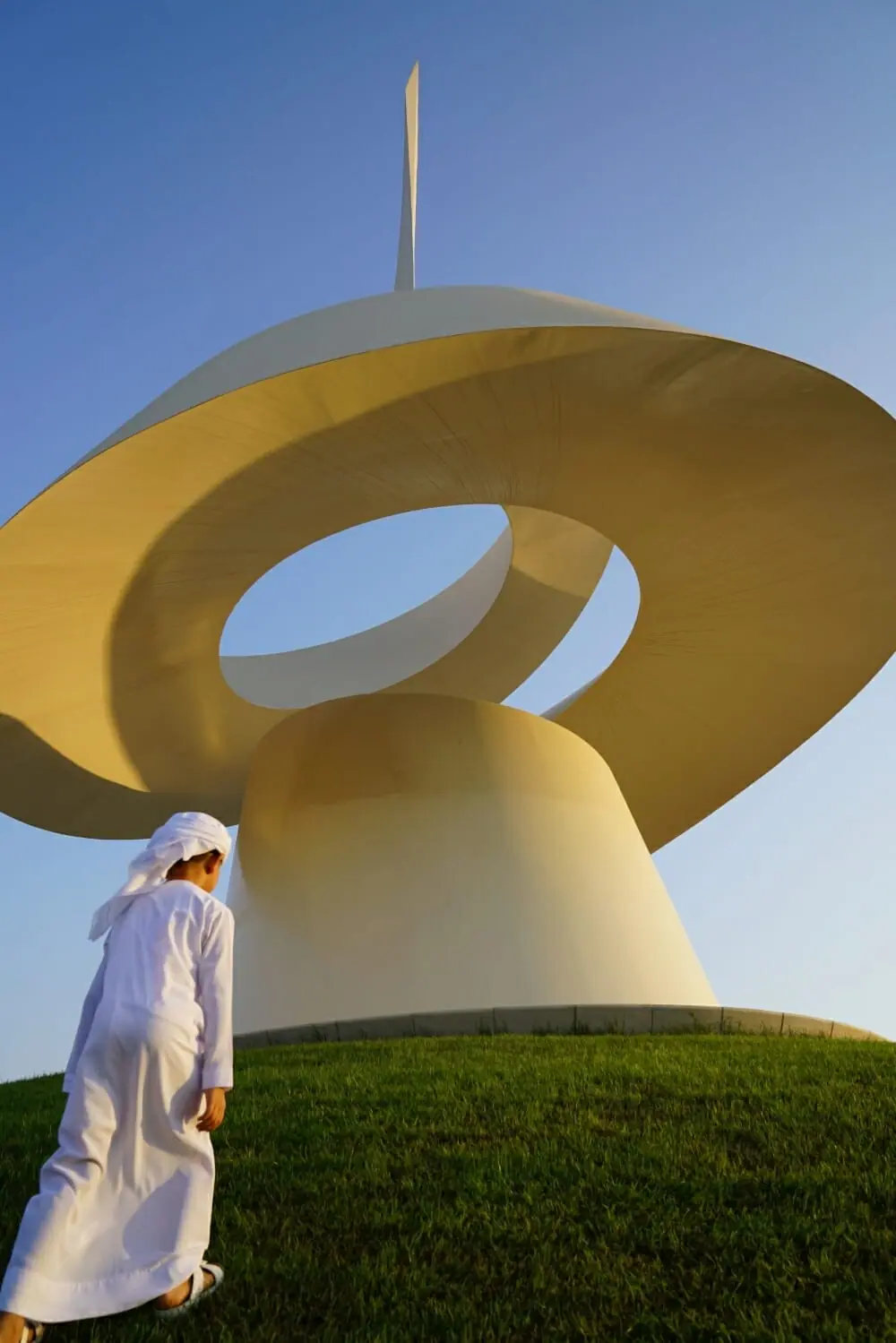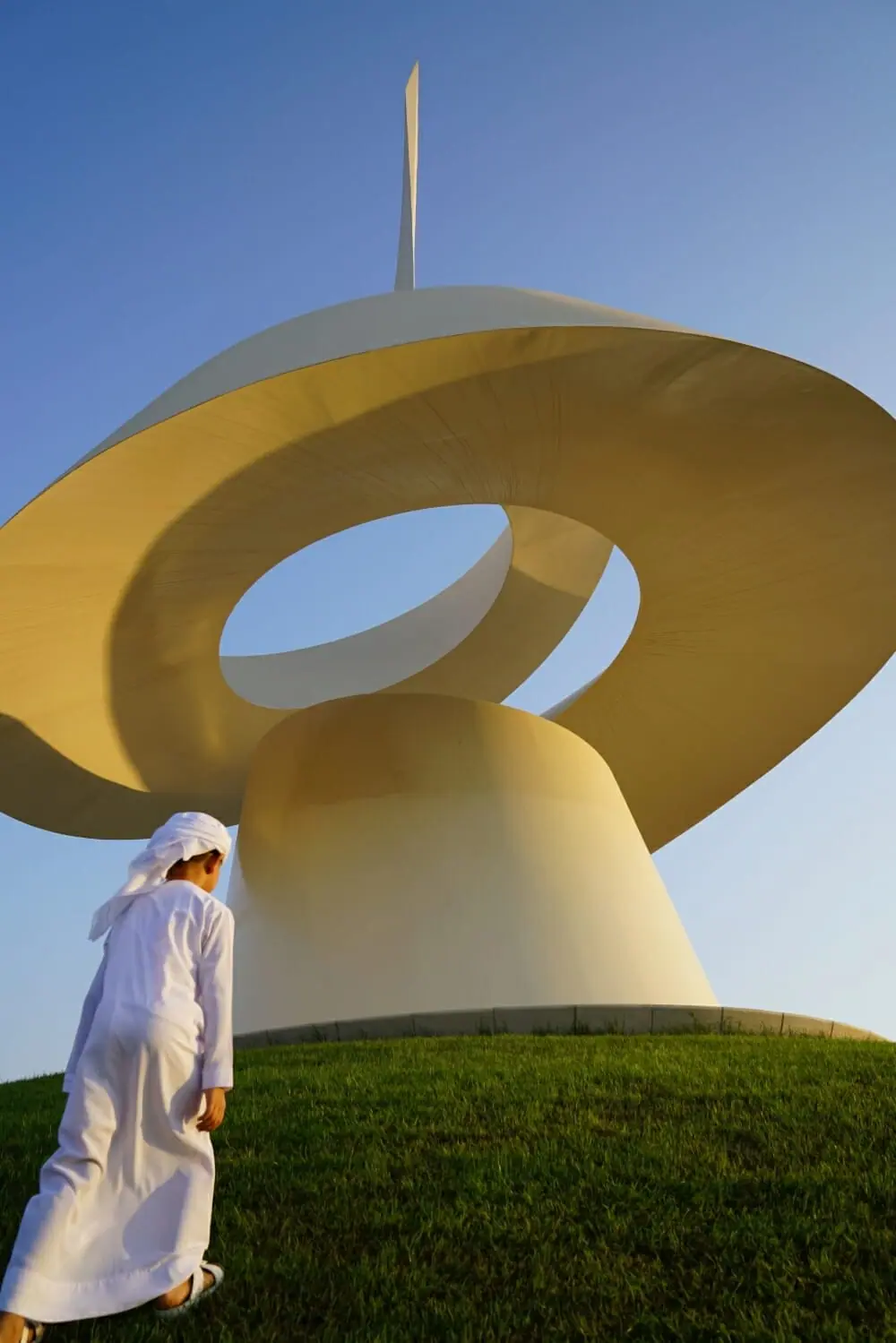 Foster + Partners believes Judah's Scroll is a perfect complement to the minimalist design of their building. (Credit: House of Wisdom)
Q: The role of libraries (and of physical books) is changing in the digital age. Can you explain some of the ways the House of Wisdom utilised new technology to promote appreciation of culture, literature, and learning?
Marwa Al Aqroubi: All of House of Wisdom's services and facilities utilise cutting-edge technology. A conference room equipped with the latest audio-visual aids can be used for meetings and events. There are several specially designed meeting pods to promote quiet work. There's the Al Jazri Fabrication Lab, which is a maker space equipped with cutting-edge technologies including state-of-the-art 3D printers, laser and vinyl cutting machines. Another feature is the Espresso Book Machine – an on-demand printing and binding machine that can produce a perfect-bound book in less than five minutes. These are but a few examples of how the House of Wisdom has integrated the latest technologies into a futuristic space dedicated to driving the appreciation of knowledge, literature, learning, and culture in all people, especially the youth.
Through 30 September, guests of The Chedi Al Bait, Sharjah who book two nights will get a third night on the house. For more information, check out the details here.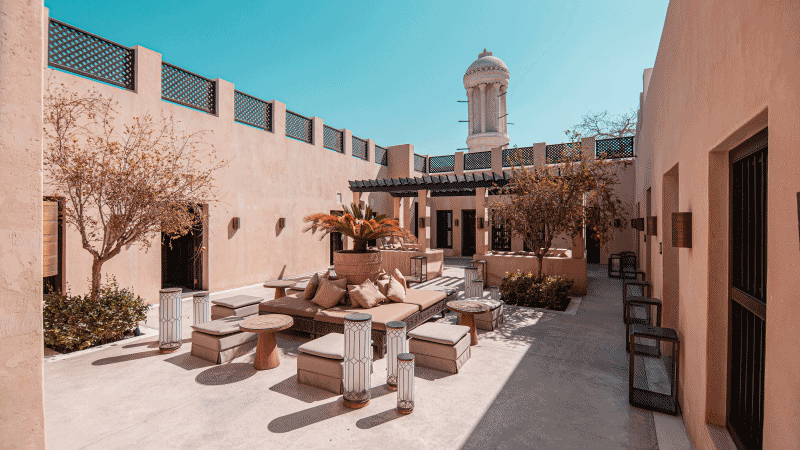 ---
Text by Duncan Forgan for GHM Journeys.
Background image: Sculptor Gerry Judah's iconic Scroll monument was designed to look like an ancient Arabic scroll and loops 36-metres into the sky. (Credit: House of Wisdom)