There's No Cloak, But Daggers Aplenty in Oman
With smooth highways, plentiful signage and a lack of frenetic population centres, Oman is one of the best places in the Middle East for a relative rookie to take a road trip. Even so, I'm enduring a moment of uncertainty as I approach the oasis town of Nizwa, famous for its high-walled souq, giant fort and its stirring location amidst some of the nation's loftiest mountains.
Side-streets jut off the main drag at increasingly regular intervals and I start to doubt my bearings. Thankfully, Omar – a concierge and navigational sensei back at The Chedi Muscat, my palatial base in the Sultanate – has got my back.
"Just make a right at the khanjar roundabout," he told me as I kicked the land-cruiser into gear back in the capital. "You can't miss it."
Sure enough, after a couple hundred more meters, my goal heaves into view: a giant circle of lush grass and well-tended bushes with a giant silver sculpture of a hook-like dagger standing proudly in its centre. One of Oman's most potent national symbols, the khanjar is everywhere in the country. What's more, it fills far grander functions than guiding uncertain visiting drivers through the vagaries of Nizwa's traffic system.
The distinctive J-shaped knife is as integral to the Omani sense of identity as other proud traditions such as seafaring, trade, and tolerant but devout Islamic culture. It is found on the nation's national emblem as well as on the Omani rial, the country's mode of currency.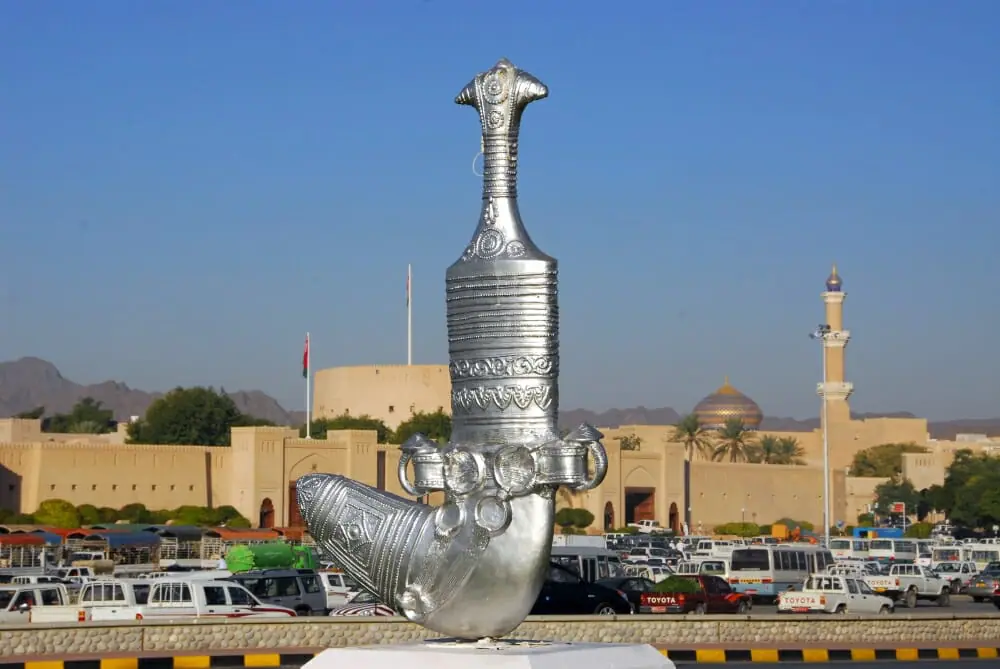 The roundabout by the 1650s-build Nizwa Fort is anchored by a khanjar . (Photo Credit: Brian McMorrow)
It is also depicted on postage stamps issued by the Sultanate and has been adapted for or incorporated into the logos of some of the nation's flagship companies such as national carrier Oman Air and telecommunications behemoth Omantel. It was even utilized for bottles of men's cologne by Oman-based luxury perfumiers Amouage, whose Gold For Men line features a cap inspired by the handle of the khanjar.
The origins of the dagger are shrouded in mystery as beguiling as a complex scent. Nevertheless, historic accounts speak of an emergence sometime in the 17th century, a time when communications were scrawled on cave walls rather than barked through smartphones. Rock carvings epitomising the dagger were found on gravestones located in the Ru'us al Jibal region of the country. They are believed to have predated the Wahhabi revival, which occurred in the late 1700s. A note on khanjars was also made by a Robert Padbrugge of the Dutch Republic, who mentioned them in his account of a journey to Muscat in June of 1672.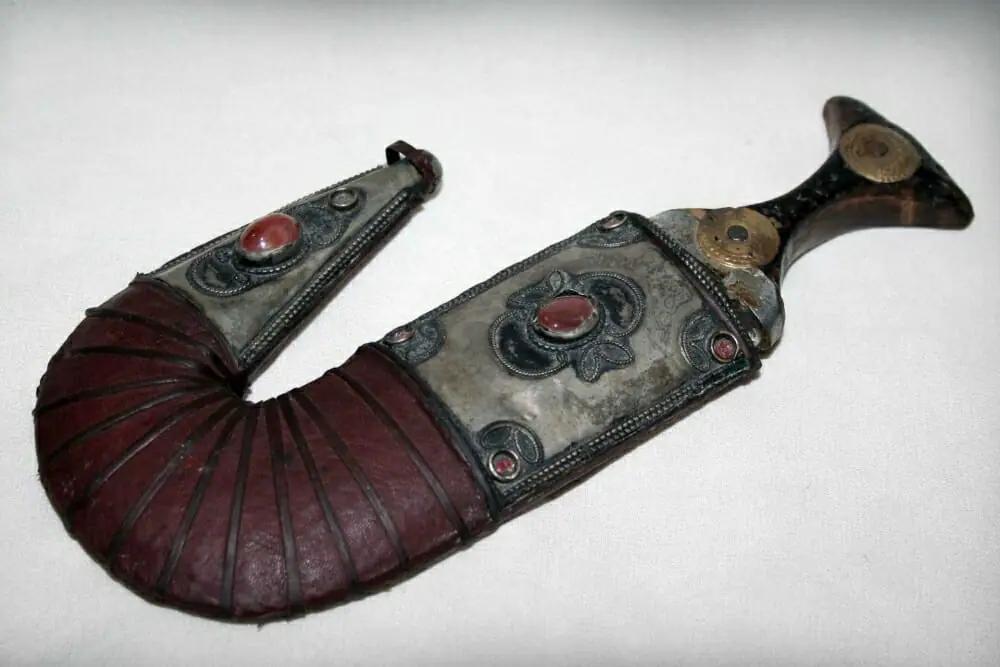 Though the sheath is shaped to do no harm, the dagger itself is lethal.
Whatever the specifics of the origin story, what is a fact is that the daggers migrated outwards from Oman. They were carried by Ottoman policemen in the Balkans during the period of the Ottoman empire. Later they were adopted as a part of the national dress in other Arabian Peninsula nations including Yemen, the UAE, and Qatar. It is in Oman, though, that emotional ties to the dagger are strongest. Created as a weapon to attack and defend, it is now utilized solely for ceremonial purposes such as weddings, parades, meetings, and diplomatic functions.
While the overwhelming majority of Omani men will never use their khanjar in anger – it's strictly barred by law – the dagger is still regarded as a potent symbol of manhood. They are often bestowed on young men by their families as they come into adolescence. The khanjar is also regarded as a sign of status. This is largely dictated by the design and the metals and other materials used to make them. For instance, gold or silver would be used for the finest quality daggers, while other indicators of an elevated class include sheaths adorned with gold or ivory handles.
Mass-produced khanjars – ubiquitous at tourist-focused markets such as Muttrah Souq in Muscat – are easy to churn out. A crafted khanjar, though, can take anywhere from three weeks to several months to manufacture.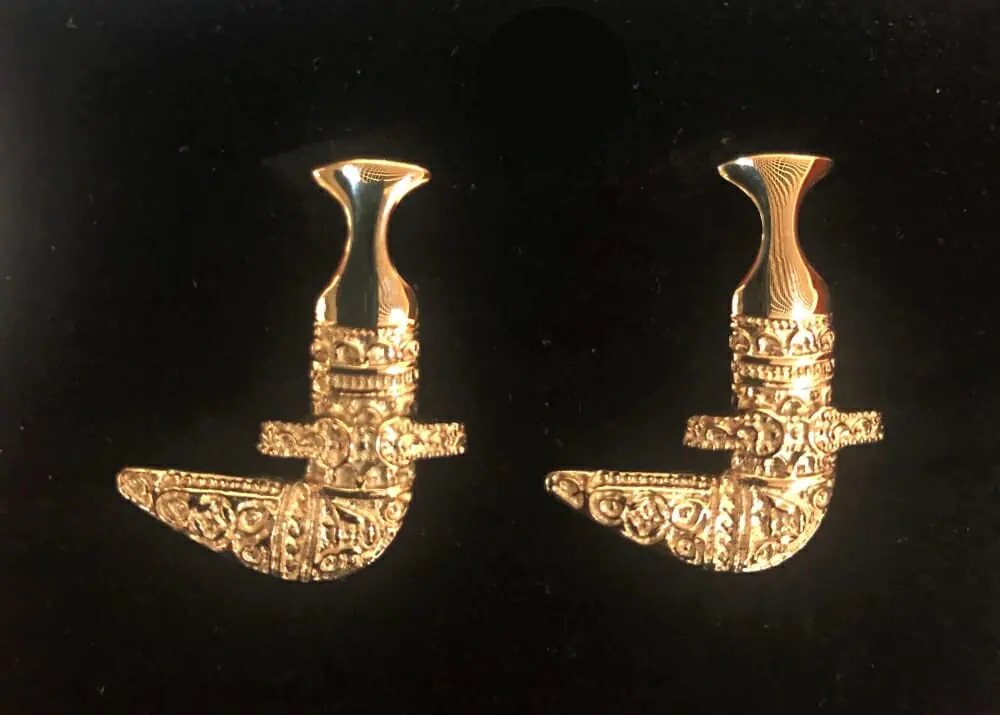 These khanjars are much better at holding things together than taking things apart. As cuff links, they're sold in the Boutique at The Chedi Muscat.
Back in Nizwa, I take some time to explore the souk. Passing by the cheaper khanjars on sale, I find a tiny photography shop: it's walls adorned with black and white images from the town's past. Stern-faced men, noble and proud, pose outside Nizwa Fort, their khanjars prominently tucked underneath their waist-belts.
I began to see the khanjar everywhere after that, from bank notes and billboards to the gates of an extraordinary palace. That evening in The Boutique of The Chedi Muscat, I bought a pair of cuff links shaped like khanjars. The following morning, after logging a few hours' work that needed backing up, I returned to the Boutique for a thumb drive. They had one, shaped like a khanjar.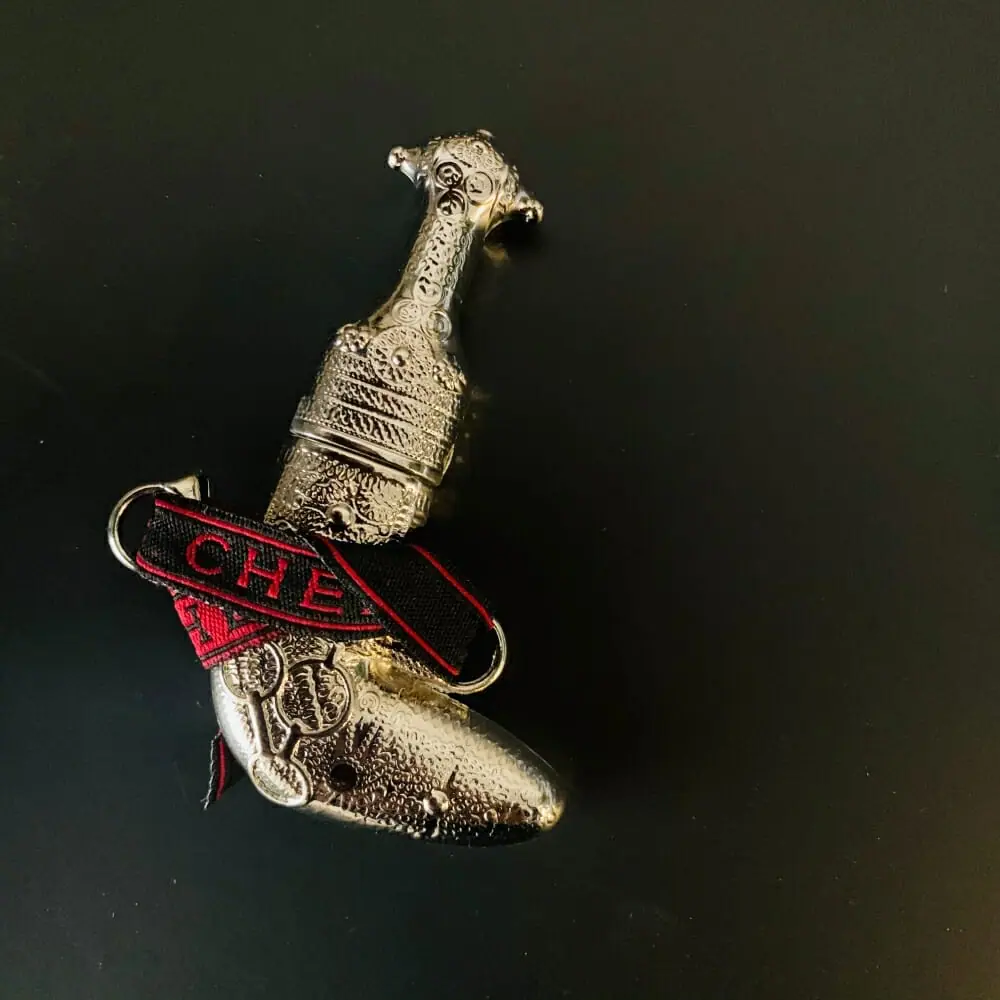 Once you've identified your first khanjar, they insinuate themselves everywhere.
---
Text by Duncan Forgan for GHM Journeys.
Featured image: The khanjar is a potent symbol of Omani culture.
First published on 8 April 2020.