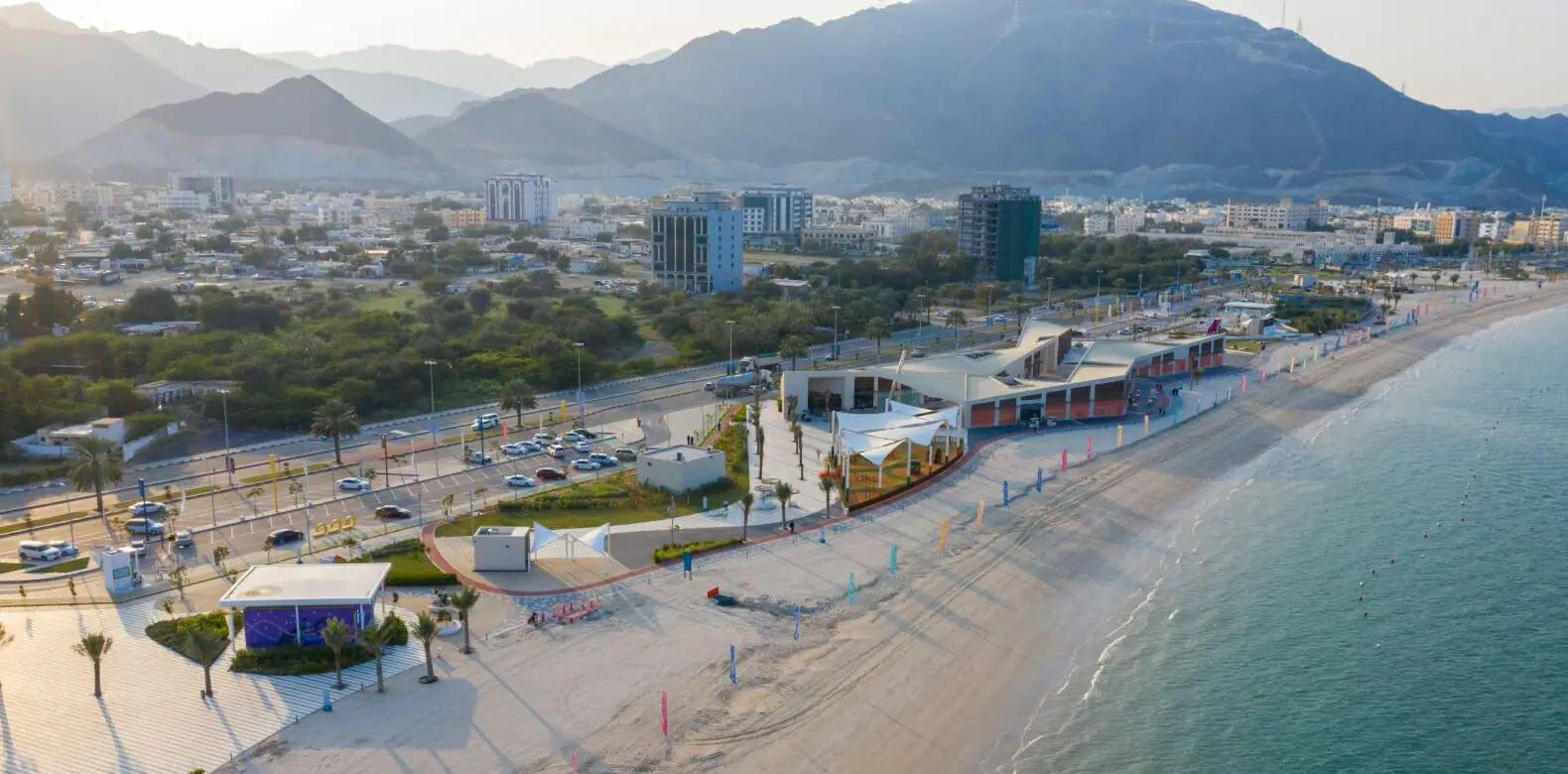 Road odysseys needn't be extensive to be impressive. Indeed, the hop between Sharjah's west and east coasts reveals itself to be an epic, despite its bijou proportions.
I'm tripping, wife and five-year-old son in tow, from our palatial digs at The Chedi Al Bait to Khorfakkan: the pearl of Sharjah's wild east coast.
Some last-minute prep saw a bucket and shovel set with novelty camel sand shaper procured from Sharjah's Central Souq.
We are locked and loaded for some action on Khorfakkan beach, a 3km crescent of golden sand that ranks as one of the finest in the UAE. A leisurely investigation of the east coast city's rich culture is also on the agenda. So too is a hearty Emirati fresh seafood feast. First, however, we must cover the 110-kilometres or so of hinterland separating the two coastlines.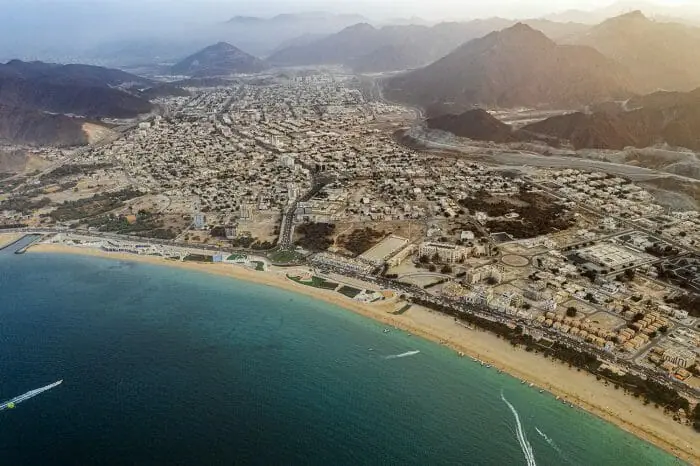 The beaches of Khorfakkan lie between the Indian Ocean and the Al Hajar Mountains.
Lightning-fast progress on the road from the Emirate's namesake main settlement means we reach Al Dhaid — an oasis town known for its date plantations and fruit farms — in what seems like the blink of a sun-dazzled eye.
There's been little to latch onto visually beyond the classic Arabian landscape of lonely sand and scrub desolation stretching endlessly towards the horizon.
But as we clear the city limits, the rugged beauty emblematic of Sharjah's eastern extremities begins to exert itself. A series of switchbacks await us as we pierce through the craggy wall of the Al Hajar Mountains, the bleak but beautiful range that separates the low coastal plain of Oman and the far north of the UAE from the high desert plateau.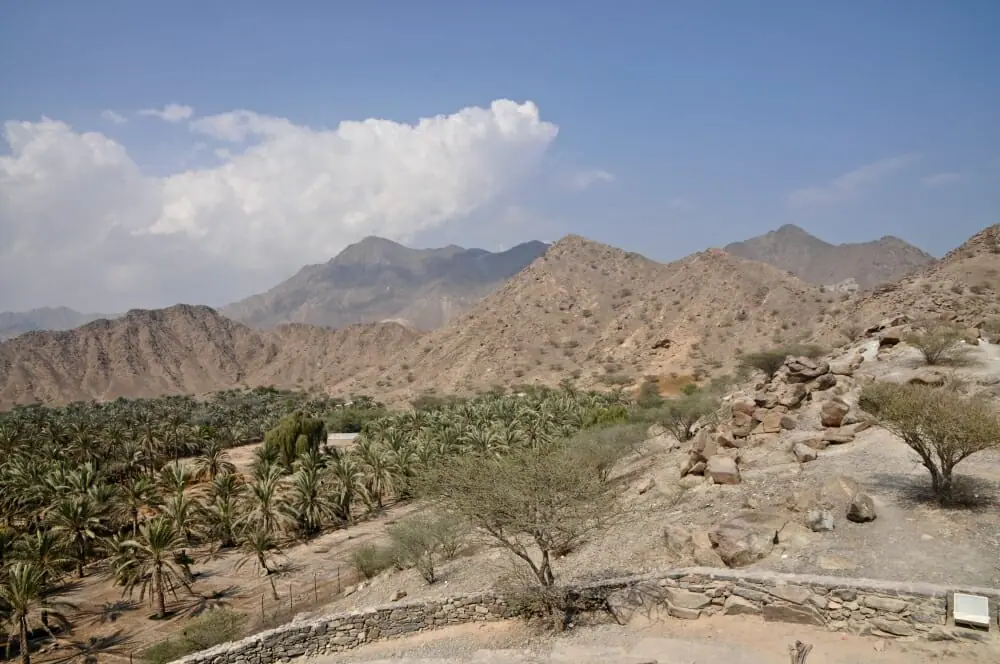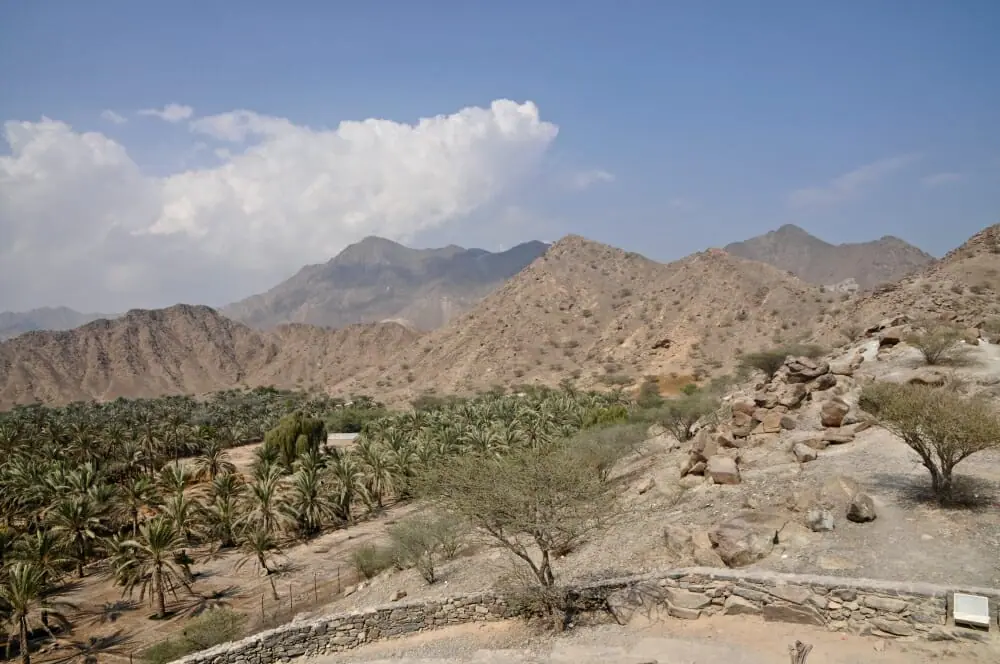 Bleak but beautiful mountains separate the east and west coasts of Sharjah.
To the right of the highway a track spears into the peaks to Shees Park, an 11,300sqm area with BBQ pits, shaded benches, and a man-made 25-metre-high waterfall.
Further down the trail lies Wadi Shees itself. The valley is one of Sharjah's most appealing beauty spots. Here hikers can put their calf muscles to work on a scenic path that winds between the mountains and runs alongside a picturesque waterway, joining an old village and local farms.
These are diversions for another day. With sand-forts to build (and duly kick to smithereens), the coast is a-calling.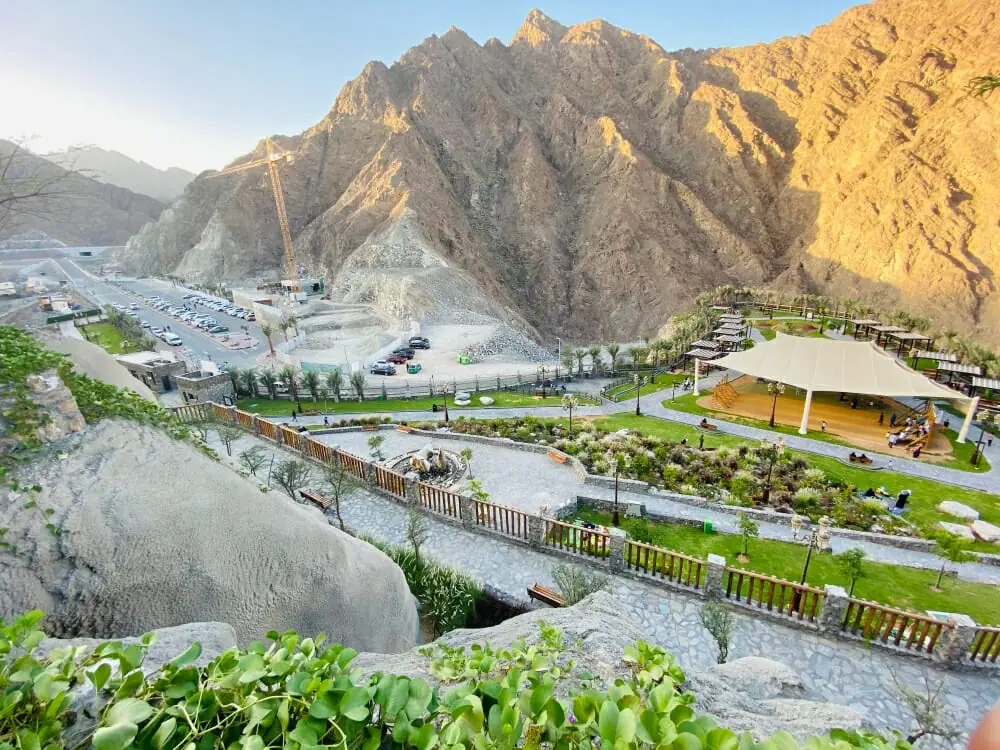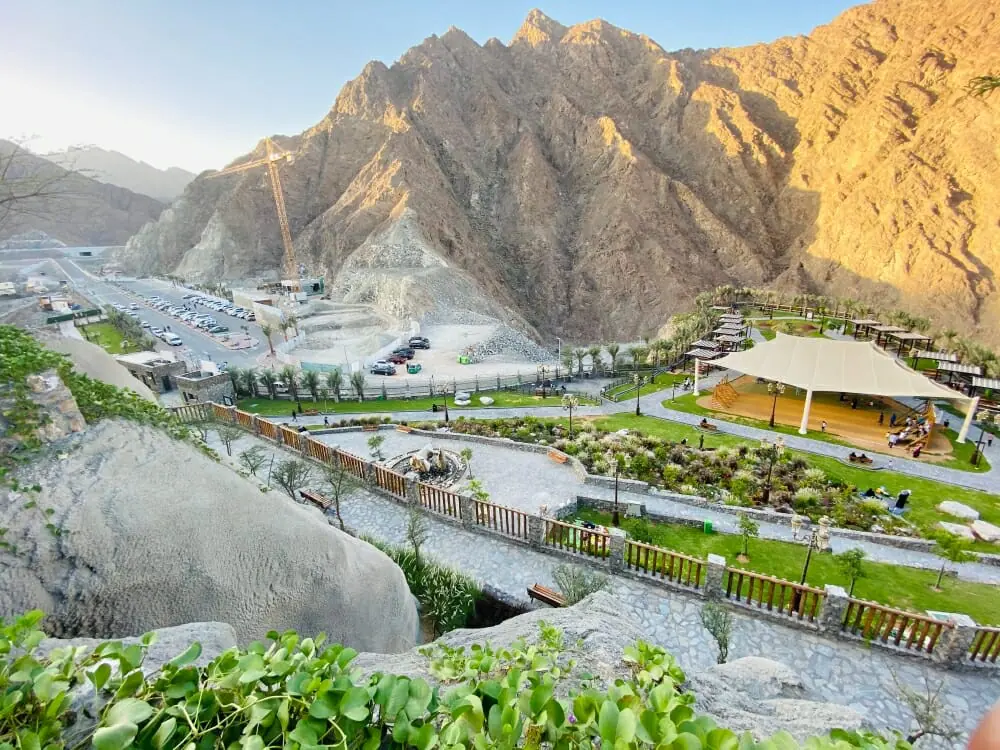 En route to Khorfakkan, there are hills to climb in Shees Park (Photo by By EvaJ oyson)
We whizz along the highway towards the Gulf of Oman, making a brief pitstop at Al Rafisah Dam — a placid body of water framed by the rugged peaks — before descending into Khorfakkan.
A few minutes later, we are out of the car, into our swimsuits, and my son is making steady progress on a faithful recreation of Al Hisn Fort: the rock, coral, and adobe fortification that is one of Sharjah's most iconic landmarks.
Khorfakkan is a fascinating destination on several levels. As you might expect, most day-trippers and weekenders who flock here from all over the UAE come for the ageless combo of sun, sea, and sand. The beach itself is spotless, the Gulf waters are clear and welcoming, and there's an extensive roll call of on and offshore activities. These span sailing, kayaking, snorkelling and jet ski rentals.
A standout is Shark Island, a rocky outcrop just off the beach. While my son puts the finishing touches to his engineering masterpiece, I duck off for an hour to offer salutations to the rays, Arabian angelfish, sea anemones and turtles that populate the underwater wonderland near the formation.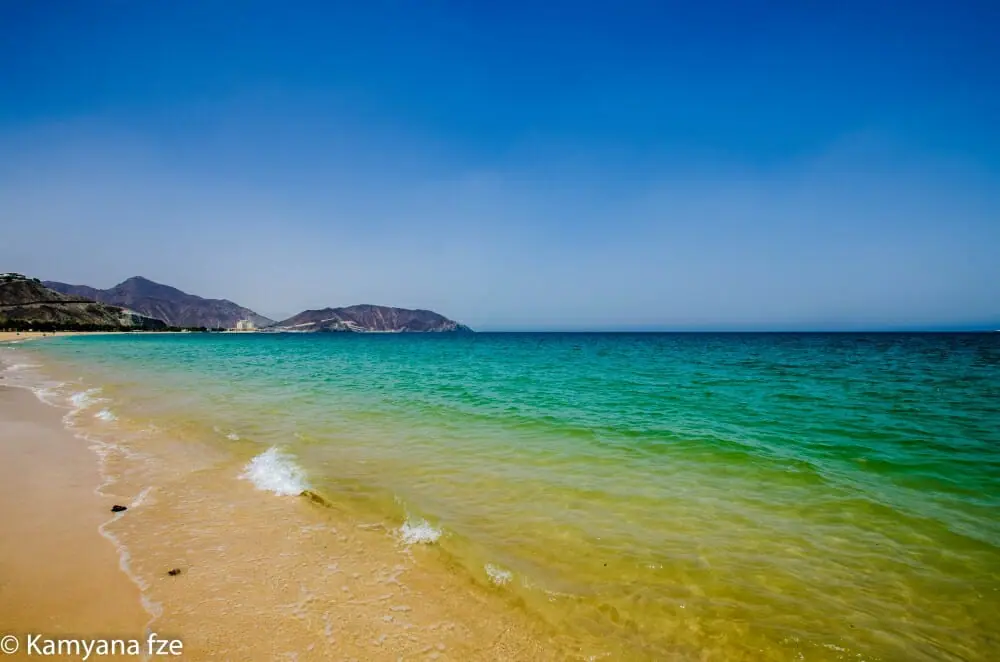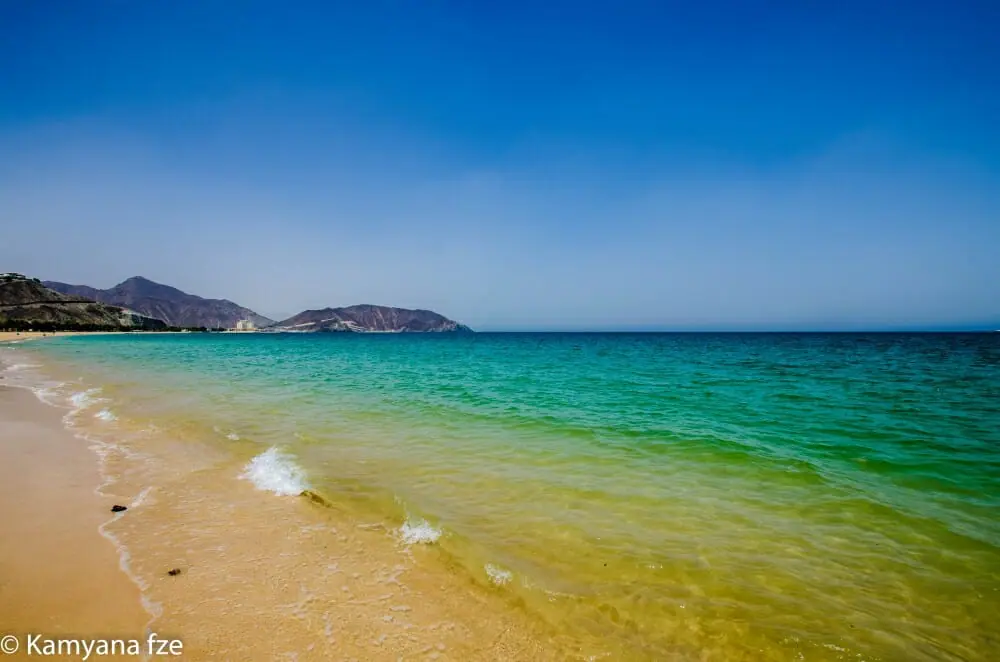 Khorfakkan translates as the "creek of two jaws." (Photo by By Kamyana)
More sedate seaside pursuits, meanwhile, include a leisurely promenade along the town's picturesque corniche. Or — that timeless classic — parking up on a lounger and delving into a compelling read.
It's all too easy to prioritise beach time to the detriment of other activities. But Khorfakkan is more than a sun-kissed show-pony.
The town, which expanded around a rare (for the region) natural deep-water harbour, has been a centre for maritime trade with Africa and India for centuries. This history doesn't exactly leap out at the visitor. But it's there to be discovered at sites like Al Adwani Tower, a defensive lighthouse dating back to the 17th Century, and Khor Fakkan Heritage Village, a patchwork of restored historical buildings with a traditional souq.
We spend a pleasant late-afternoon hour ambling around the shady streets. Unfortunately, there's not enough time left in the day to mop up the remainder of Sharjah's east coast highlights. These include Kalba, home to an extensive mangrove forest that is one of the UAE's most famous wildlife sanctuaries and is home to a thriving ecosystem of rare animals and birds.
After a long beach day, we've got one thing on our minds, and that's the local seafood ballast. Hearty eating is a Sharjah speciality. Khorfakkan is packed with prime stops to fill up in. And it takes the willpower and self-discipline of a Bedouin ascetic to avoid erring towards the indulgent side. We don't even attempt to exercise restraint. At one of the local seafood spots near the port, we gorge ourselves on a banquet of fresh shrimp and spiced seabream with saffron rice and salad.
It's hard to move, but we must. Thankfully, the road back to The Chedi Al Bait is not of the long and winding variety. As we can never tire of the sun, sea and sand, we were told we can also head to the glorious beach exclusive for The Chedi Al Bait's guests, only 5 minutes away via the hotel limousine.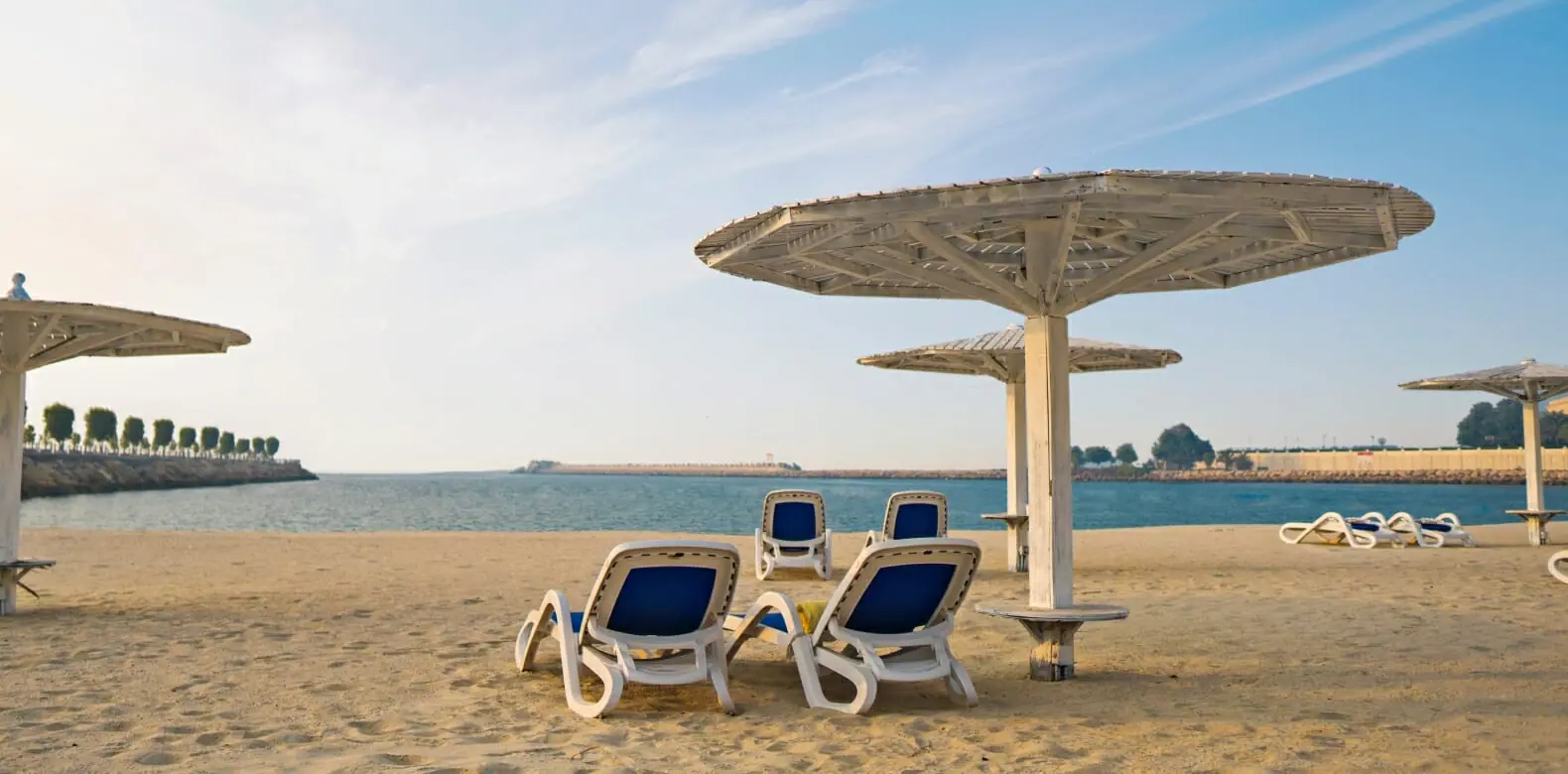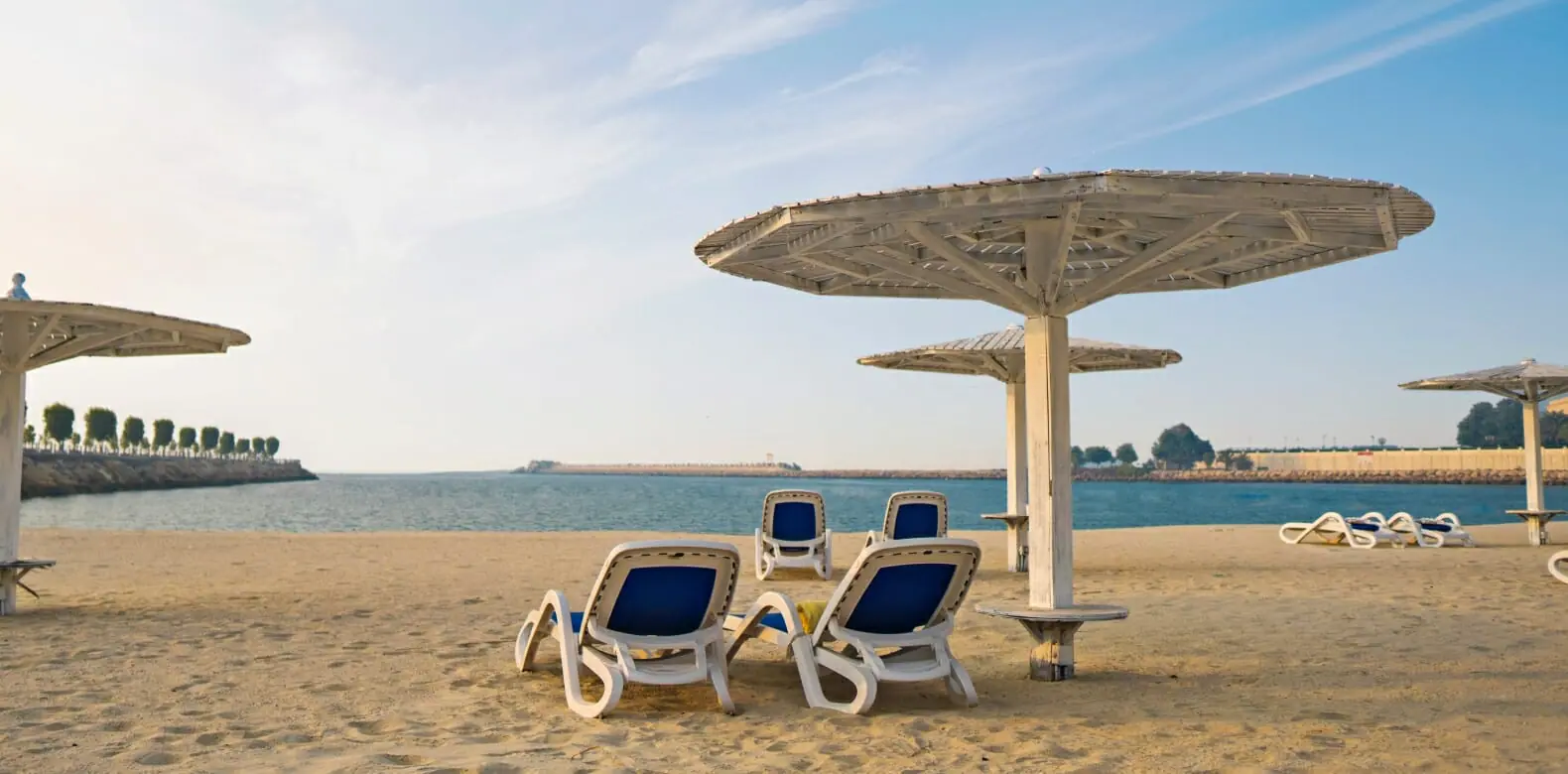 ---
Text by Duncan Forgan for GHM Journeys.
Published on 10 September 2021.