Residual Romance on the Rails of Andermatt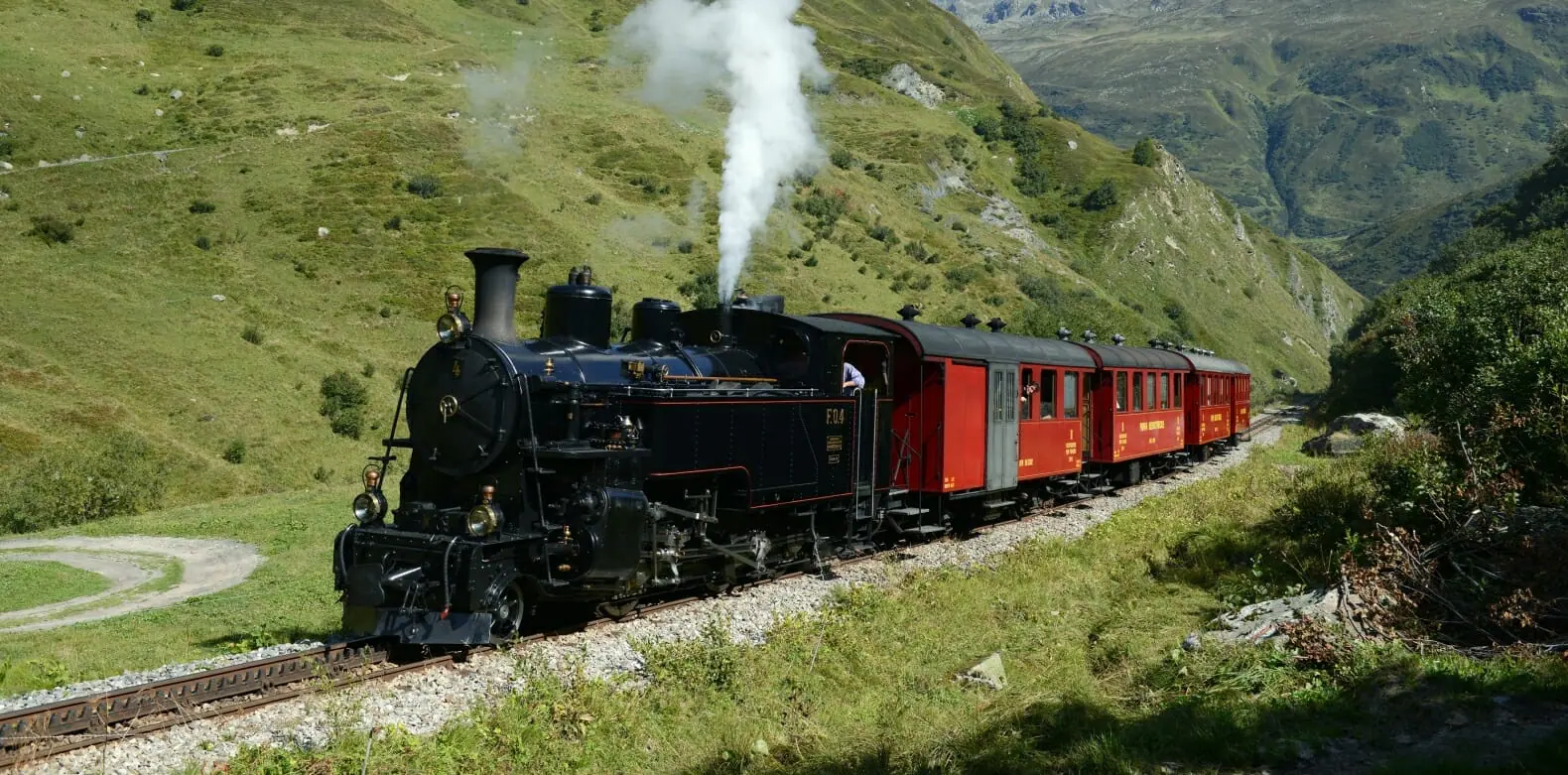 As a travel writer, I've never been against changing down the pace.
I've crawled through central India by bus and train and hitched the 2500km separating Townsville from Darwin in Australia. In Vietnam, I often connected Hanoi and Ho Chi Minh City using the Reunification Express: a train with the velocity — famously — of a narcoleptic snail.
I've harvested enduring memories from each of these trips. Madhya Pradesh brought numerous chai (tea) and chaat (snack) sessions. I was terrorized in Northern Territory by voluble Irish backpackers who talked at me constantly for eight hours. And I'll always have a fondness for the reliable quotient of Vietnamese carriage-companions who share my Caledonian predilection for a wee travelling dram.
It's such an overused cliché that I barely dare repeat it here, but travel often really is about the journey, not the destination.
Therefore, I can't think of a better way to reach Andermatt than via the Glacier Express.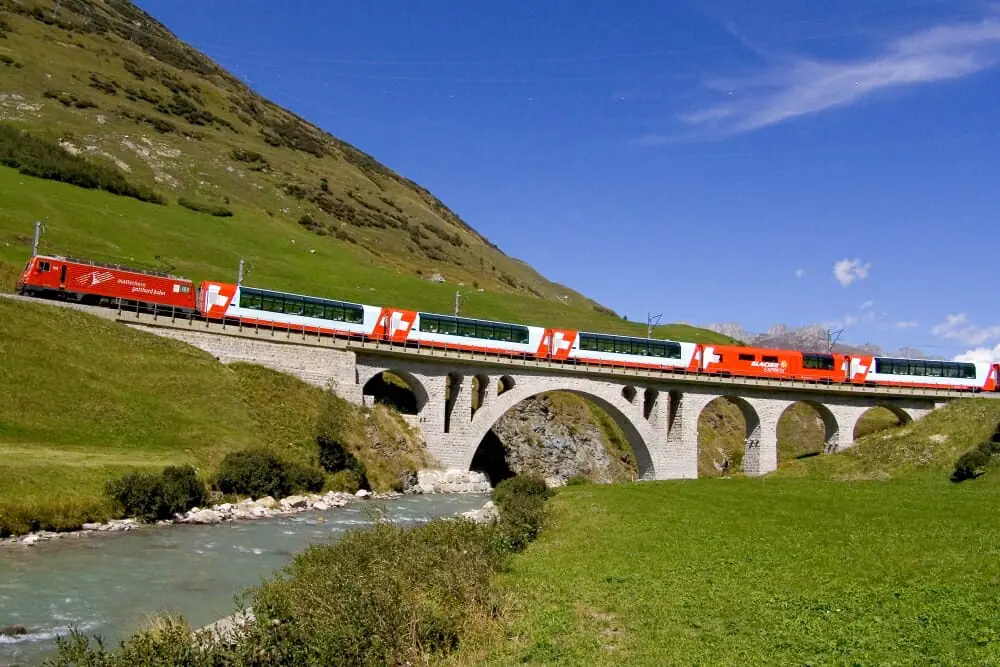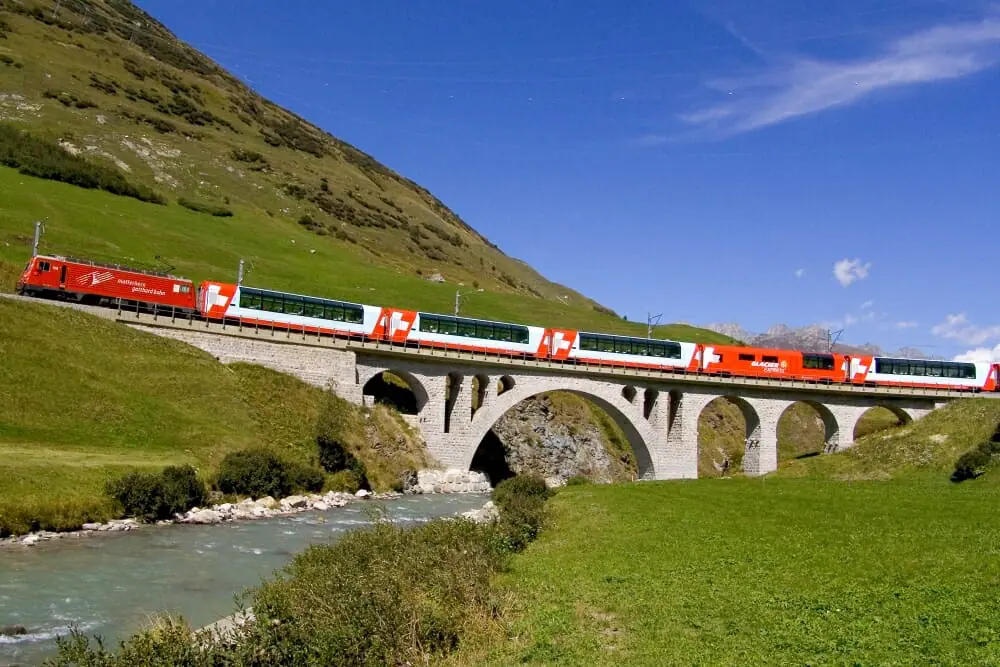 The Glacier Express connects Zermatt and St. Moritz via Andermatt.
I boarded the service labelled 'the world's slowest fast train' over three hours ago in St Moritz. Had I opted to drive (a comfortable 2.5-hour trip) I would already have checked into The Chedi Andermatt, unpacked and be nursing a steadying beverage in the hotel's Bar and Living Room.
But these pleasures can wait. My extra-large window offers a widescreen perspective on the scenery: a succession of sensory-satisfying landscapes starring craggy rock faces, deep gorges, primaeval looking forest and crystal-clear mountain lakes.
At the heart of the Swiss Alps, 1,447 meters above sea level, this exclusive hotel in Andermatt will captivate your imagination with its 123 elegant rooms and suites.
"Anything is possible on a train: a great meal, a binge, a visit from card players, an intrigue, a good night's sleep and strangers' monologues framed like Russian short stories." So mused travel writer Paul Theroux in The Great Railway Bazaar, his seminal 1975 account of an odyssey through Europe, the Middle East, Asia and Russia by train.
The world has become increasingly homogenous since Theroux rode the rails to bestselling effect in the mid-1970s. Trains, too, are less fun. Carriages and stations have had an upgrade, dining cars and toilets improved. Nobody can deny that such investment was necessary. But you won't find many writers penning odes to smart ticket machines, auto-flush loos and overpriced shrink-wrapped sandwiches.
The golden age of train travel may have passed, but residual romance endures. There's a wealth of rail-related gold to be mined in and around Andermatt, especially during the summer months when the Swiss countryside is at its green and vibrant best.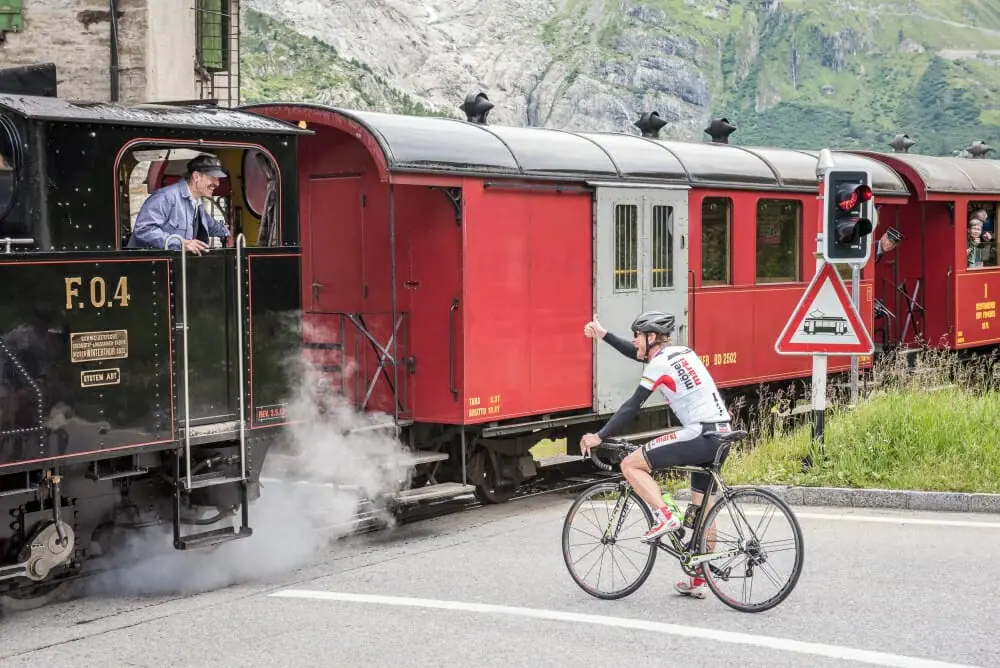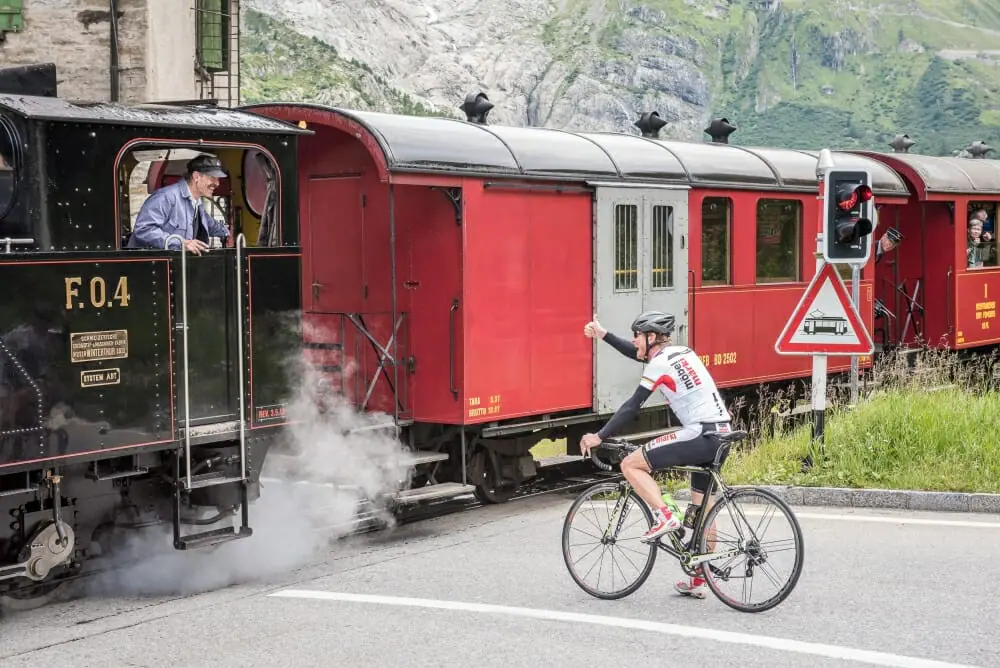 Swiss Olympian cyclist Bruni Risi didn't win this match with the Furka Steam Railway.
After a day spent refuelling my engine thanks to a spot of hydrotherapy at The Chedi Andermatt's expansive spa, I'm ready to get back on the tracks. I ease things down even further on the Furka steam railway that extends over the Furka Pass from Realp to Oberwald. The journey is thrillingly noisy and exhilaratingly slow.
Wheezing and hissing up the mountains like an asthmatic pensioner, the locomotive passes over bridges and viaducts and puffs through blooming Alpine meadows and engineering marvels such as the 2.5-kilometre-long tunnel near the Furka summit. Back in Realp, I romanticize over the doughty iron horses in the steam railway depot before grabbing a beer at a café in the quaint village centre.
The other unmissable rail odyssey in the Andermatt area is Gotthard Panorama Express. The classic north-south route extends between Lucerne and Lugano. Time constraints preclude me from taking the southern leg of the line from Andermatt to the Italian-tinged city of Lugano.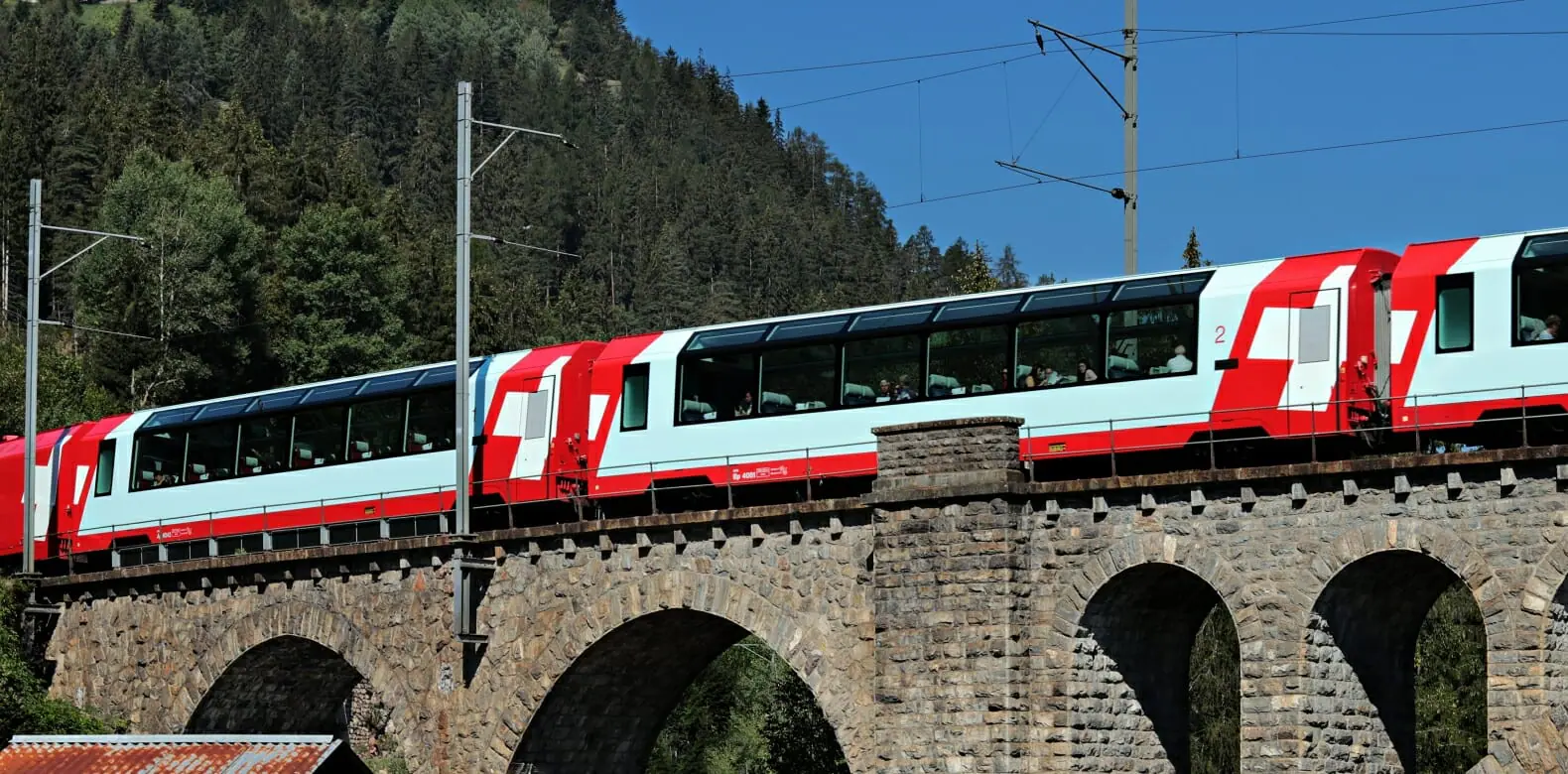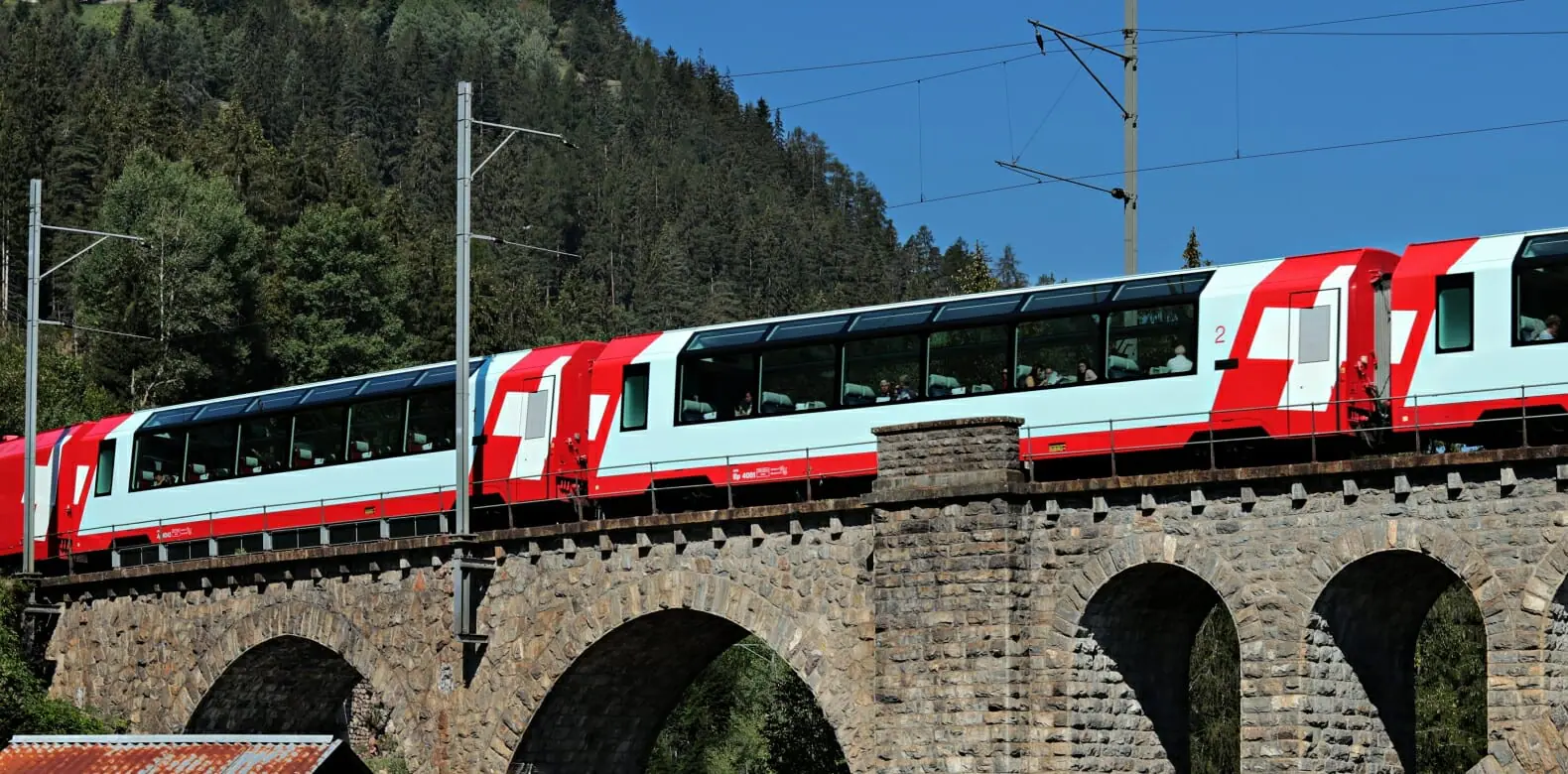 The Gotthard Panorama Express is famous for its many loops, tunnels and bridges.
The northern stretch is a sufficiently stirring short excursion. The journey ends at Lake Lucerne. Here Mount Pilatus stands guard over the lake. I pass the afternoon in Lucerne city. The gateway to central Switzerland is a charismatic place where a selection of medieval draws includes the covered wooden Chapel Bridge, which spans the River Reuss diagonally and dates back to 1333.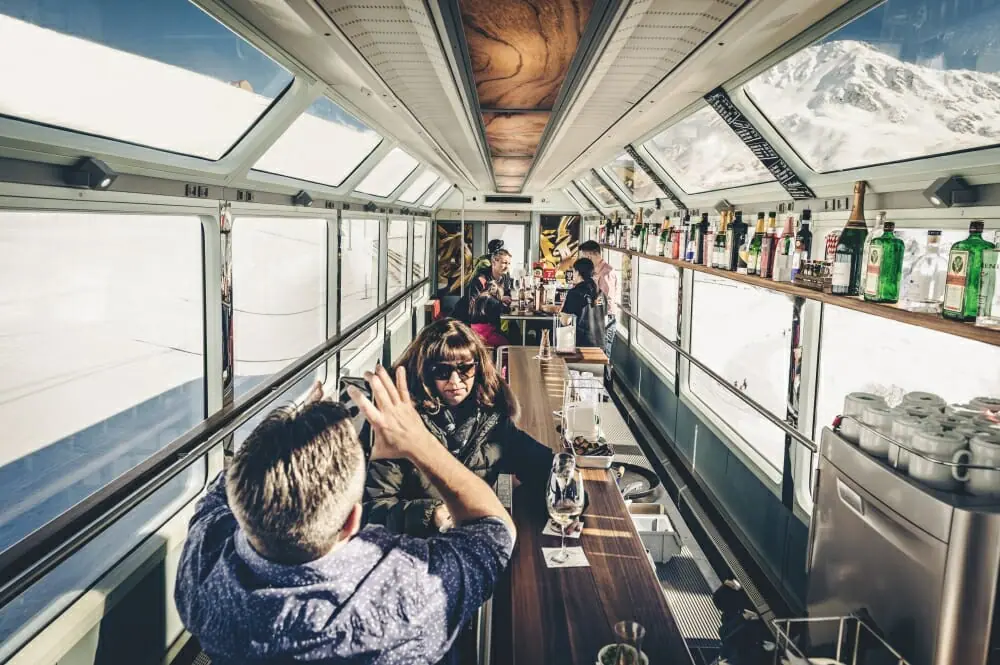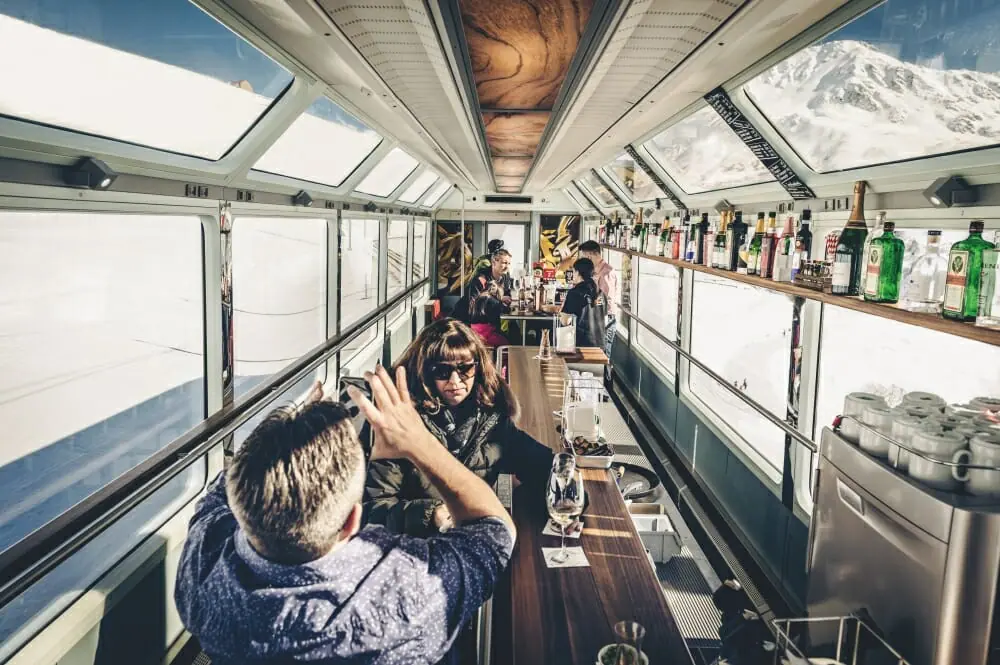 The Après-ski Zug runs twice a day in both directions from Andermatt to Disentis.
I could happily spend the rest of my life ambling aimlessly around medium-sized Swiss cities. Unfortunately, I need to step up the pace — albeit slightly. The next day, I get back onboard the Glacier Express for the onward journey to Zermatt: the line's terminus and the last staging point on this swing through Switzerland.
The train makes its leisurely way out of the Urseren valley. Once again, the window is a portal to dazzling views. I kick off my hiking boots, press recline on my seat and soak in the scenery. In just over 3.5 hours, I'll arrive in Zermatt. With all the visual manna to savour, it feels like all the time in the world.
There's no better way to journey to Andermatt for a two-night Romance In Style experience than by train. For more on this exclusive offer that is available from now to 15 December, click here.
---
Text by Duncan Forgan for GHM Journeys.
Featured image: The Furka Steam Railway opened in 1925, closed in 1981 and reopened as a heritage line in 1982.
First published on 5 April 2021.