Rolling on the River in Oman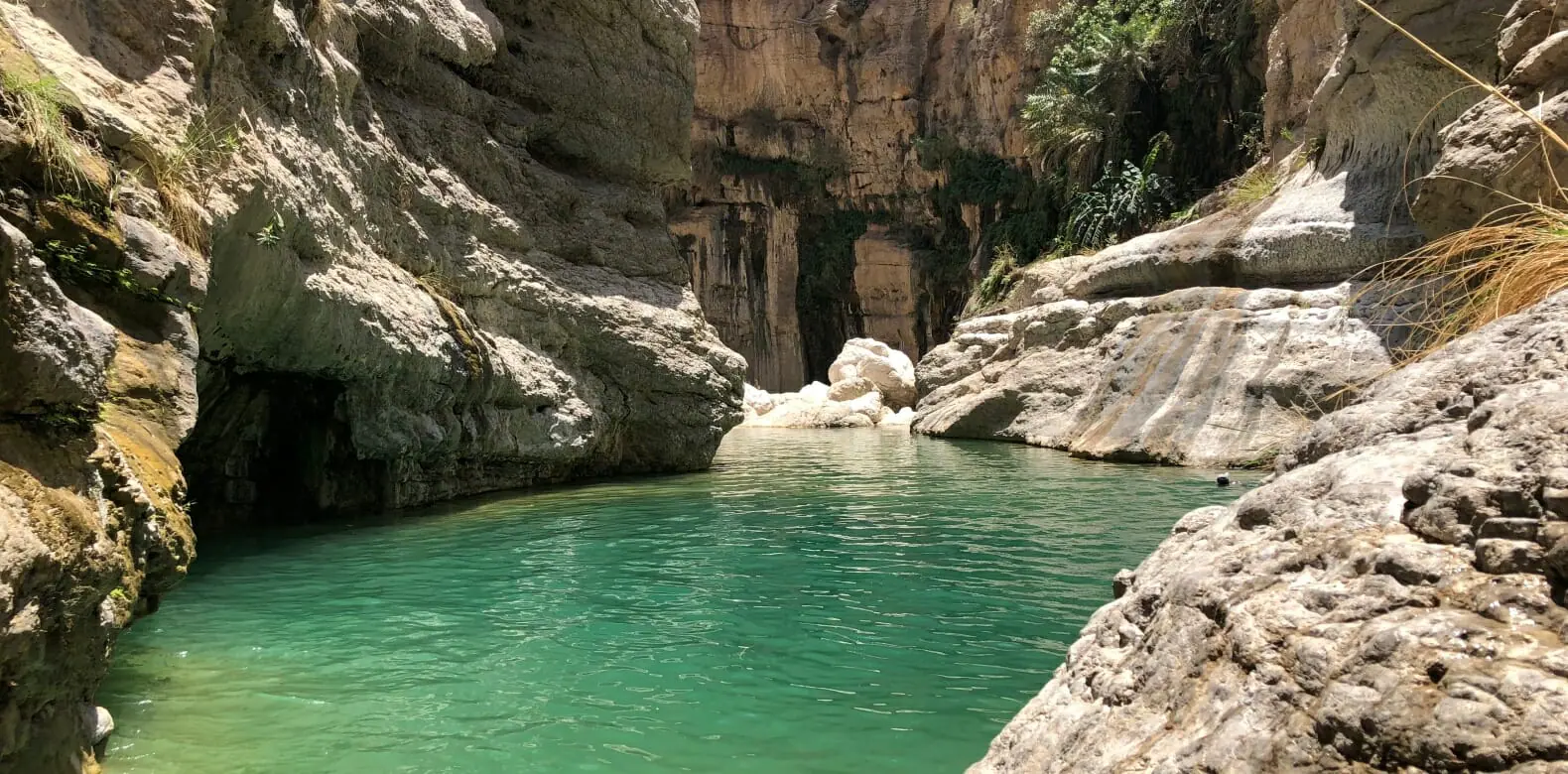 It is approaching high summer in western Oman – one of the driest times of the year on the Arabian Peninsula. But all I can hear on this May morning is the sound of thunder as a deluge of water rains down on me. It is not a freak squall that is causing the cacophony and soaking me to the bone. Rather, the noise is a consequence of being suspended a quarter of a way down a waterfall with only a rope preventing freefall onto a foreboding array of giant boulders 15-meters below.
Through the din, I can just about make out instructions from above. "Try to relax. Put your trust in the line," says the voice, which belongs to Hamid, my guide. Prior to my descent, I pottered around the top of the drop that marks the start of the canyoning route through Wadi Tiwi – one of the surprisingly lush river courses that wind their way from the rugged Hajar Mountains and down to the Gulf of Oman.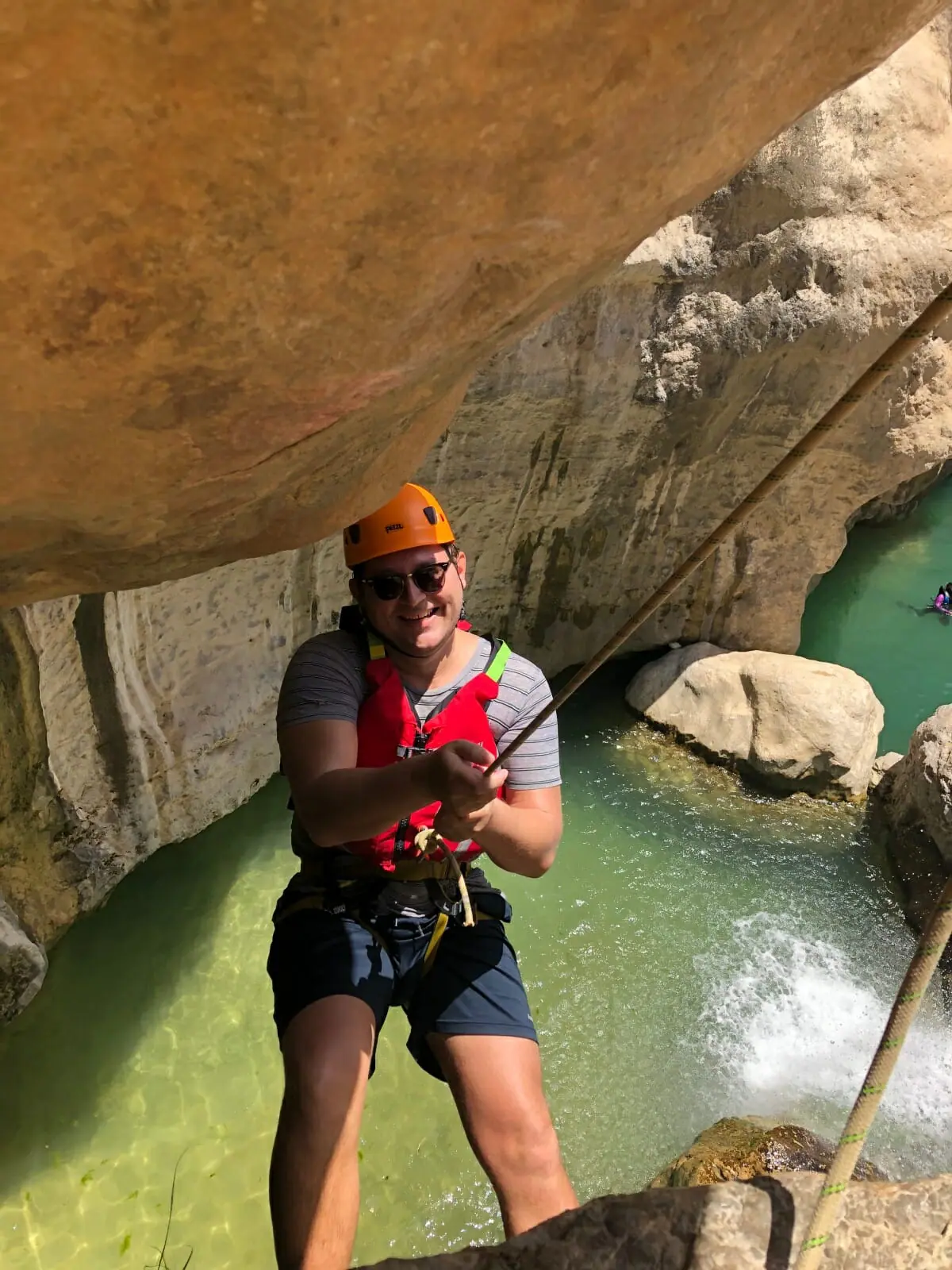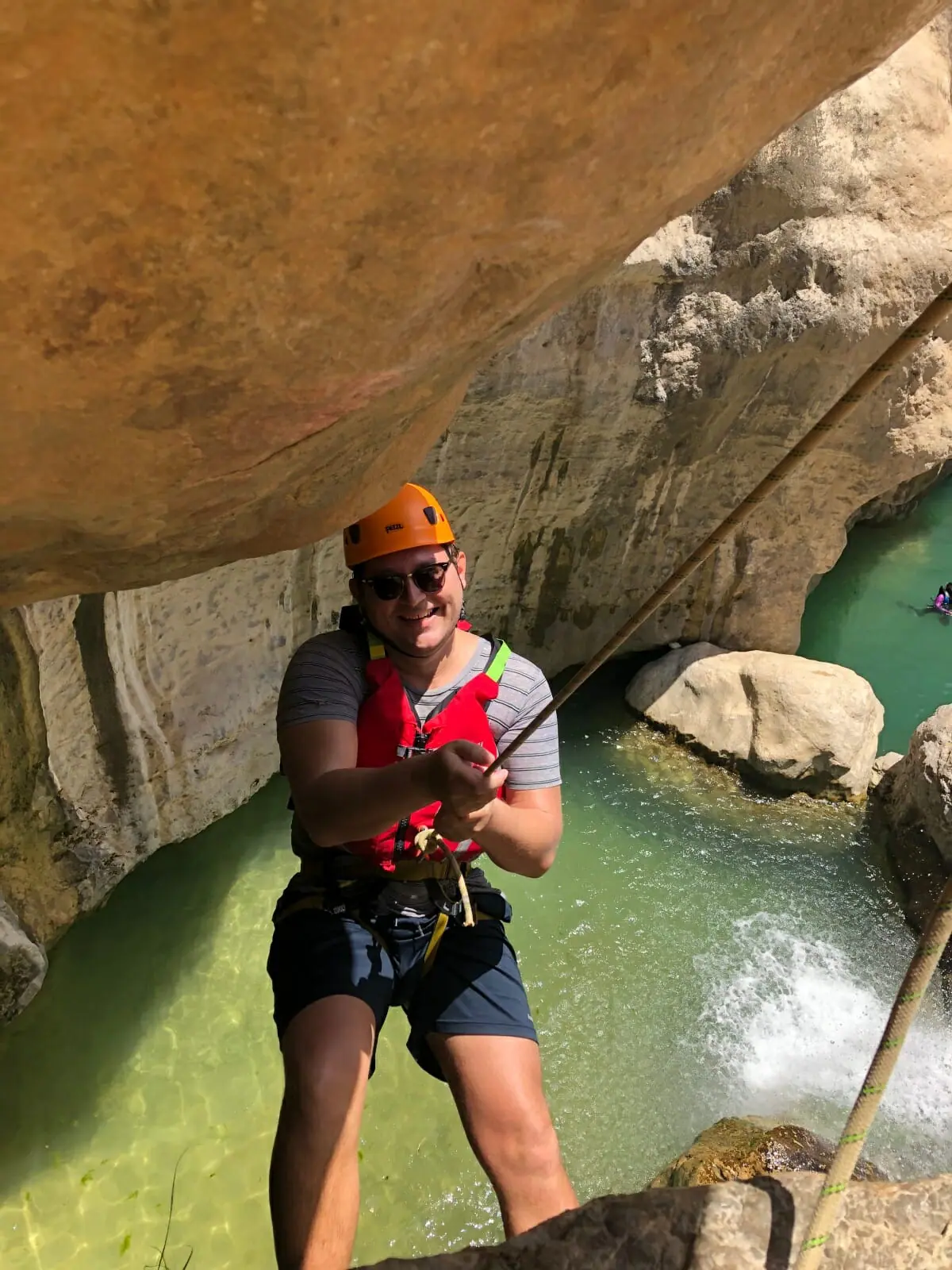 The author rappels off of a 15-metre cliff.
As I sheltered under a thicket of date palms and made small talk with a group of curious local kids, Hamid set to work securing anchors, testing ropes and generally ensuring that Oman's reputation as one of the safest places in the world to indulge a taste for adventure is upheld. Having been strapped into a harness, I'm as secure as anyone could be when implored to back their way voluntarily over a precipice. A good decade has elapsed since my last experience of rappelling, though, and it's fair to say that I'm a little nervous. For the next minute or two, the guide's advice swooshes over my head like the flow of water that is now crashing down behind my back. My feet lose their hold as I reach a chamber that cuts under the cliff-face and I swing helplessly around the void. Thankfully, this mildly embarrassing start to proceedings serves to shake me out of my inertia. After all, I figure, if the rope is holding tight while I lurch around like Tarzan without the coordination, how much more enjoyable will the experience be when the descent is under control? I take a deep breath then plant my boots against the rock wall and lower myself down the remainder of the cliff face before bottoming out in a deep emerald pool.
"Congratulations," shouts Hamid, flashing me a thumbs up. "Now you can enjoy a swim for a few minutes while I follow you."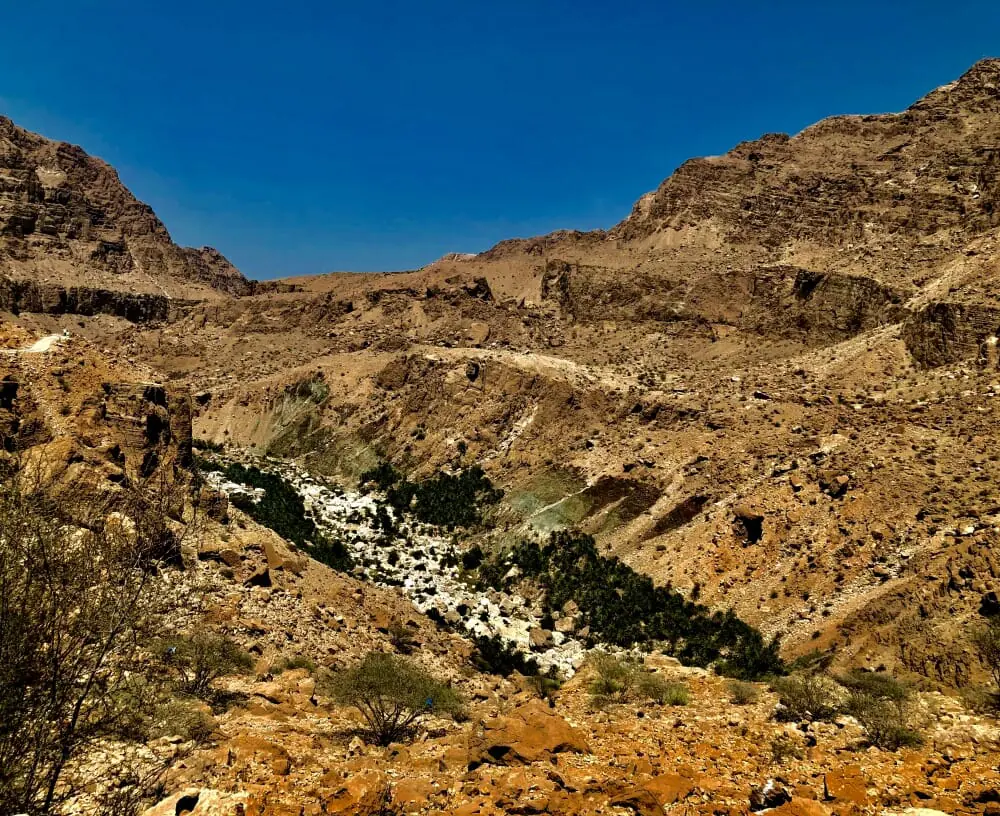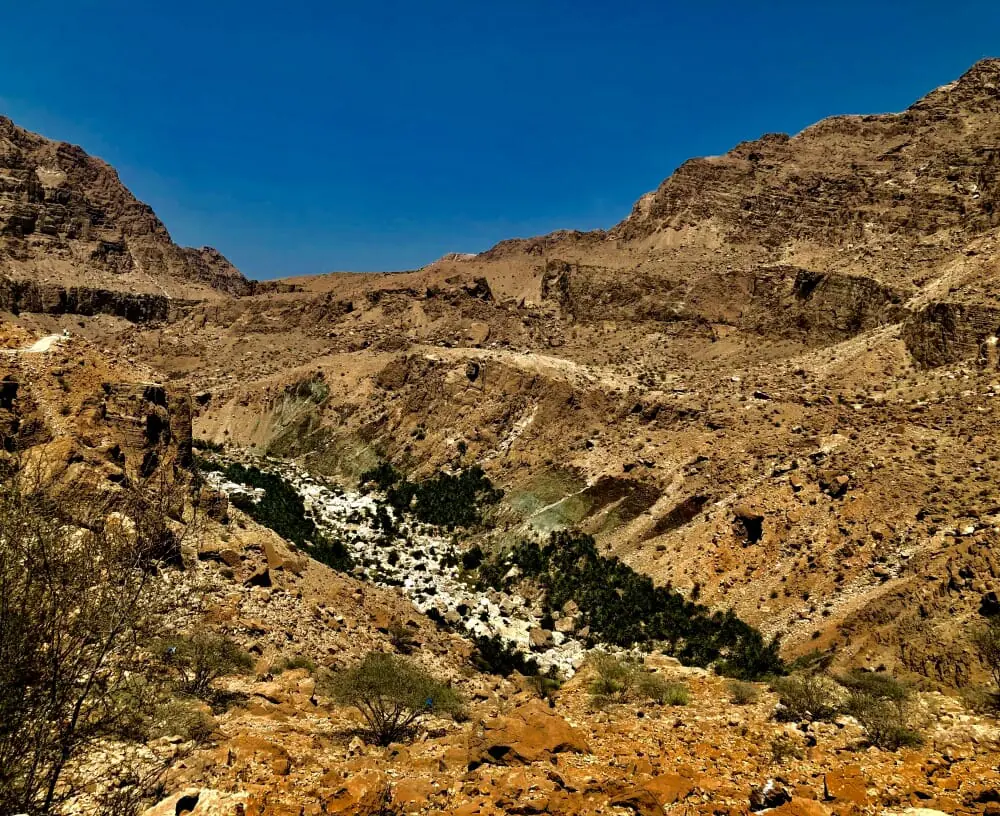 It's hard to believe that an emerald river runs through it.
There are many uplifting active experiences to be had in Oman. The country's extensive coastline provides scope for scuba diving, snorkeling, dolphin watching, fishing and much more. Inland, meanwhile, the rugged spine of the Hajar Mountains in the north and the vast expanses of desert that cover the rest of the country offer opportunities ranging from epic hikes and off-road 4WD odysseys to camping under the stars in the Rub' al Khali: better known as the "Empty Quarter".
Few adventures though are quite as refreshing as canyoning. The act of traversing a river valley by any means necessary (rappelling, scrambling, jumping, swimming and walking are all usually involved), canyoning has enjoyed a surge in popularity worldwide in recent years.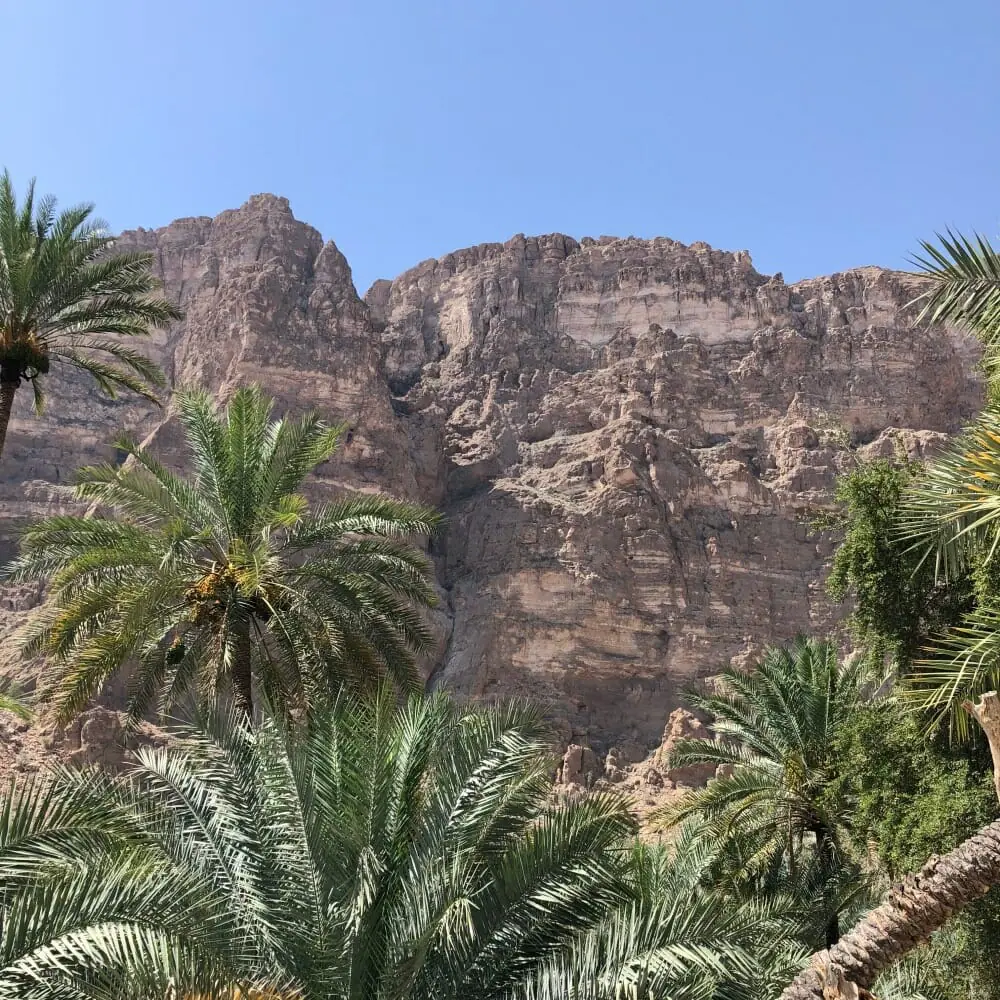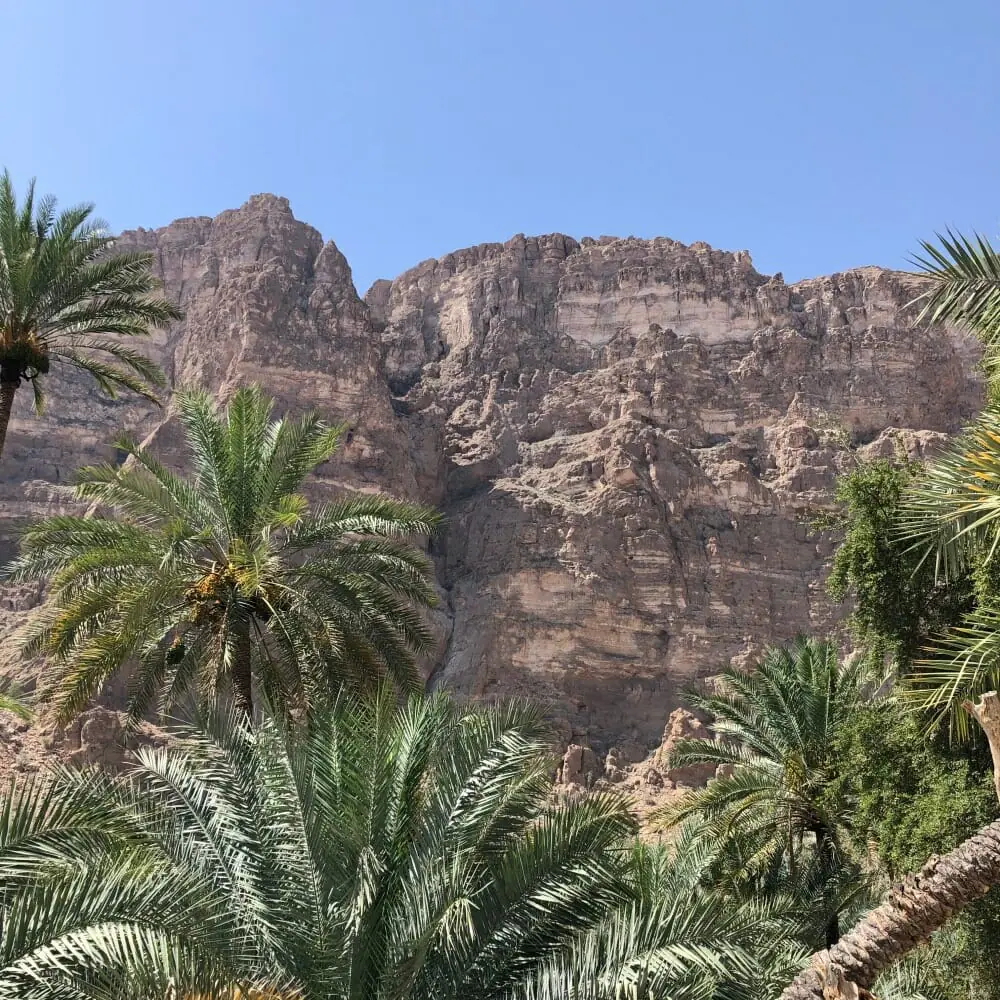 A profusion of palms in the wadi punctuate an otherwise austere landscape.
Known for its bustling souqs, colourful heritage, majestic natural scenery and sumptuous resorts like The Chedi Muscat, Oman is less famous for verdant river courses. A succession of lush, hidden wadis, though, have helped establish it as one of the best destinations for canyoning in the Middle East. I've experienced a similar thrill in Oman before – over a decade ago when I spent an unforgettable day scrambling over rocks and launching full pelt into cool pools in Wadi Bani Khalid, another canyoning hotspot a little further to the west of Wadi Tiwi. Therefore, I'm excited to be getting back into the harness — literally. What's more, I know I'm in safe hands. The tour operator I'll be canyoning with, twenty3 extreme, is one of Oman's leading adventure specialists, offering an array of expeditions including cycling, watersports and trekking. Aware of the company's sterling reputation for safety, I'm well assured I won't be left high and dry halfway up a gorge.
I'm not even phased by the 5.30am wake-up call that rouses me out of my slumber at The Chedi Muscat.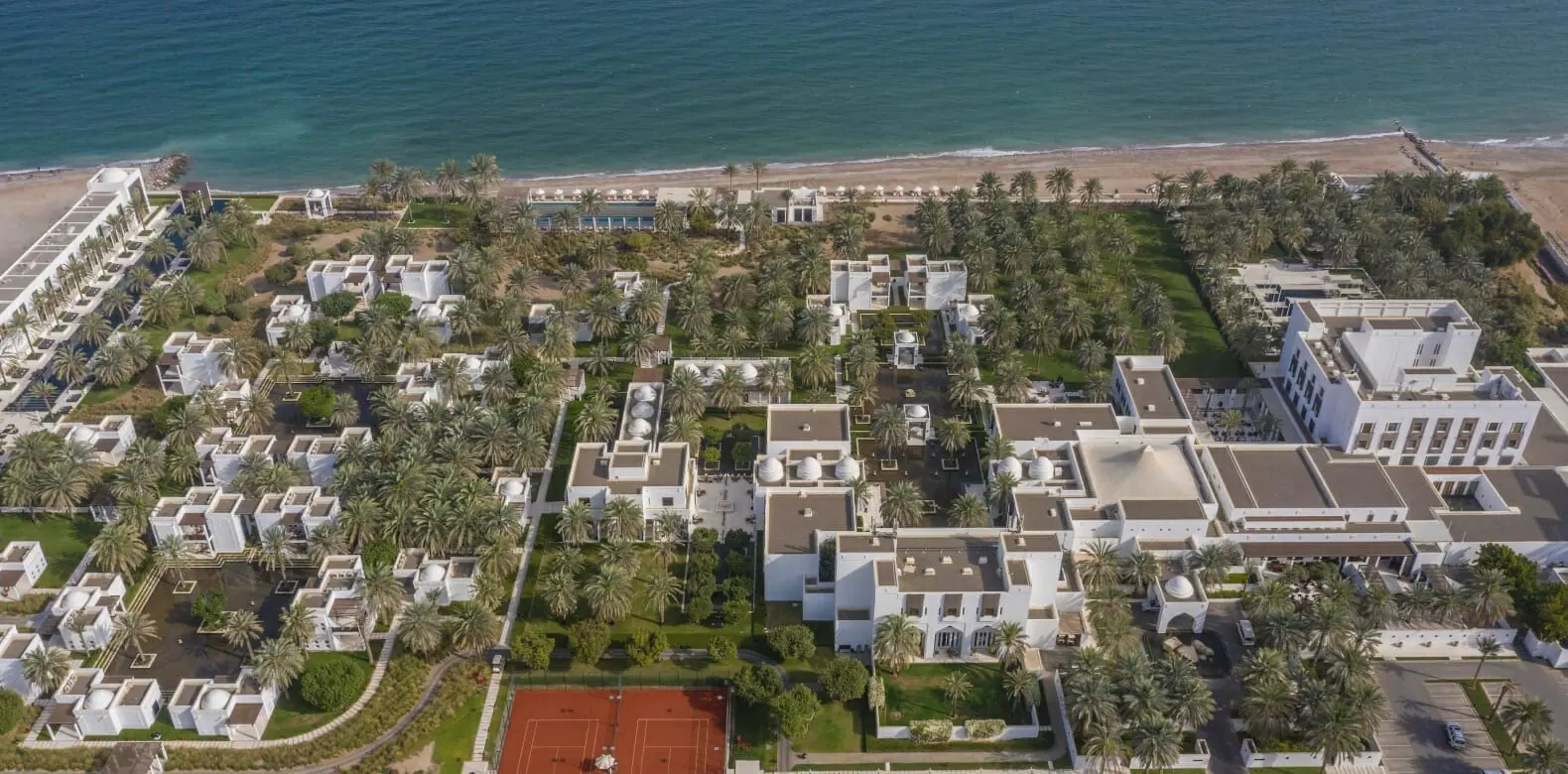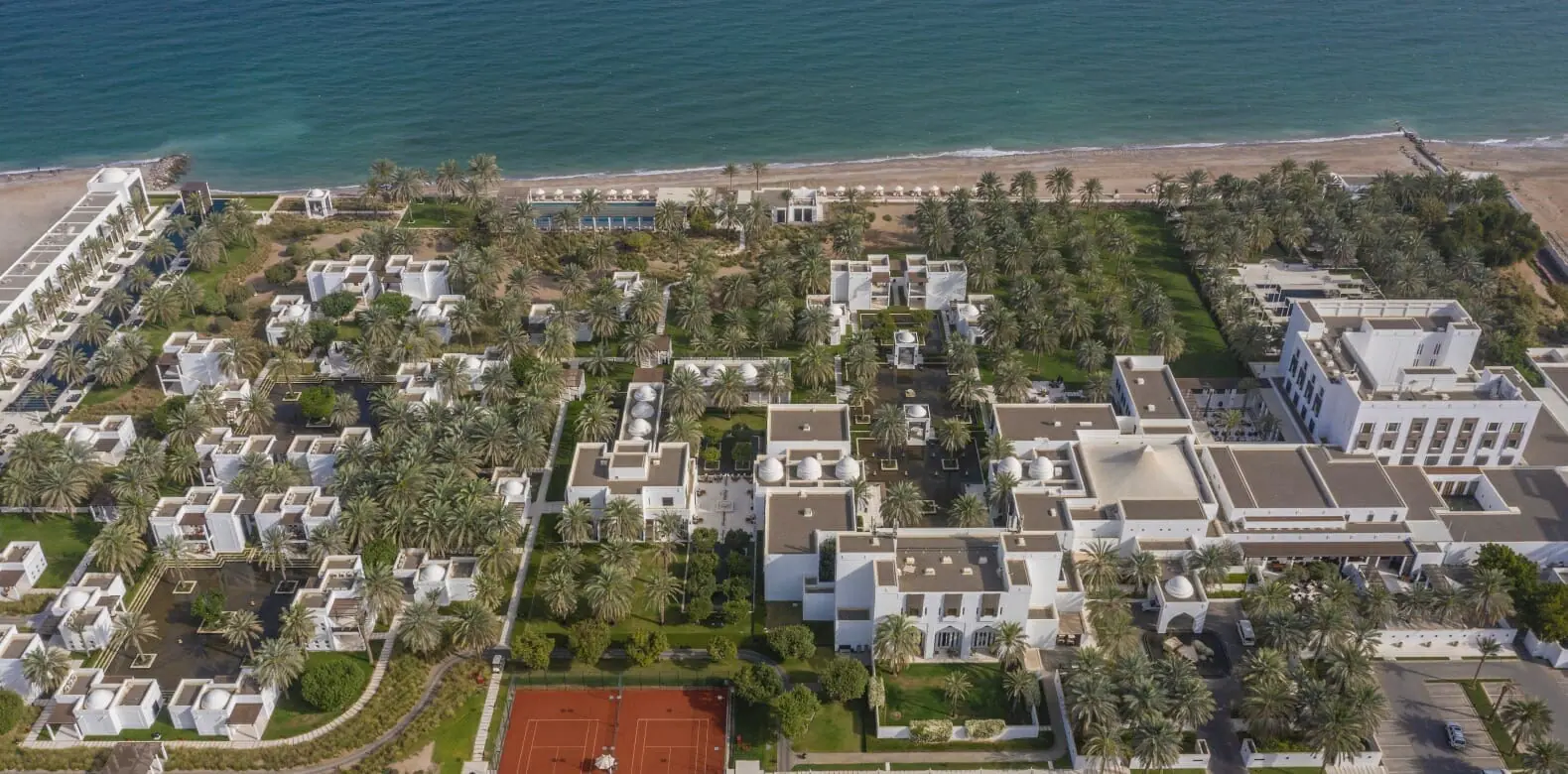 Designed inside and out by Jean-Michel Gathy of Denniston International, The Chedi Muscat opened in January 2003.
Indeed, the journey to Wadi Tiwi is nearly as compelling as the canyoning itself. An amiable 20-something with the music taste of a middle-aged man, Hamid queues up a series of rock classics for the two-hour ride west from Muscat. With AC/DC and Elton John providing the soundtrack, we cruise along the coast road before turning off the highway onto a tiny track that leads up into the mountains. Clearly inspired by rambunctious anthems blasting from the stereo, Hamid negotiates the switchback turns and steep inclines with aplomb – his bold manoeuvres scattering village livestock into the mango and date orchards that flank the wadi's lower reaches.
Adrenalizing as the ride may be, it's nothing compared to the main event. And, after my shaky start, I quickly get into the groove. While that initial descent is undoubtedly the most intimidating part of the adventure, the route through the gorge — which takes about four hours to complete — is replete with memorable moments. Other highlights include a 14-meter cliff jump, luge-like intervals where I whoosh over miniature waterfalls, hands crossed over my chest, and peaceful periods of respite where I kick back and let the flow of the water carry me gently over wide river pools. By the time we reach the end of the gorge, I'm hopping between rocks with the dexterity of a mountain goat. Half-jokingly I ask Hamid if we can go back up to the start. "It's getting too hot now," he says. "And there's always a chance of a shower in the afternoon which makes water levels unpredictable and canyoning dangerous."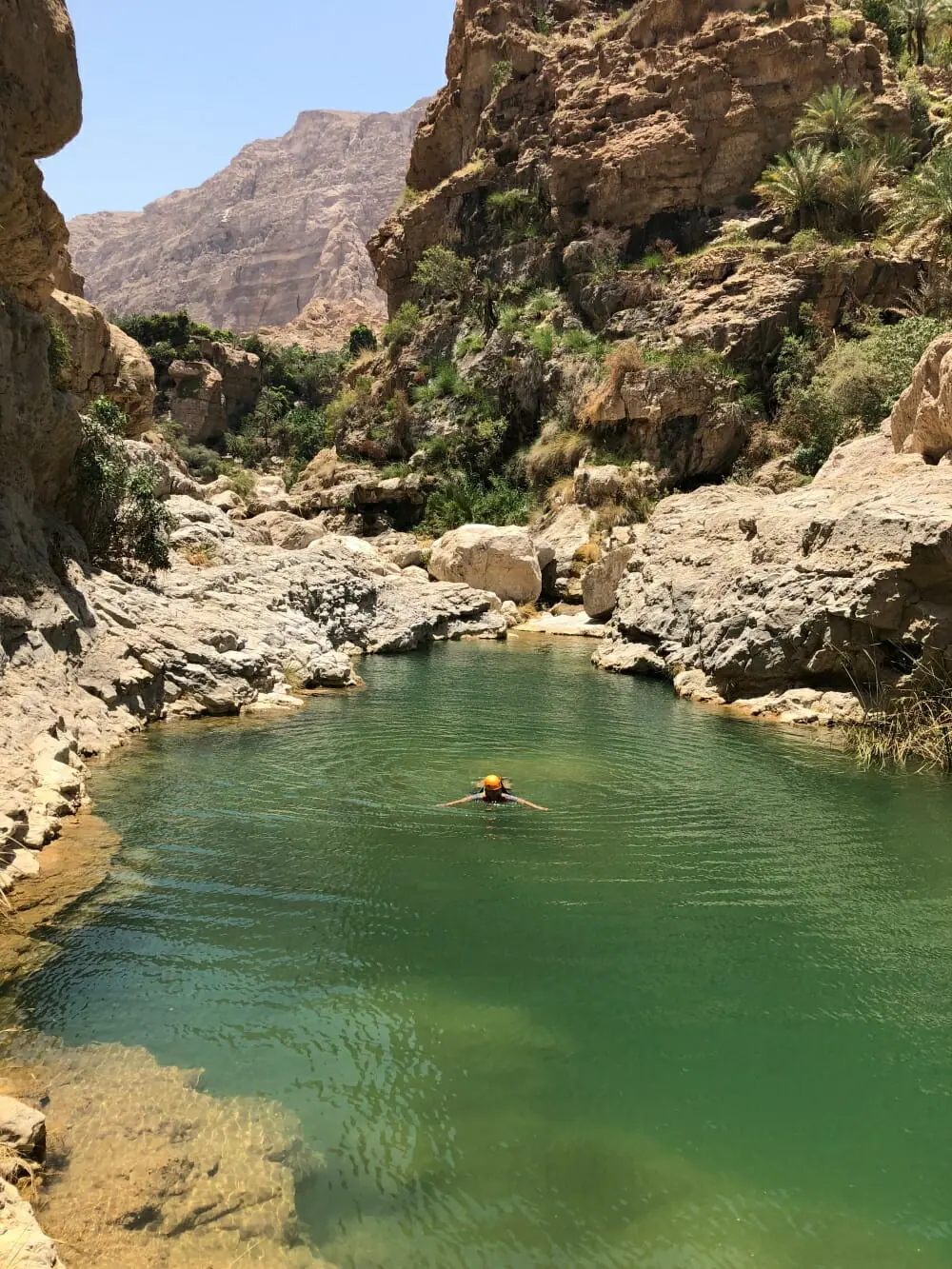 It's 160km from Muscat, but worth every klick for a one-of-a-kind dip.
By the time we scarf down a lunch of biryani, fried fish and curry at a local restaurant near the mouth of Wadi Tiwi, all thoughts of further activity have been subdued. As we start the journey back to Muscat, Hamid cranks the music back up. This time it's rootsy 1960s legends Creedence Clearwater Revival. "Rolling, rolling, rolling on a river," goes the song on the stereo as I close my eyes and fall asleep. It seems like a fitting note to go out on.
To ensure plenty of time for canyoning, book one of the attractive room packages here.
---
Text by Duncan Forgan for GHM Journeys.
Featured image: The Tiwi River desert snakes though harsh desert landscapes but turns absolutely glorious when it's constrained by its wadis, or canyons.
Published on 14 June 2019 (Updated on 23 July 2021)