Signature Shuwa: 24 Hours in the Making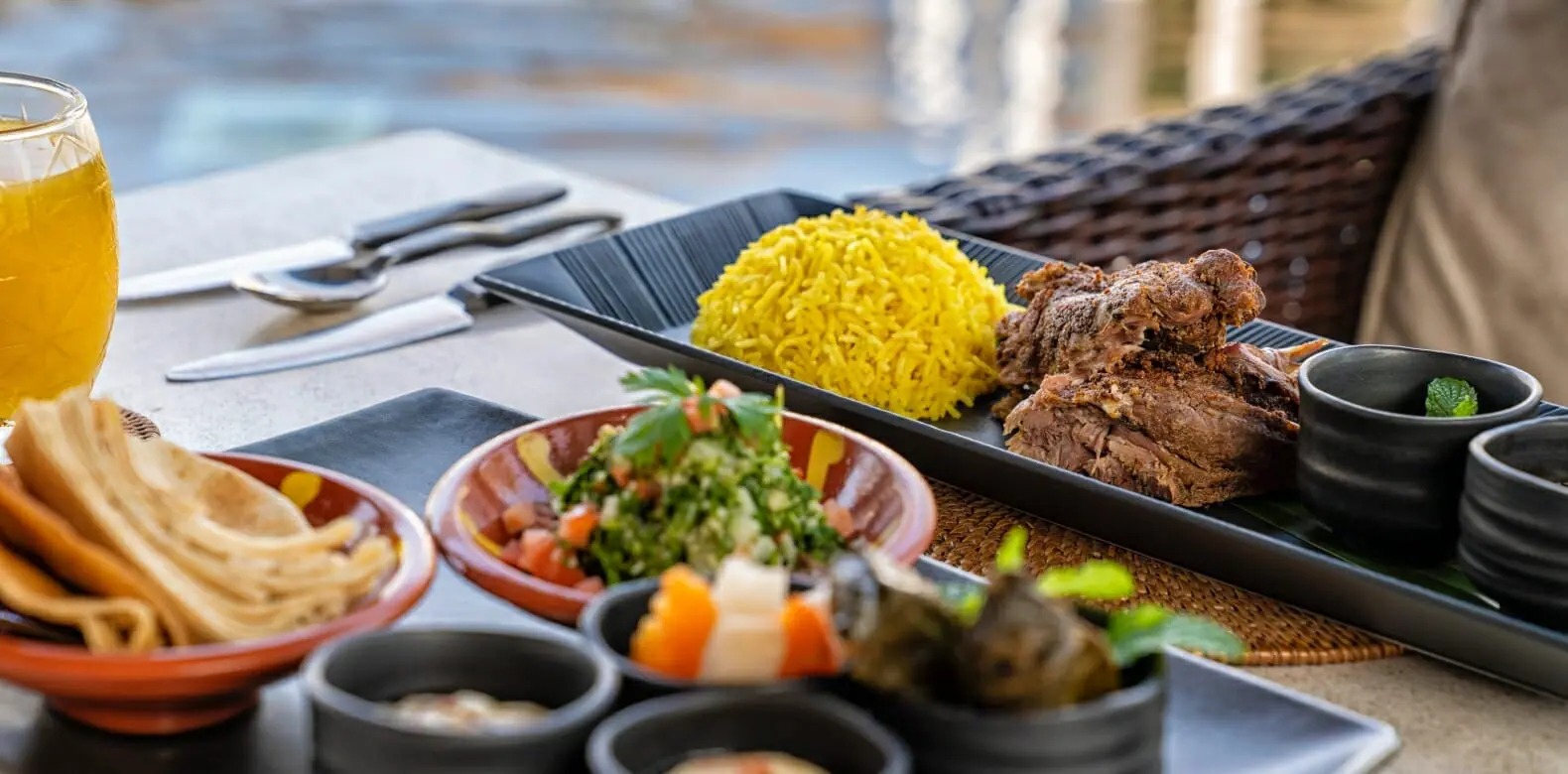 A small crowd keeps glancing over from The Serai Pool at The Chedi Muscat, watching as one of the resort's chefs, standing at a table on the nearby palm-shaded lawn, rubs an orange-hued spice paste onto a thick cut of lamb. The chef then takes the meat, along with several handfuls of thinly sliced banana leaves, and stuffs them inside a rough burlap sack, which he winds shut with stainless steel wire.
Curiosity piqued, the onlookers approach to ask what he is preparing, and then: "When can we try it?"
Not just yet, the chef replies.
Chef Ziyad Mohamed Ramadhan Al Balushi, a junior sous chef at The Chedi Muscat, tells them he is at the beginning of the elaborate and time-consuming process of cooking his signature dish, an Omani favorite known as shuwa. After completing the prerequisites, Chef Ziyad carries the bag containing the lamb to a far corner of the lawn, where a custom-built pit, some six feet deep and with the circumference of a manhole cover on a city street, has been carved into a concrete apron. At the bottom of the pit, a small charcoal fire is already burning with wood chips made from the local somer tree. The smoke of this wood is renowned for infusing meat with a bold fragrance and taste. Chef Ziyad drops the bundle into the smoldering pit, drags a metal lid across the opening, and uses a shovel to spread a layer of dirt on top of that.
There, in the sealed pit, the lamb will slowly cook for the next 24 hours.
The Chedi's junior sous chef prepares to lower the works into a cooking pit nearly two metres deep.
When Chef Ziyad returns the next day to retrieve the lamb and carve it, the meat practically melts off the bone it's so tender. His celebrated shuwa, which is served once a week on Saturdays as part of a traditional three-course Omani lunch at the resort's Serai Pool Cabana, is typically eaten with white rice and ghee."Guests always comment that our shuwa is exceptionally well cooked, very tender, like almost nothing they've experienced before," says Chef Ziyad. "And they invariably remark about the rich flavors of the spices."The breezy Serai Pool Cabana is open-air on one side, overlooking the clean, sleek lines of the pool deck. Beyond that stands a row of palm trees on the beach, and farther still is the Gulf of Oman, stretching all the way to the horizon.
To make the paste for his shuwa, Chef Ziyad employs a veritable cornucopia of spices. Cumin seeds, coriander seeds, garlic, chili, turmeric powder, salt, cinnamon, black pepper, cardamom, cloves, nutmeg, vinegar and vegetable oil are all toasted together in a saucepan before being puréed in a blender. In Oman, shuwa is traditionally eaten during the Eid holiday to mark the end of fasting. In some villages, larger pits are dug so that multiple families can prepare their feasts together. Most shuwa is made with lamb, but beef and goat are also sometimes used, says Chef Ziyad. In fact, some Omanis don't cook their shuwa in a pit at all, but rather in a modern oven—although the dish in that case lacks the distinctive smokiness from the somer wood, the chef says.
"I knew I wanted to be a chef for a long time," remarks Chef Ziyad. "I always knew that I had talent and I always liked to cook. My uncle was a chef and had his own kitchen. He cooked for weddings and other big events, and I learned a lot from him about how to prepare Omani food."Chef Ziyad didn't follow the same approach to a professional culinary career as some of his peers in Oman. For instance, he didn't attend a hospitality institute to learn his trade. Rather he simply began working in the kitchens of local high-end hotels, where he swiftly climbed the rungs from "helper" through the various chef ranks, with stints in Indian cuisine, banquet cooking, and as a baker."Omani cuisine has been greatly influenced by Indian and other Asian cuisines," he says. "Our food is usually spicy—we use a lot of different spices. One of the main ingredients we like to use is the green chili.""In addition to shuwa, our seafood is one other thing people should definitely try when they visit Oman," adds Chef Ziyad. "Before I started making shuwa, my signature dish at The Chedi was a local Omani soup, made with fresh fish, lobster, and shrimp."None of which, he says, should be cooked in burlap or a pit.
Start planning your visit to The Chedi Muscat with a plethora of packages and promotions on offer available here.
---
Text by Bill Bredesen for GHM Journeys.
Featured image: Basmati rice, flavored with cumin, cardamom and cinnamon, is an ideal complement to shuwa.