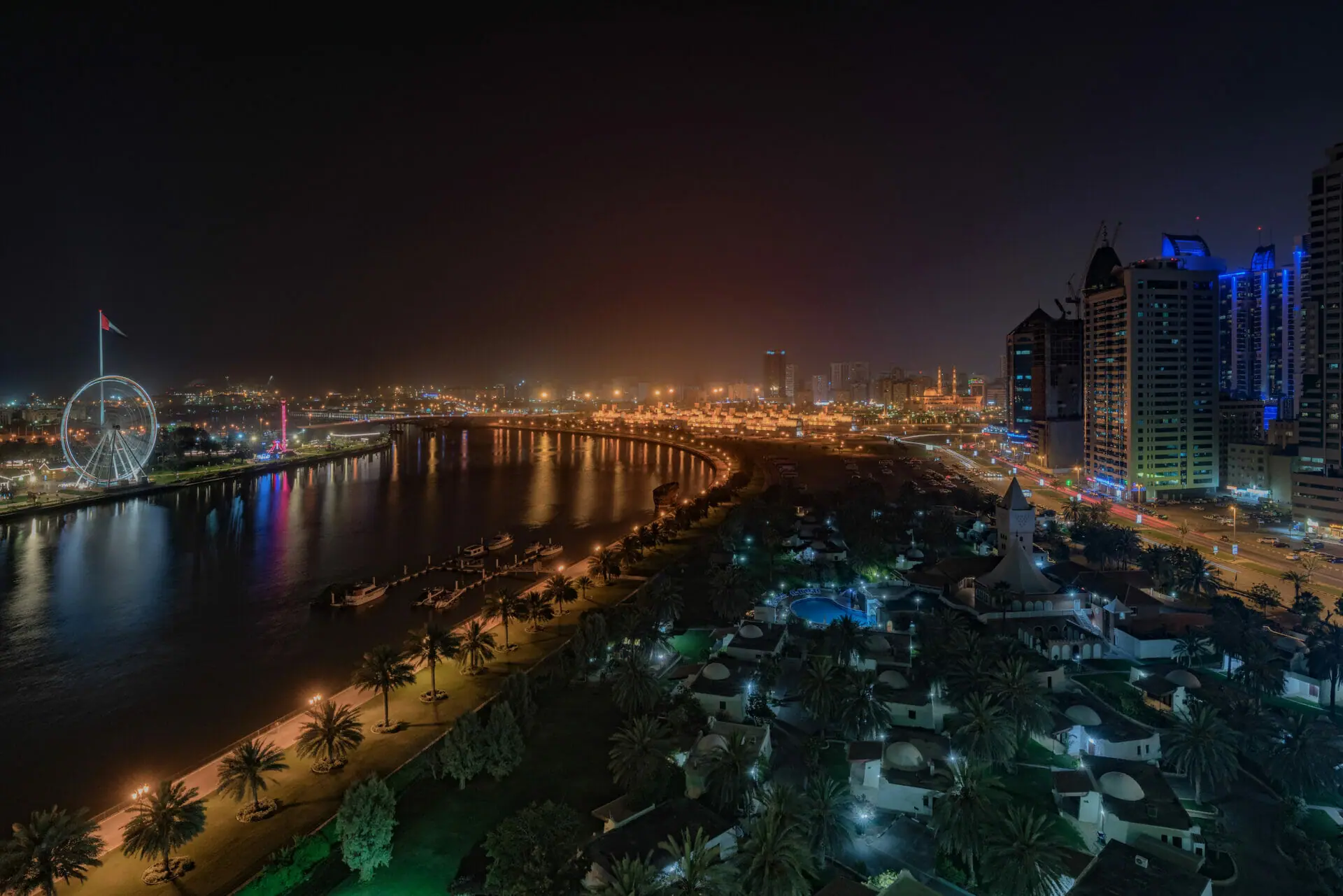 It may surprise many that Sharjah, the United Arab Emirates, has become a burgeoning hub for some of the most up-and-coming urban artists in the world. With its reputation for being a place of rich history and cultural heritage, and business and commerce in the past, Sharjah recently emerged as an artistic and creative destination for many travellers.
Since the launch of the street art initiative by the Maraya Art Centre in 2014, Sharjah has transformed into a canvas and attracted some of the most innovative artists in the urban art scene. Highly recognised names, such as eL Seed, Marwan Shakarchi and Tarsila Schubert, have left their mark on the city's walls with their unique styles, adding to Sharjah's growing reputation as an art destination.
eL Seed
eL Seed, a French-Tunisian artist, is one of the most notable artists to have graced the streets of Sharjah. His speciality lies in calligraffiti, which merges traditional Arabic calligraphy with modern graffiti techniques, resulting in stunning and intricate murals. Among his works in Sharjah, his most famous is the colossal mural on Bank Street. The mural features a poem by Emirati poet Ibn al-Othaymeen, with text that snakes up the building, and eL Seed's calligraphic script twists and turns to spell out the poem's verses. The result is a dynamic visual representation of the flow and rhythm of the literary masterpiece, truly showcasing eL Seed's unique and awe-inspiring artistic talents.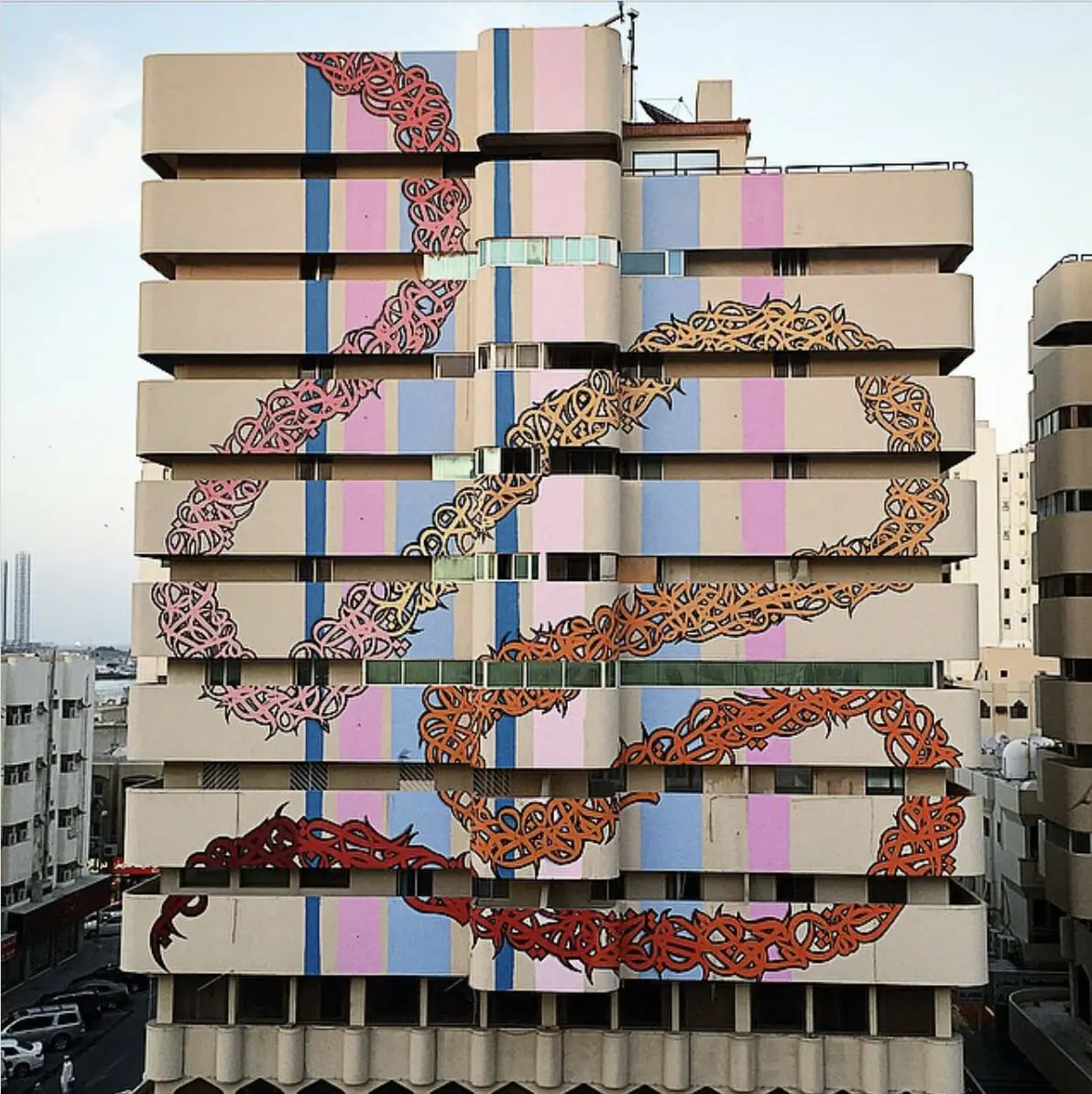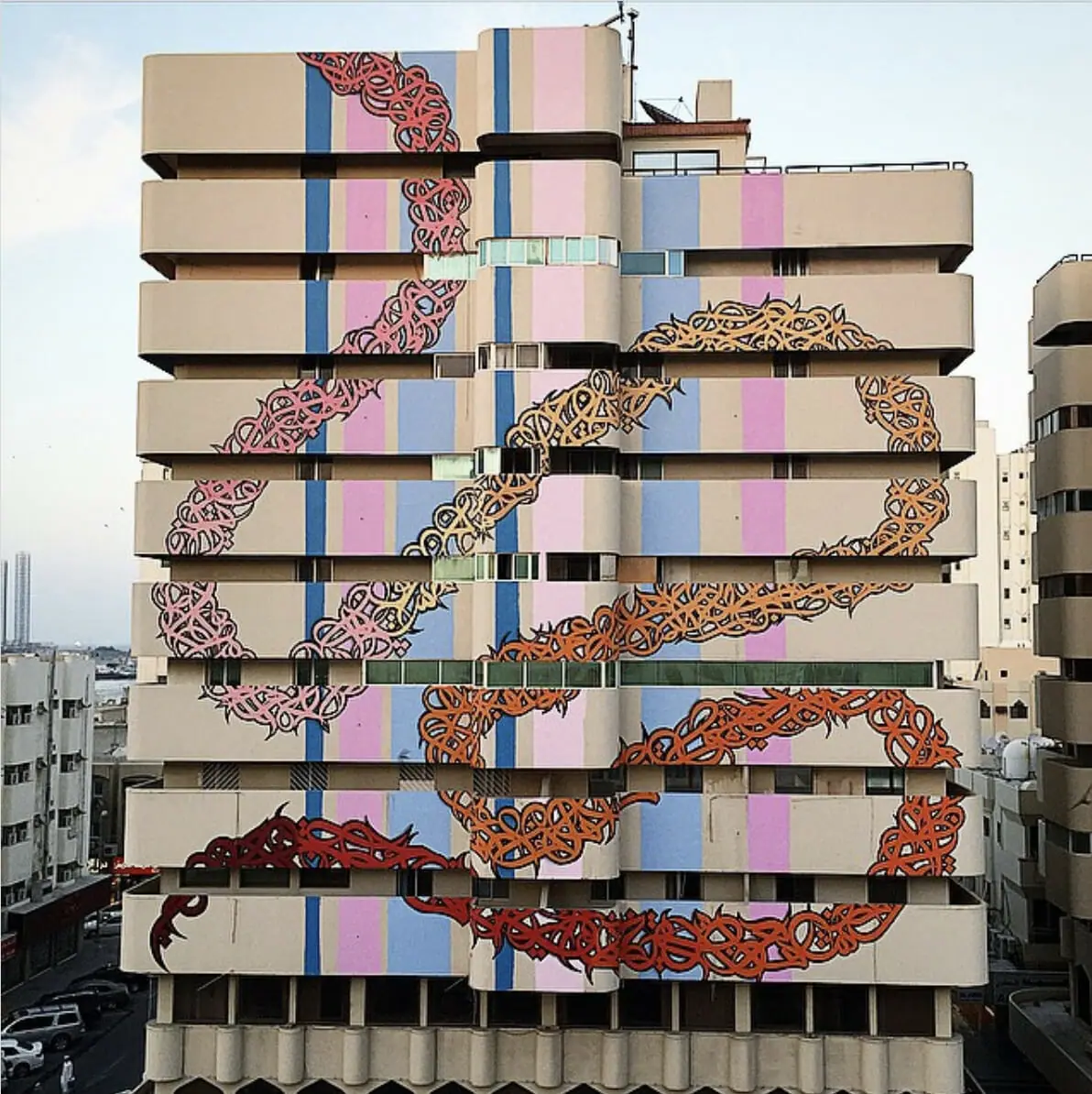 Credits: Instagram_eL Seed
Marwan Shakarchi
Another artist who has left his mark on Sharjah's streets is Marwan Shakarchi – an Iraqi artist known for his colourful clouds with 'x's for eyes. Shakarchi has been producing these clouds on stickers and placing them throughout the streets of London before being noticed and moving on to much larger canvases. His murals can now be found in several locations across the UAE, including a vibrant mural of his multi-coloured clouds on the wall of a building on Al Khan Road in Sharjah.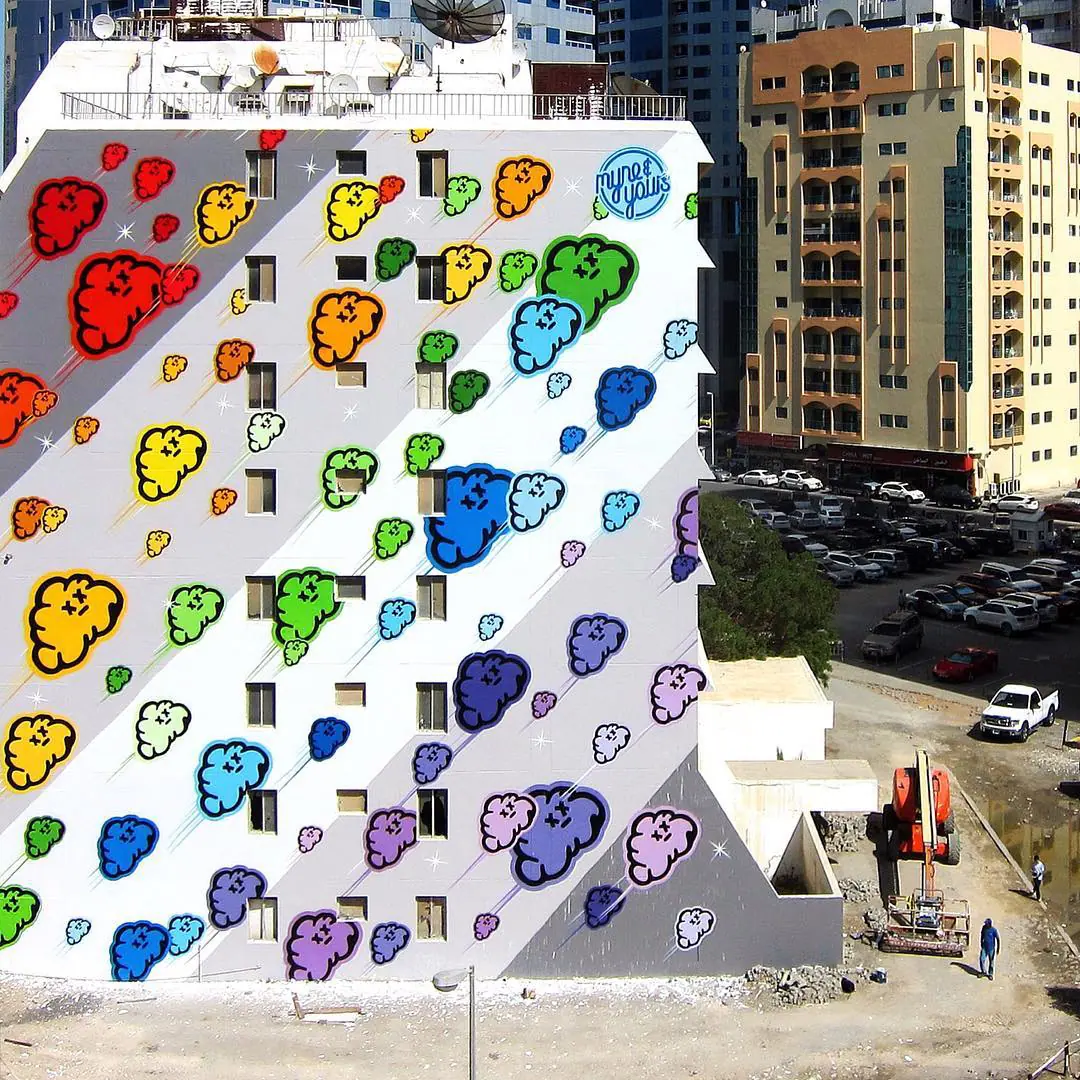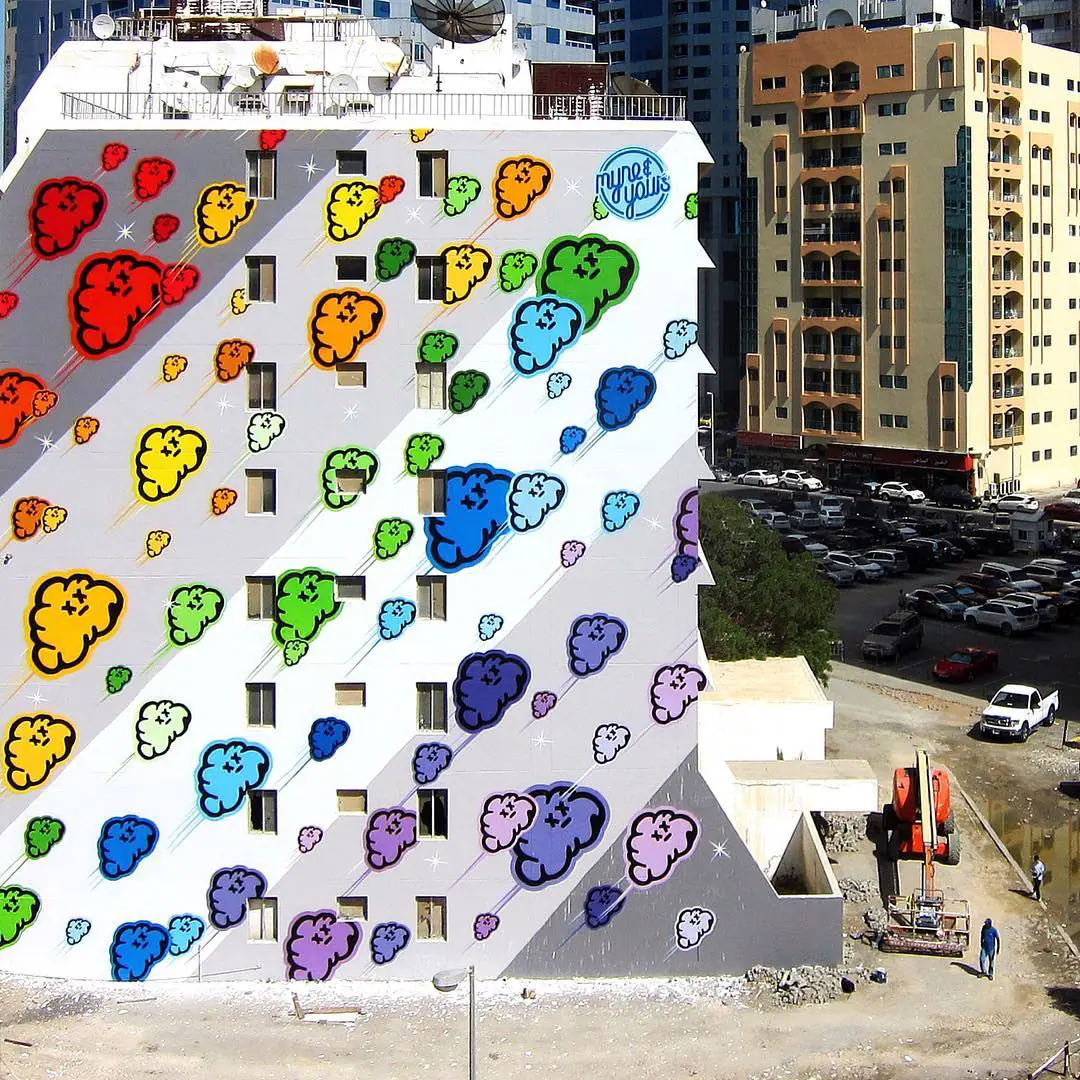 Credits: Instagram_myneandyours
Shakarchi's clouds represent hope and empowerment, and he hopes to inspire people and beautify streets through his signature caricature. His work is a testament to the power of public art to transform urban spaces and bring communities together. Shakarchi's art is an integral part of Sharjah's growing reputation as an art destination, and visitors to the city can experience the vibrancy and beauty of his work first-hand.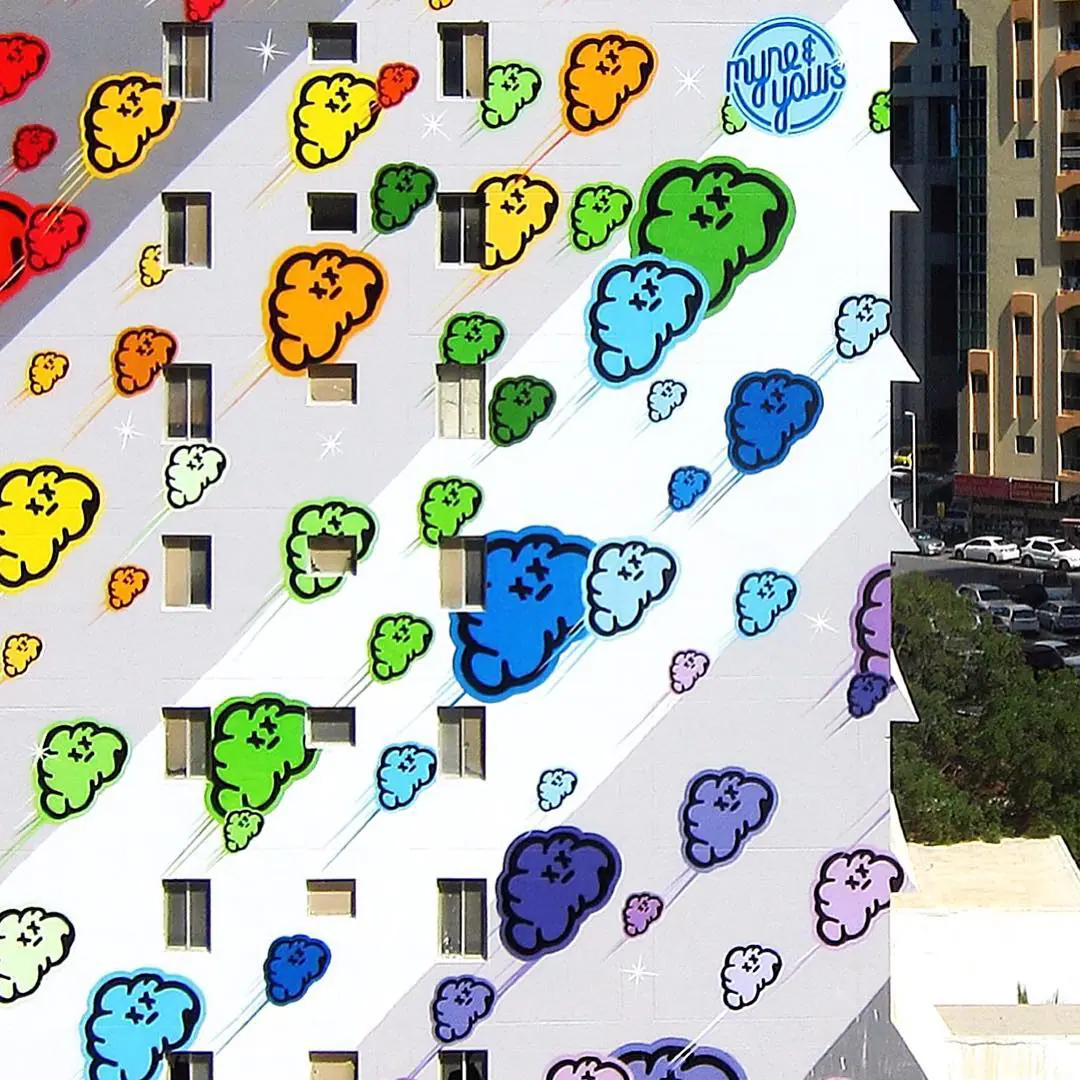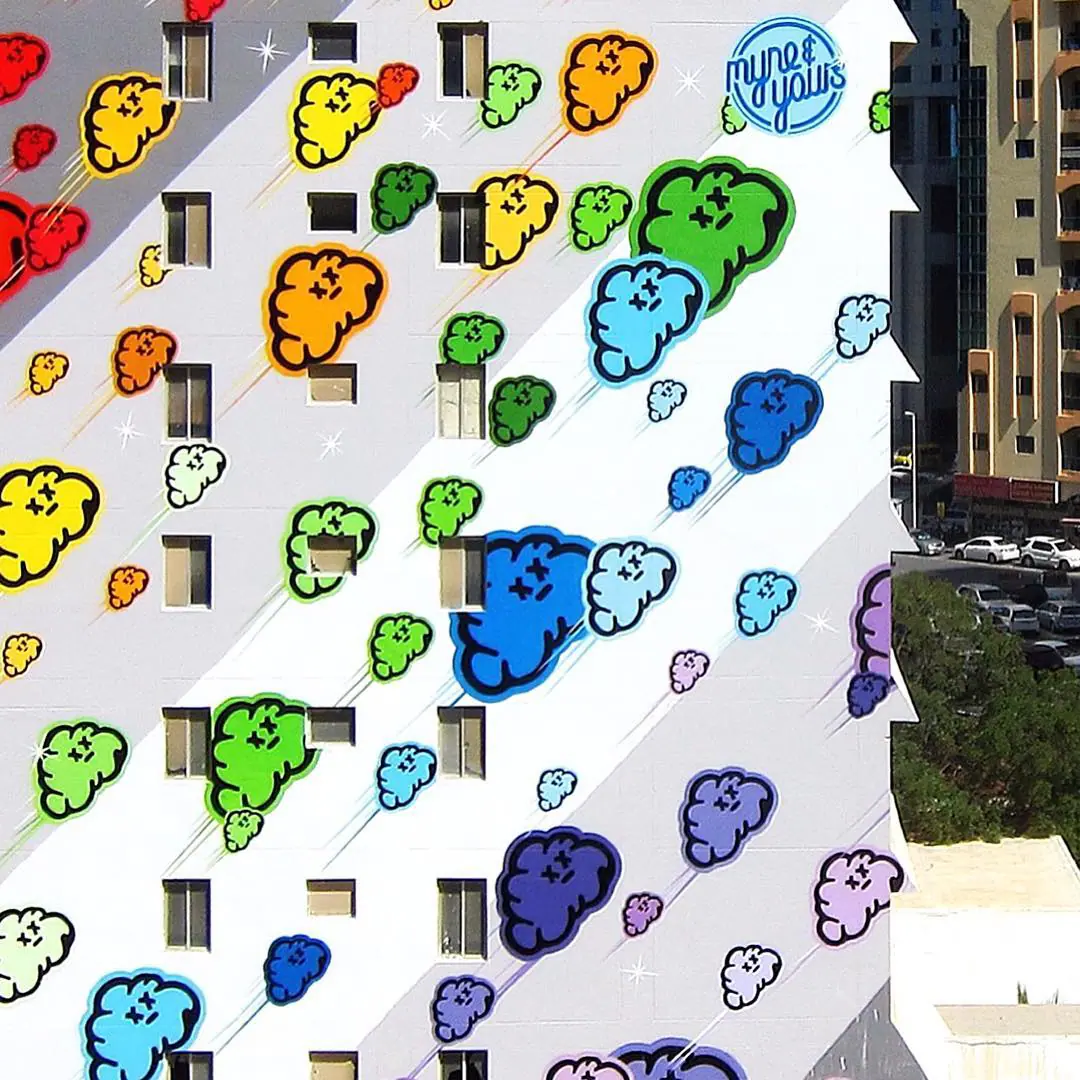 Credits: Instagram_myneandyours
Tarsila Schubert
Tarsila Schubert is another artist who has captured the attention of many in Sharjah. A Brazilian artist, Schubert first dabbled in street art at the young age of 9. Her signature style is characterised by playful and whimsical murals comprising bright colours, quirky shapes, and imaginative imagery.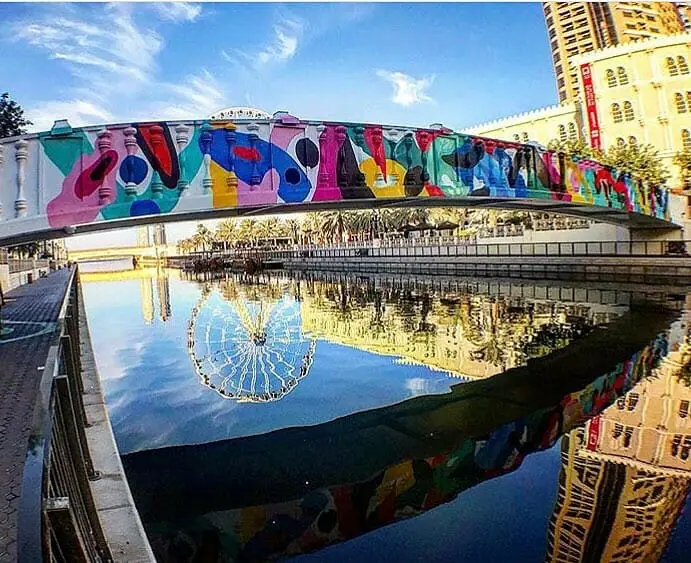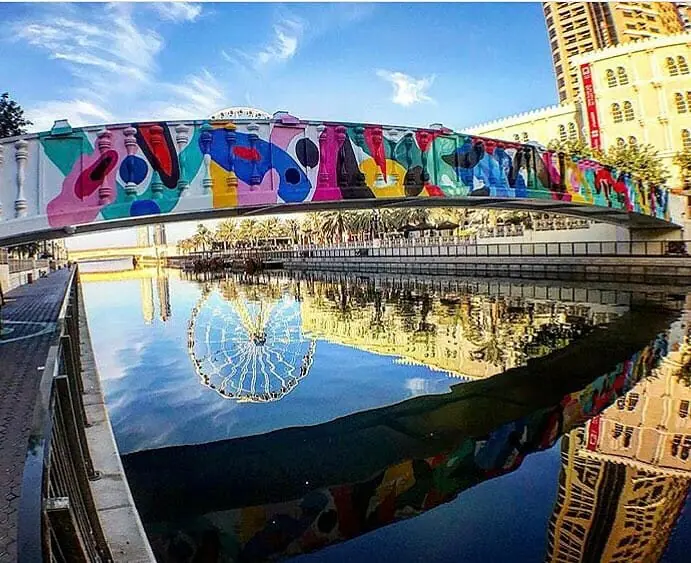 Credits: Instagram_tarsilaschubert
Schubert's murals can be found in various locations throughout the city, but one of her most notable works is a colourful bridge at Al Qasba. This rainbow stretches across the canal can be experienced up close or from a distance, where the colours are mirrored in the reflection of the water. It's a testament to Schubert's unique talent that she can create art that brightens up the city and makes a unique and memorable experience for those who view it.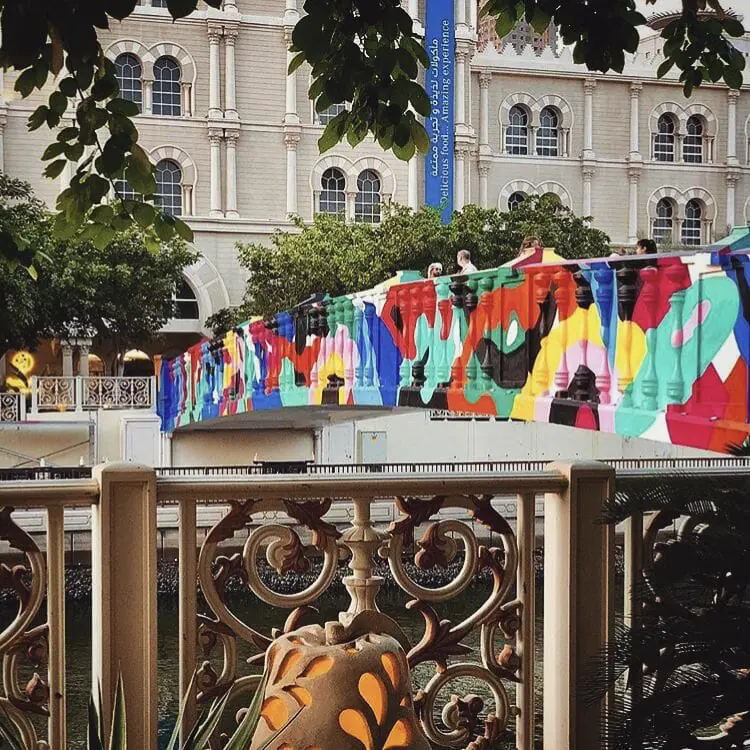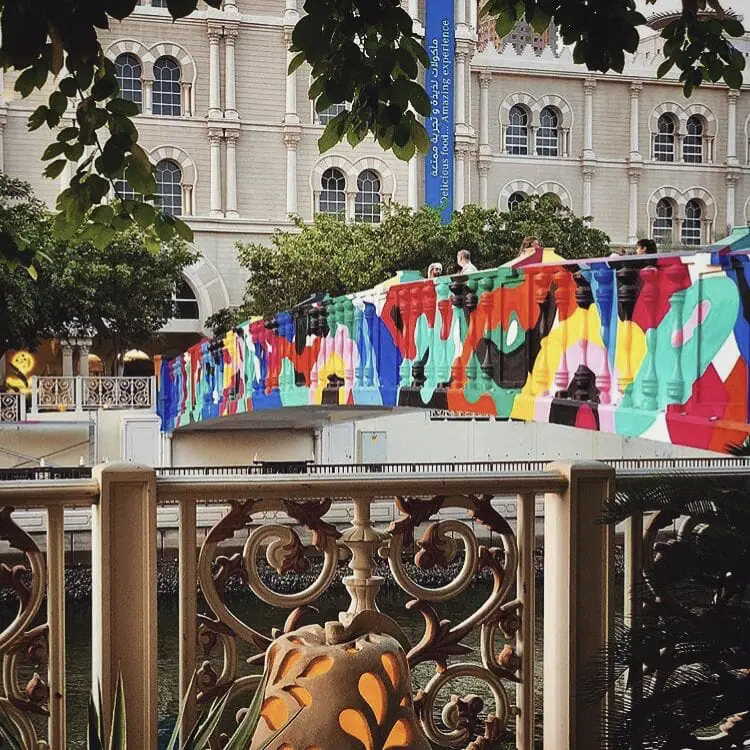 Credits: Instagram_tarsilaschubert
Sharjah's thriving street art scene is a testament to the city's dedication to supporting and promoting the arts. The Maraya Art Centre's initiative has resulted in a flourishing and dynamic art scene that is truly a feast for the eyes.
For Sharjah travellers interested in urban art, The Chedi Al Bait offers renowned for providing exceptional customer experiences to explore the city's vibrant art scene. Whether visiting for the first time or returning to Sharjah, The Chedi Al Bait is the perfect home base while experiencing the best of the city's growing street art scene and more. With personalised recommendations and local tips, map out the best itinerary to the best spots while discovering Sharjah.
Sharjah's streets are a must-visit destination for anyone who appreciates urban art at its best. Whether you're an art enthusiast or enjoy strolling through beautiful and creative streets, Sharjah's street art scene will leave a lasting impression on all who visit.
---
Discover Sharjah's vibrant street art scene and be amazed by the unique styles of artists like eL Seed, Marwan Shakarchi and Tarsila Schubert during your stay at The Chedi Al Bait. Immerse yourself in the colourful murals that adorn the city's walls and experience the power of public art to transform urban spaces. Don't miss out on this must-visit destination for all urban art enthusiasts!