The Glories of Andermatt, According to Bernhard Russi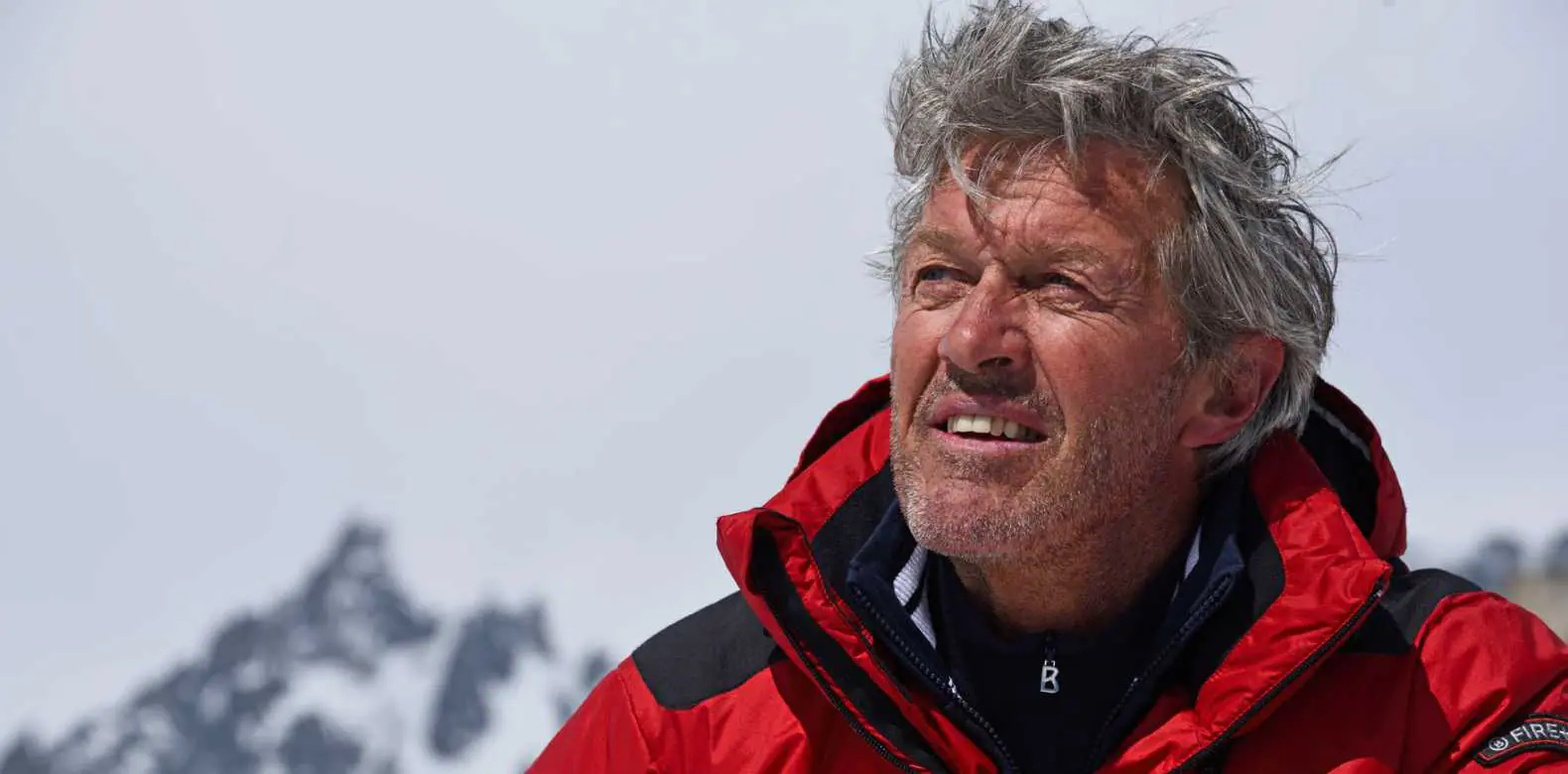 It's early June and the former Olympic gold medalist alpine skier Bernhard Russi is keeping a close eye on the local weather forecasts, waiting for a string of rainy days to pass so he can hit the slopes again in the Swiss Alps. Never mind that summer is practically here—and that this year's ski season is already eight months old.
The 71-year-old native of Andermatt in the canton of Uri in central Switzerland says he plans to drive up to a glacier near the Furka Pass once the weather clears, trek his gear up to 3,000 meters, and ski back down "in fantastic spring snow."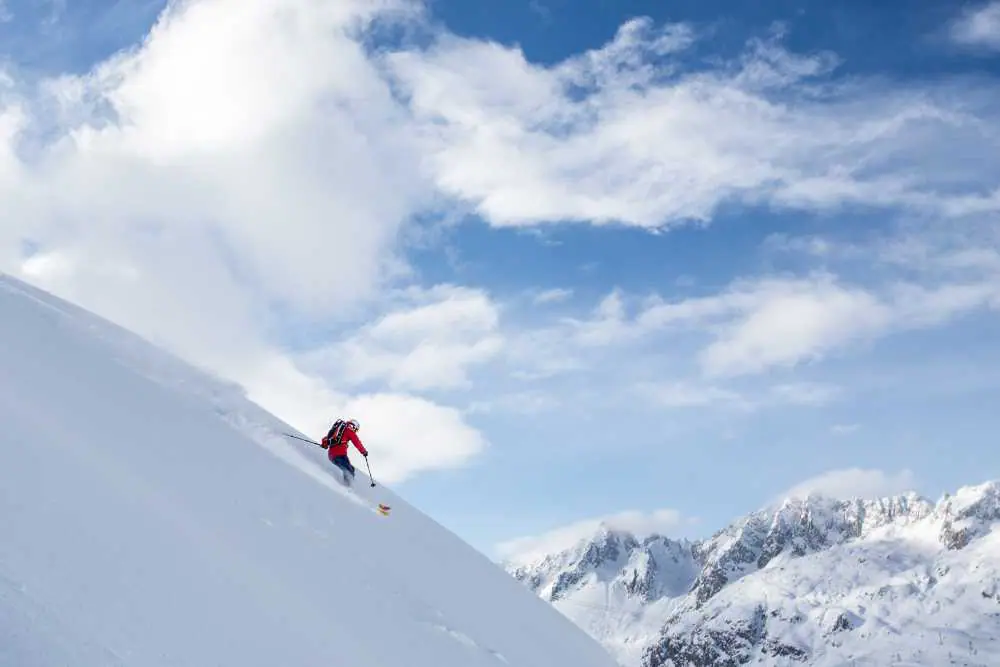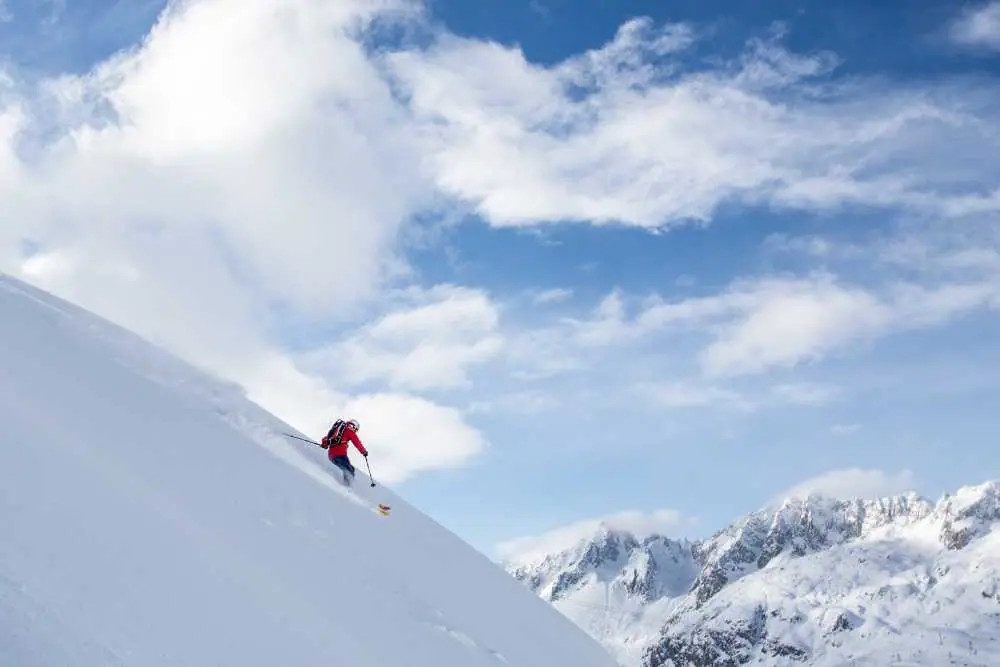 A cable car deposits skiers at the top of the 2,961-metre Gemsstock mountain.
Russi has spent a lifetime in Andermatt, the picturesque mountain village of 1,500 inhabitants, calling it home even throughout his storied career as a downhill racer. He burst onto the international stage in 1970 as a 22-year-old, capturing the World Downhill Championships, and later won a gold medal at the 1972 Winter Games in Sapporo and a silver medal in 1976 in Innsbruck, before retiring from competitive skiing in 1978.
Today he is one of his hometown's most eminent and vocal supporters, championing not only the Gemsstock, Andermatt's fabled mountain peak where Russi learned to ski as a child ("as soon as I could walk, but this is nothing exceptional here," he says), but serving more broadly as an emissary for the increasingly popular four-season alpine sport and nature destination.
Russi's favorite pastime, of course, remains skiing, as evidenced by the 50 to 60 days—and counting—he hit the slopes this season. He says he's still drawn to the vertical black-diamond run that has been a hallmark of the Gemsstock since it was first developed in 1963.
"It's one of the best free-ride mountains you can imagine anywhere—not only in Switzerland but worldwide," he says.
The north-facing runs are famously cold but benefit from reliably excellent and abundant snow, Russi says. The sunnier side of the mountain, which was extensively developed in recent years, more than doubling its capacity, offers gentler runs better suited to families and beginners, and has furthered Andermatt's appeal to out-of-town visitors.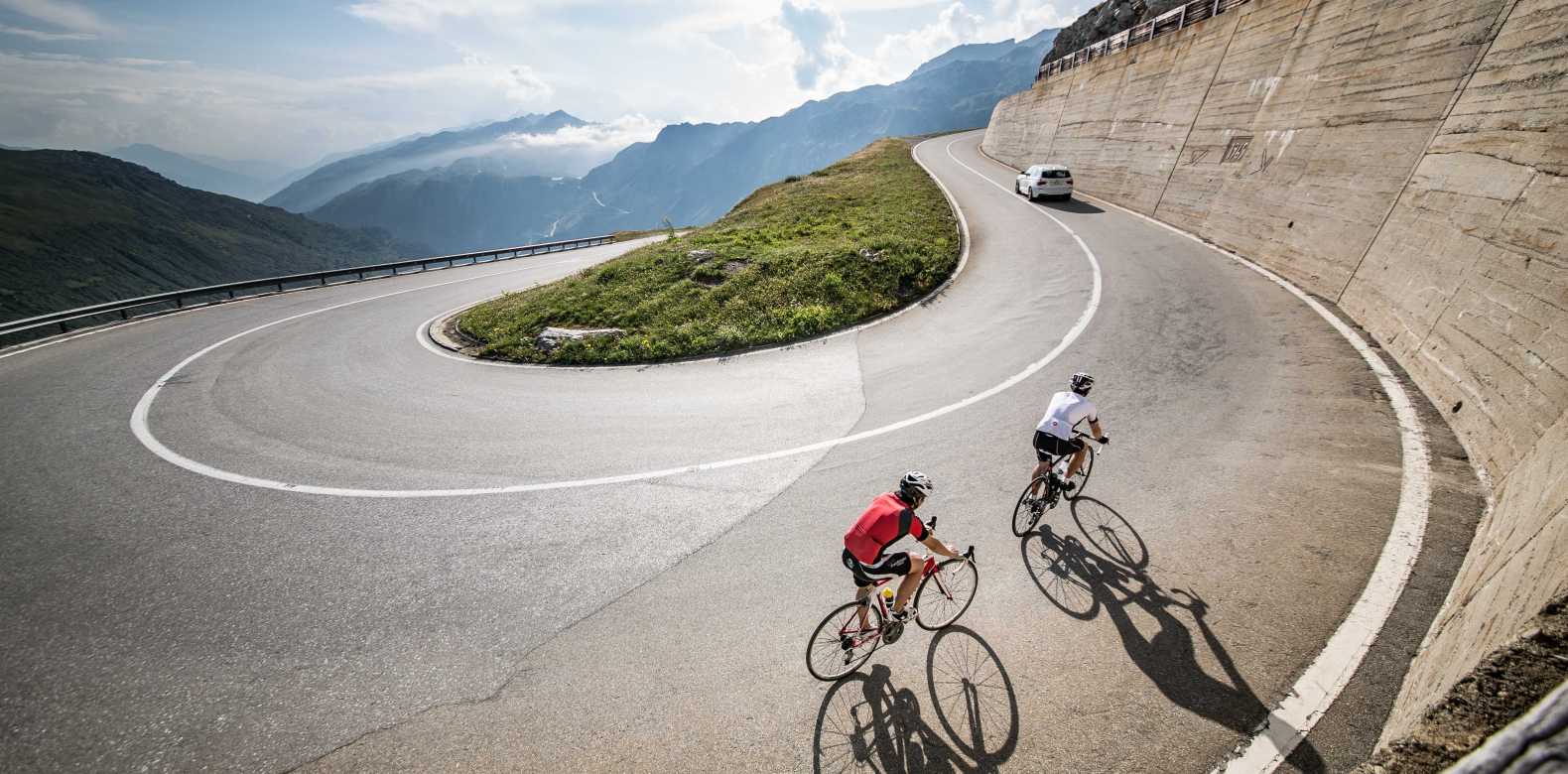 Furka Pass was also used for a scene in the James Bond film Goldfinger.
While it's best known as a ski destination, Andermatt lures an equally active crowd in the warmer months. The region is a paradise for cyclists, Russi says, due to its central location surrounded by rugged mountain passes, and it's not uncommon to see hundreds, even thousands, of cyclists on the alpine roads wending wrestling their way up 1,000-meter inclines.
Russi enjoys cycling as a way to stay in shape but says his real summertime passion is rock climbing. "My favorite spot is also at Furka Pass, which is just west of our valley. There you'll find everything: ice climbing, rock climbing, ridge climbing, faces. There are long routes with 30 pitches, and short ones with just a few," he says.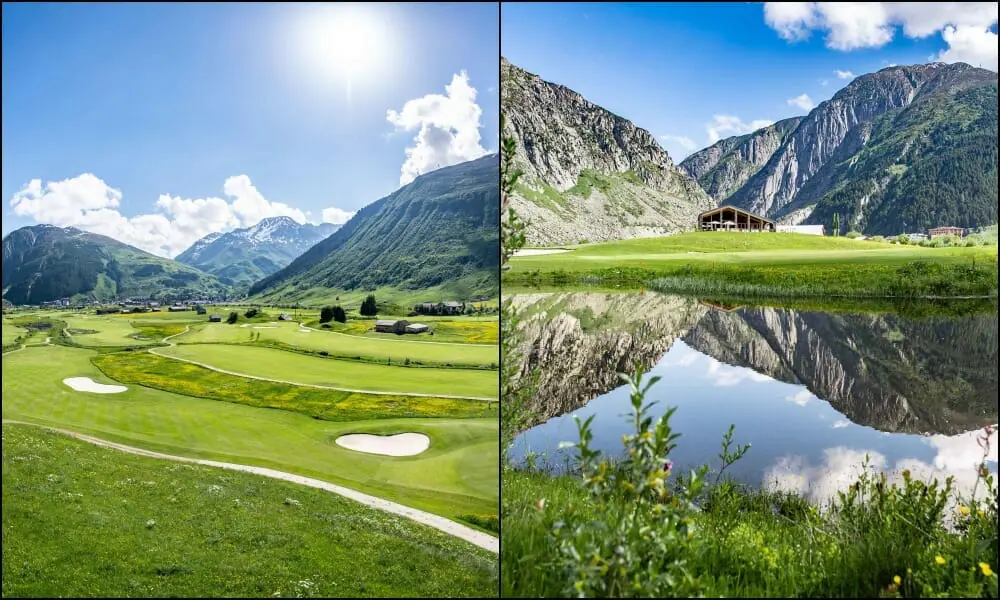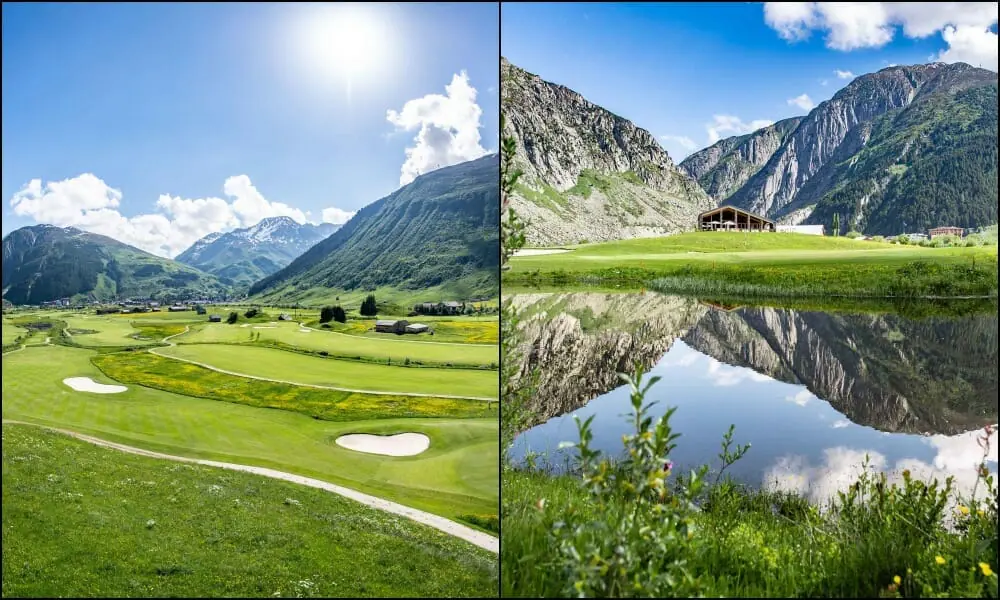 Daring comes easily to Russi. In 1969, he skied as a stuntman in a chase scene in the James Bond film Her Majesty's Secret Service. (Courtesy of Robert Bösch)
He is also the president of the nine-hole Andermatt Realp Golf Club, one of two highly regarded courses in the area. The other is the championship-level, 18-hole Andermatt Swiss Alps Golf Course, which plays at a hefty 6,500 meters from the back tees and features elements of a traditional Scottish links course. Both tracks offer scenic mountain backdrops and gaping valleys, with giant boulders ornamenting the fairways that have tumbled down from the mountainsides over centuries.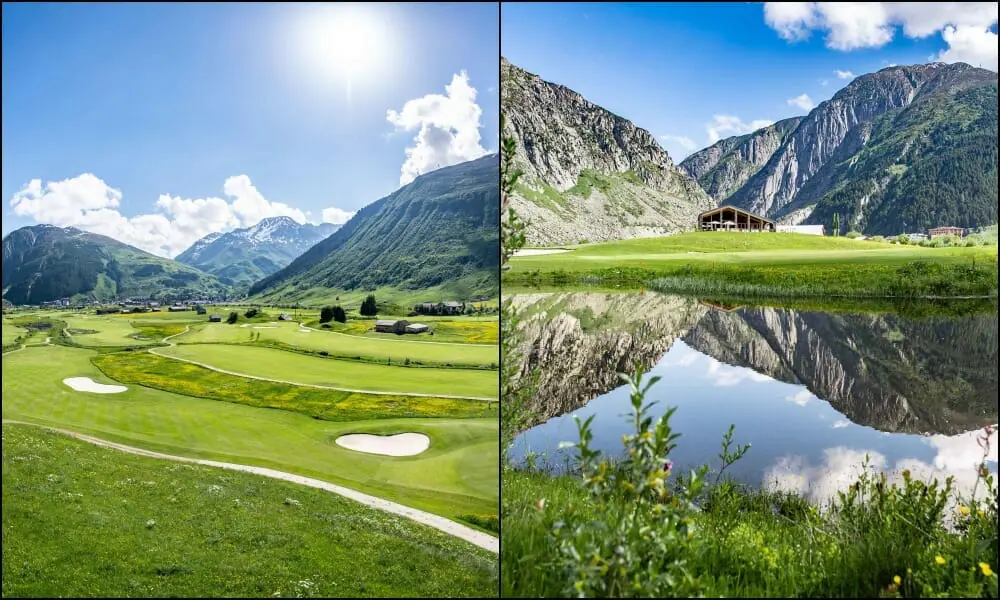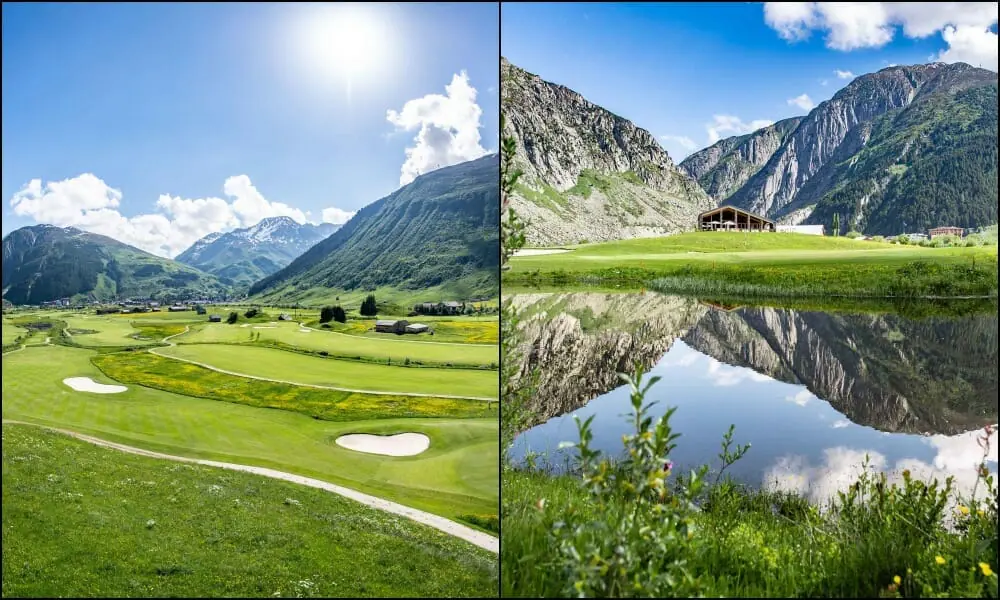 Renowned golf course architect Kurt Rossknecht designed the Andermatt Swiss Alps Golf Course, which has acquired a reputation as one of the most attractive golf courses in the Alps. 
When he's not busy with sports, Russi enjoys meeting old friends at places like the cozy restaurant Ochsen in Andermatt. "They serve the best fondue," he says, adding that the claim is especially noteworthy since the restaurant's owner is Portuguese.
Another of his preferred haunts is Vinothek 1620, set inside a historic house that dates back, as the name suggests, some four centuries. "This is a beautiful place. It's where you go if you want to have an easy time, listen to good music, and enjoy a glass of wine and a bite to eat," he says.
"In Andermatt you're not looking for caviar and Champagne," Russi adds. "Andermatt is more sausage and bread—an easy-going, red-sock crowd… We call it 'alpine chic.'"
The lure of sausage and bread not withstanding, exquisites European and Asian fare can be had at The Restaurant at The Chedi Andermatt. To follow in Bernhard Russi's footsteps across the golf courses of Andermatt, book a Tee Off In Style package here.
And while the village of his youth has undergone a tremendous growth spurt in recent years, bringing new modern apartment buildings and upscale restaurants and hotels, Andermatt's old-time charms have not diminished one bit, Russi says.
"The town itself has not changed. Its character has actually improved. Every restaurant owner and homeowner has done some restoration work—painting and such—and the village feels like it did 50 years ago. You really feel at home," he says.
---
All the climbing, cycling and golfing calls for well rested nights. As you check into your room at The Chedi Andermatt, you will be warmly greeted by a Hästens bed and warm, luxuriously appointed décor. Step out into the spacious balcony to witness a unique mountainous scenery, as described aptly by Russi. When it's time to refuel your energy, make a stop at the new Japanese restaurant.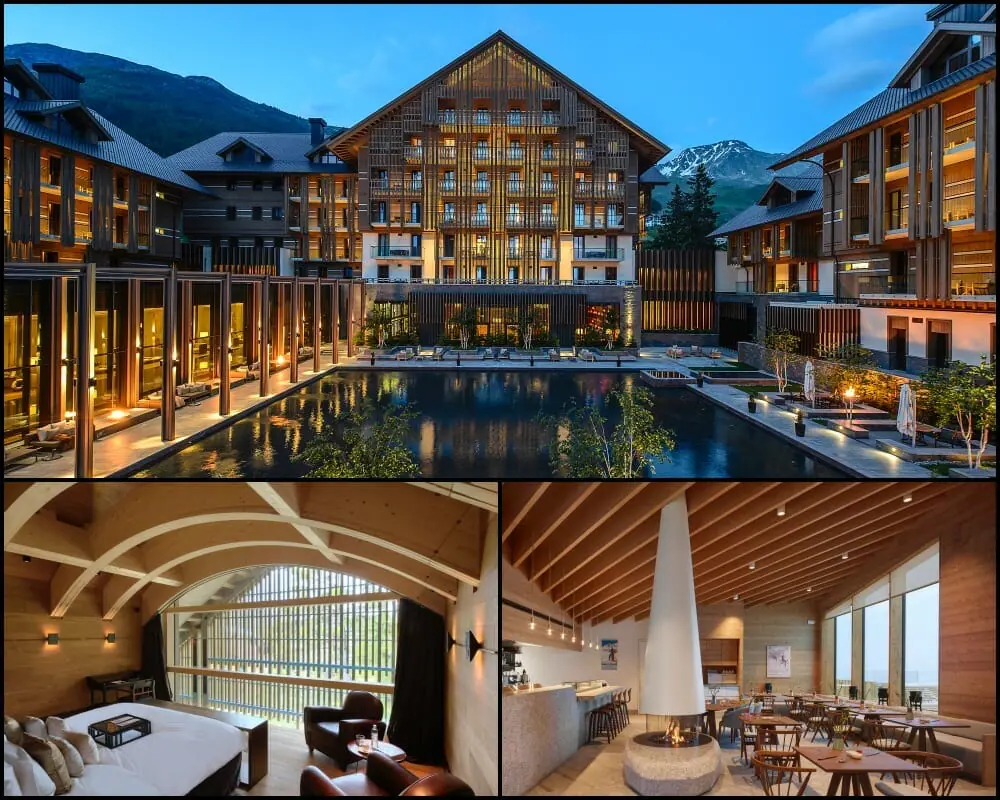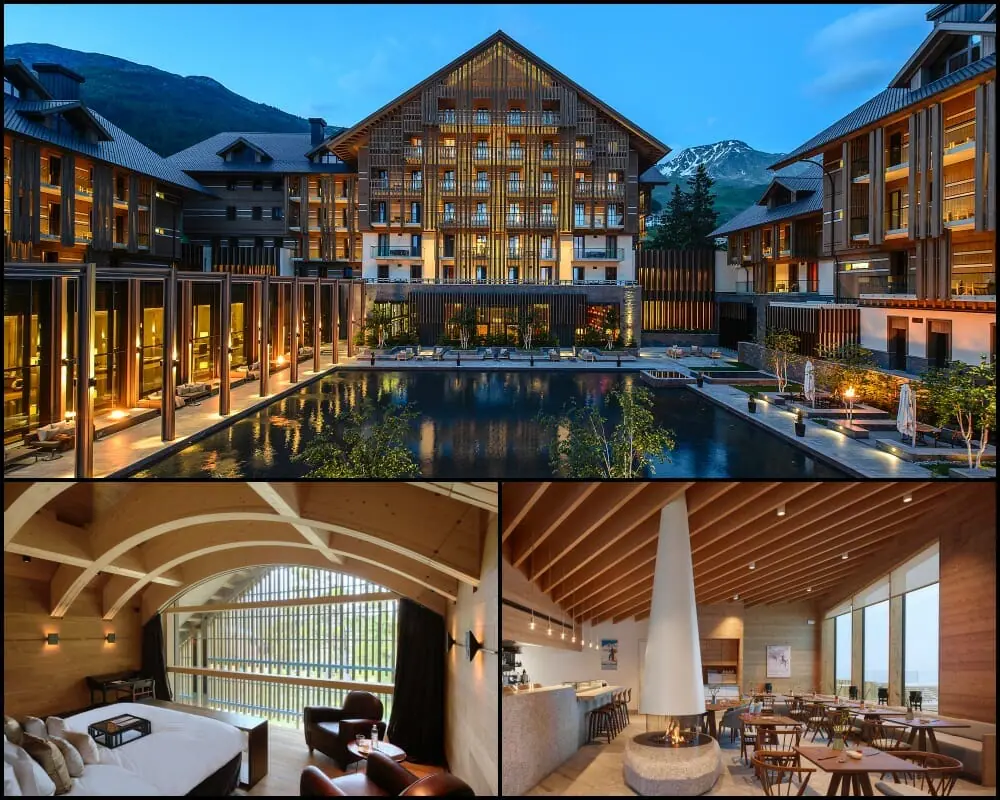 The Chedi Andermatt is located amidst the beautiful nature of the Swiss Alps and the charming village of Andermatt.
The dining experience at The Japanese by The Chedi Andermatt, situated on Mount Gütsch, starts off with mesmerising views of Gotthard, the Oberalp pass and the Ursern Valley. The restaurant, led by Chef Dietmer Sawyere who earned a Michelin star for The Japanese Restaurant, offers a menu that tempts with its wide variety of kaiseki, sushi and shidashi bento selections and they serve only the finest Japanese cuisine that'll tickle taste buds with tantalising aromas and robust flavours.
---
Text by Bill Bredesen for GHM Journeys.
Featured image: Andermatt's most famous son, Bernhard Russi, has designed nine downhill ski courses for the Olympic Games. (Courtesy of Robert Bösch)