Astonished shrieks wake me from my reverie. My system rocked towards slumber by the gentle motion of the boat, this urgent excitement seems surreal and slightly hysterical.
Reluctantly, I rouse myself and make my way to the side of Coral Ocean Tours' vessel, arrowing along the coastline extending southeast from Muscat, to investigate the source of the fuss. Judging by the ecstatic looks of my companions and the frantic motioning towards starboard by the ship's boatmen, it seems we have company.
The pod of dolphins appears to be racing us. Throwing their streamlined silver-blue bodies flamboyantly out of the turquoise ocean alongside us, they have the edge on our bulkier motorised yacht.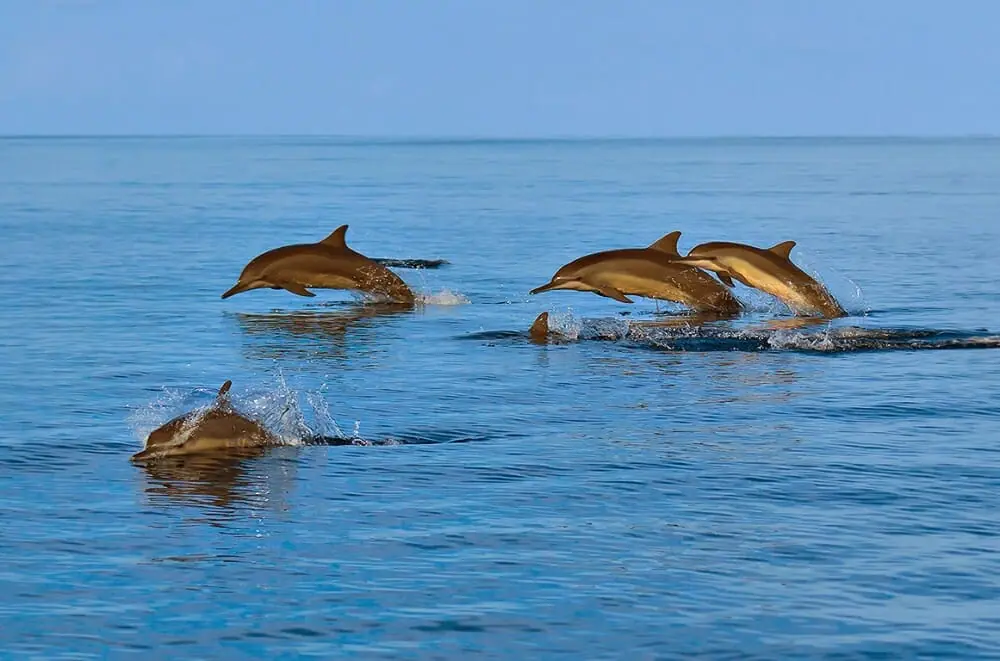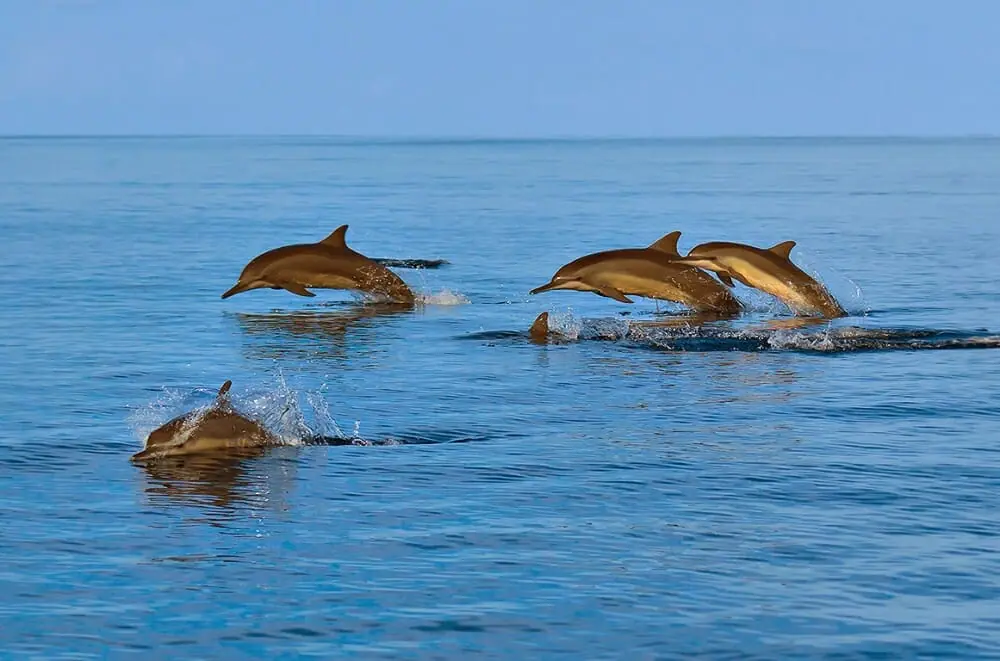 Spinning dolphins and the common dolphin are the two most frequently encountered specimens in the waters off Oman. (Photos courtesy of Coral Ocean Tours LLC)
"Very beautiful," says Sathish AP, marketing manager of Coral Ocean Tours, who has joined us on this expedition. "They don't come out every time. Sometimes they are lazy. But there's usually a good chance something like this will happen. It's what our customers come here for."
Growing up in Scotland's rural heartland, where animal spotting was limited to watching cattle huddle together in the clammy drizzle, I can barely fathom what is happening. It's like being transported directly into one of the most magical sequences in The Blue Planet, the seminal BBC documentary series charting life in the world's oceans. But sights like these are not uncommon in this neck of the Arabian Peninsula.
Dolphin shoals visit the shores of Oman in impressive numbers. Indeed, the migration routes through the Gulf of Oman field consistent dolphin traffic, especially between October and May — prime time for catching a glimpse of Flipper and friends. There's plenty of grist for observers looking to broaden their knowledge of dolphin species. Varieties include Indian Ocean dolphins; Indo-Pacific humpback dolphins; Risso's dolphins; common bottlenose dolphins; Indo-Pacific bottlenose dolphins; rough-toothed dolphins; pantropical spotted dolphins; striped dolphins; spinner dolphins; long-beaked common dolphins, and others.
In most countries, you might expect to have to travel some way from its main population centre to experience its natural highlights at its peak. Muscat, however, is a portal to some of the best dolphin spotting in the nation.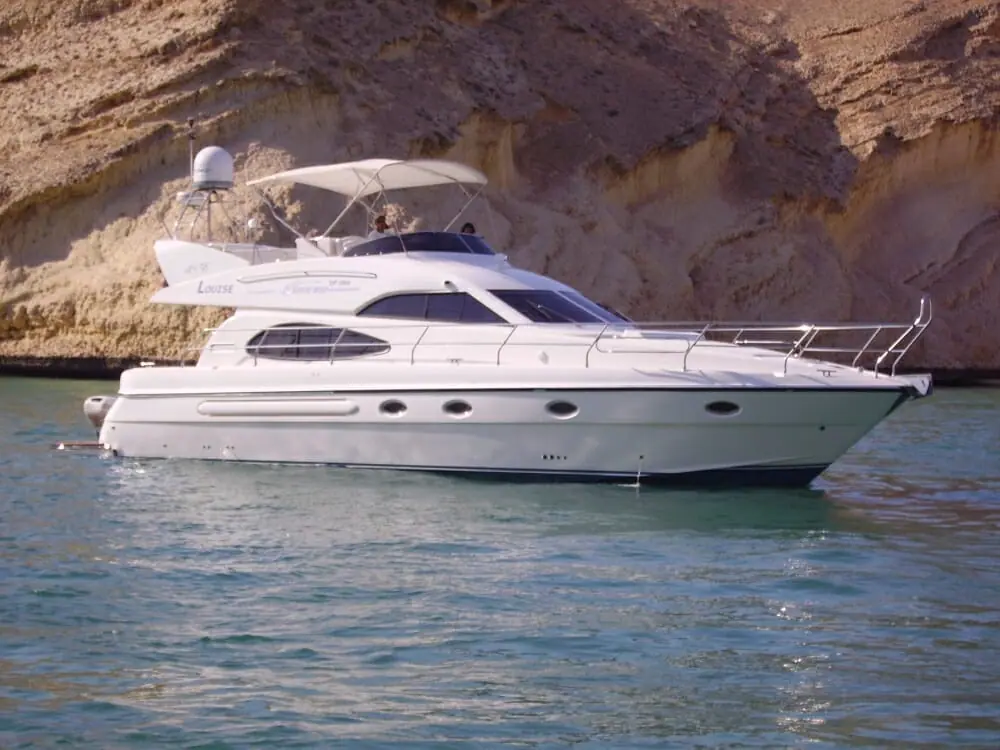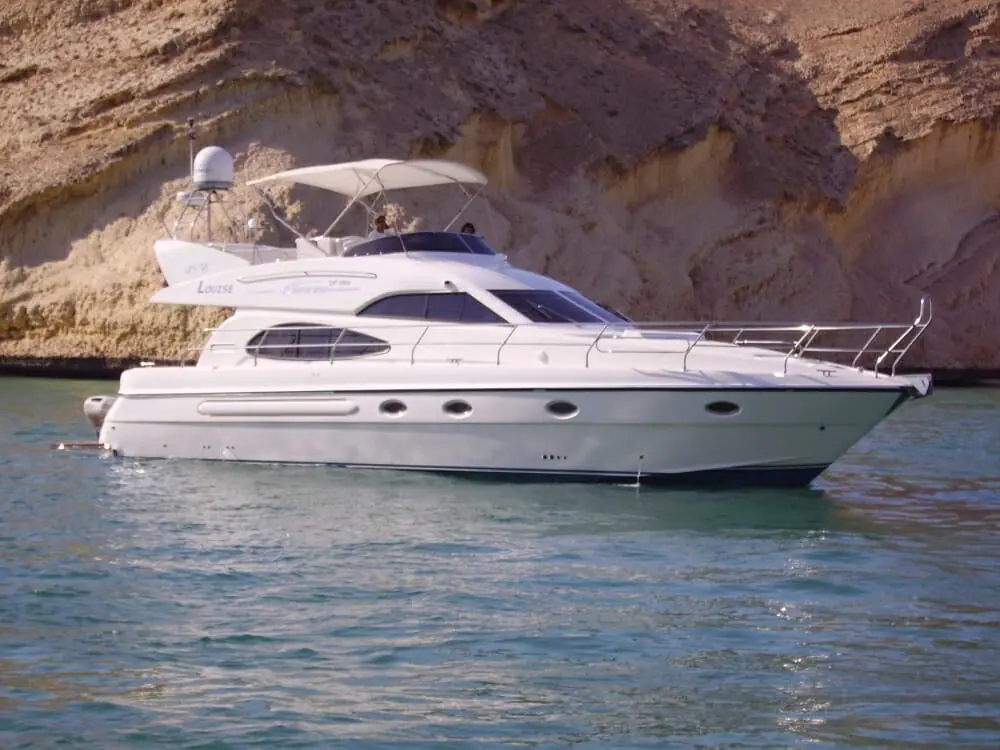 Dolphin-spotting in the morning is all but a certainty, especially from October to May. (Photos courtesy of Coral Ocean Tours LLC)
Following a leisurely breakfast at The Chedi Muscat, I'm driven to Marina Bandar Al Rowdha. It's a 30-minute journey from the coastal plain of northern Muscat to the city's southeast, where the craggy Hajar mountains pour down to the blue waters of the Gulf of Oman.
Upon boarding, Sathish attempts to keep our expectations in check. "You have to realise that they are around, but they might not want to come and say hi," he says as he hands around lifejackets.
For the next hour or so, it seems as though the mammals have chosen to be antisocial. With nothing happening outside the boat, I listen to Sathish as he recounts some of his more memorable encounters.
"Only a month ago we were joined by a pod of spinner dolphins. They ended up following us for about 15 minutes or so," he says. "They often just swim alongside the boat. That's also incredible to see. But these guys were leaping up and out of the water and doing circles in the air. It was a truly incredible sight."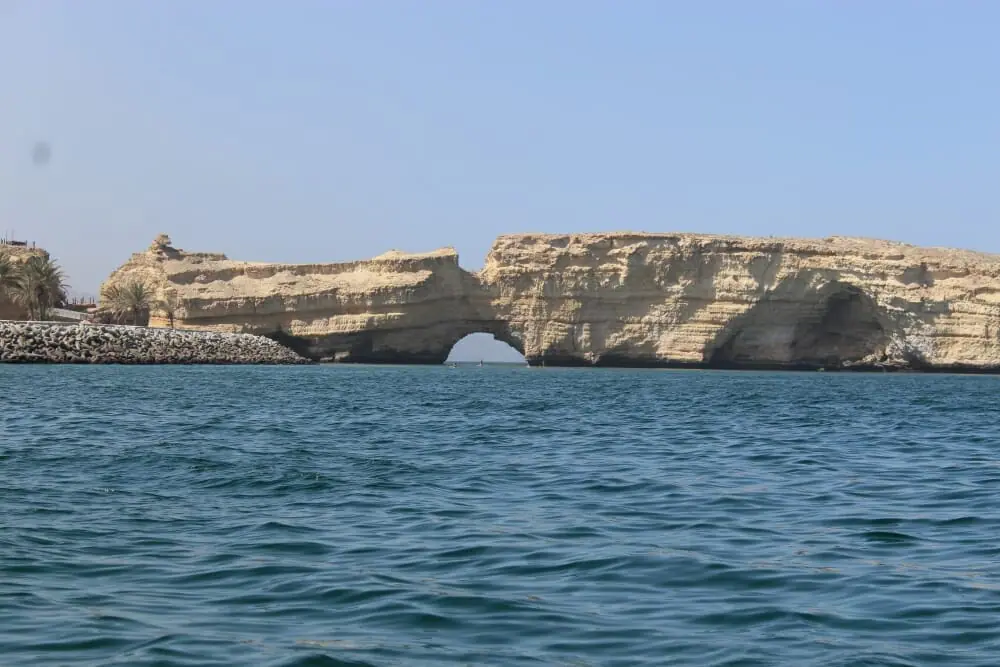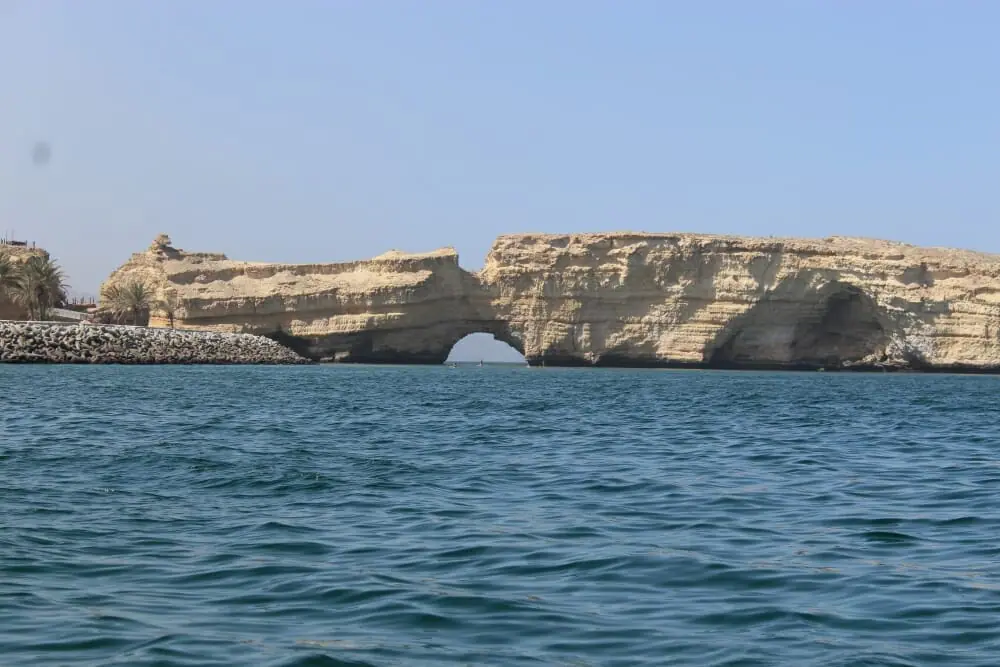 In addition to the sealife, the rock formations and fjords of Oman enhance the experience of a cruise off the coast. (Photos courtesy of Coral Ocean Tours LLC)
It sounds like the kind of experience one can only dream of. Perhaps that's why it takes me a while to get my head around what is happening when I'm shaken out of doze mode and alerted to the presence of our new companions. I rub my eyes and get a load of the show unfolding.
These guys (common bottlenose dolphins apparently) lack the out-and-out "showmammalship" of their more agile brethren, the spinner. But their speed, grace, and beauty are awe-inspiring to behold.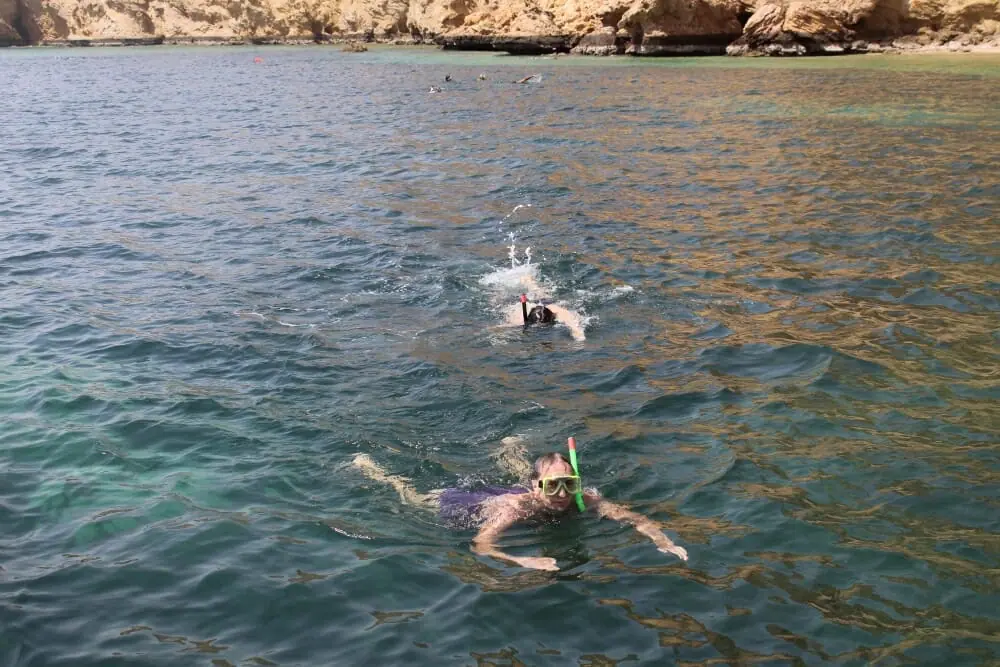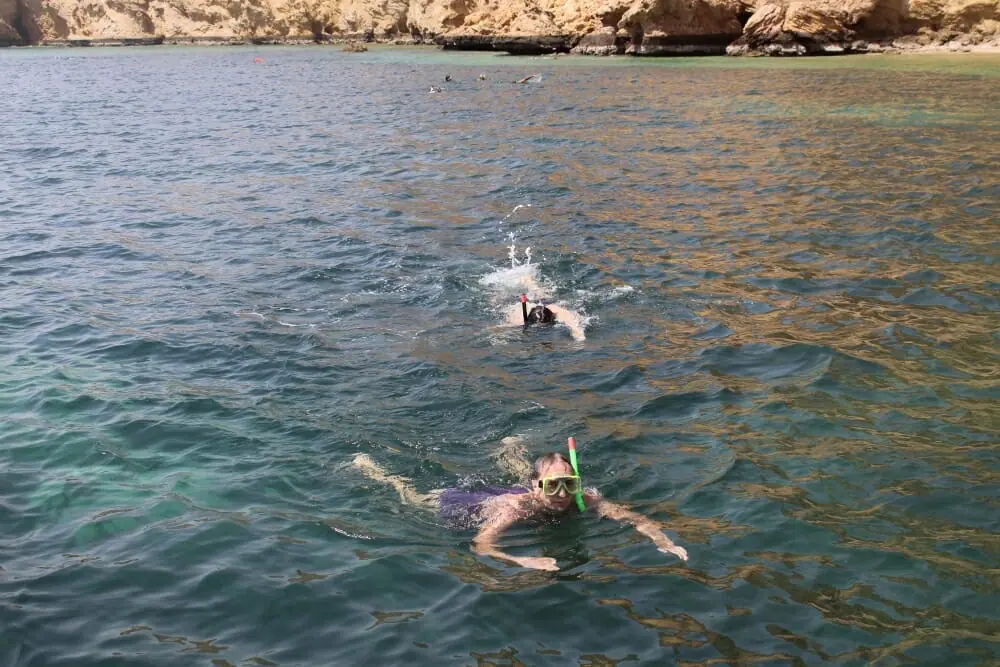 Reef fish, morays, turtles, stingrays, lionfish triggerfish, parrotfish are more accessible to snorkelers than dolphins. (Photos courtesy of Coral Ocean Tours LLC)
A little while later at Bandar Al Khayran the boat drops anchor in the silent waters. After the excitement of the race with the pod, it's time to return to ease down a few gears.
Southeast of Muscat, the coastline shatters into series of khors (fjords) and bandars (natural harbours). One of Muscat's best-kept secrets, Bandar Khayran is the most extensive of these. The mangrove-fringed lagoon shelters reef fish, morays, turtles, stingrays, lionfish triggerfish, parrotfish, and more. With mask and snorkel to hand, I set out to commune with this marine bounty.
With a brisk breeze counteracting the broiling heat of the afternoon sun, I use the vessel as a makeshift diving board, flinging myself headlong into the gin-clear ocean. "I'll give that one a 4," laughs Saksith as I make a particularly graceless tumble. It's the one blemish on an experience that can only rank as a perfect ten.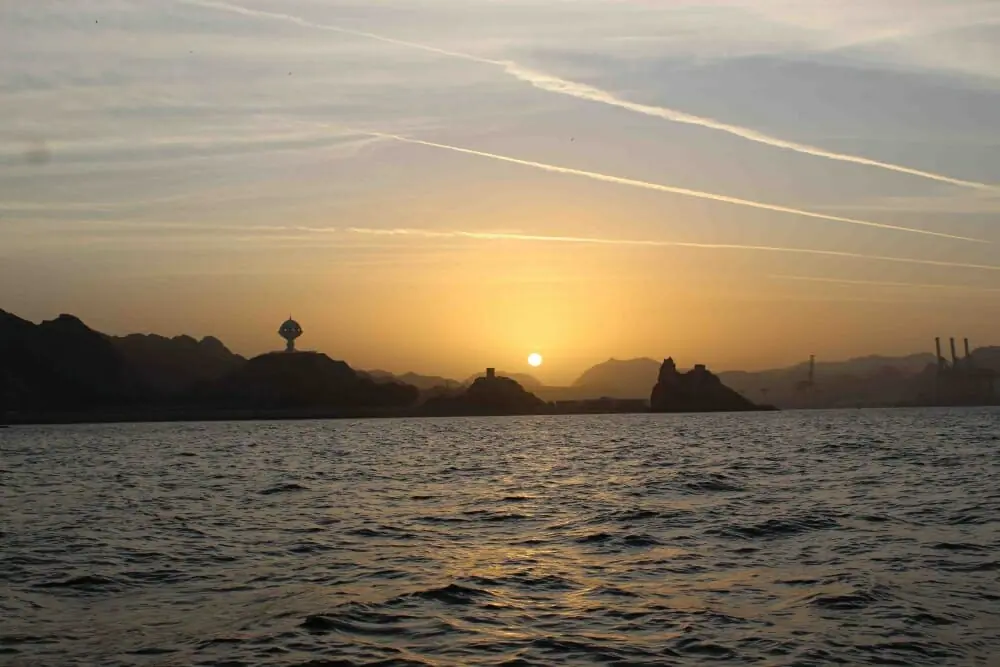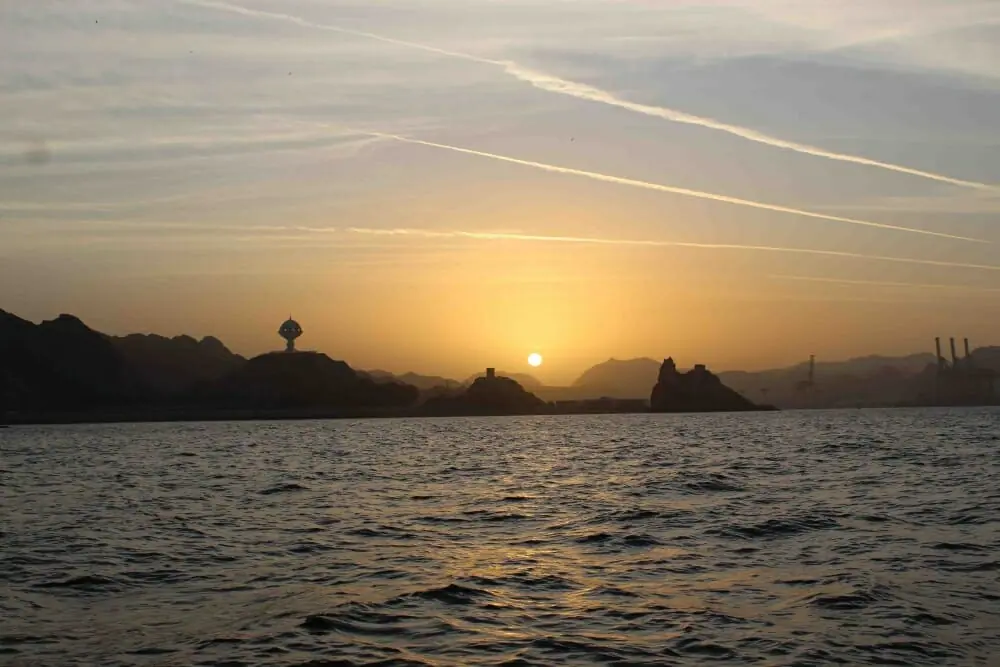 The silhouette of an Arabian city from the sea at dusk can be as exhilarating as the marine life. (Photos courtesy of Coral Ocean Tours LLC)
Through the end of this year, couples who indulge marine life during day might indulge a Love Bath Ceremony as part of GHMs' Romance in Style Couple's Retreat. For more information, check out the offer here.
---
Text by Duncan Forgan for GHM Journeys.