EXCLUSIVE BEACH ACCESS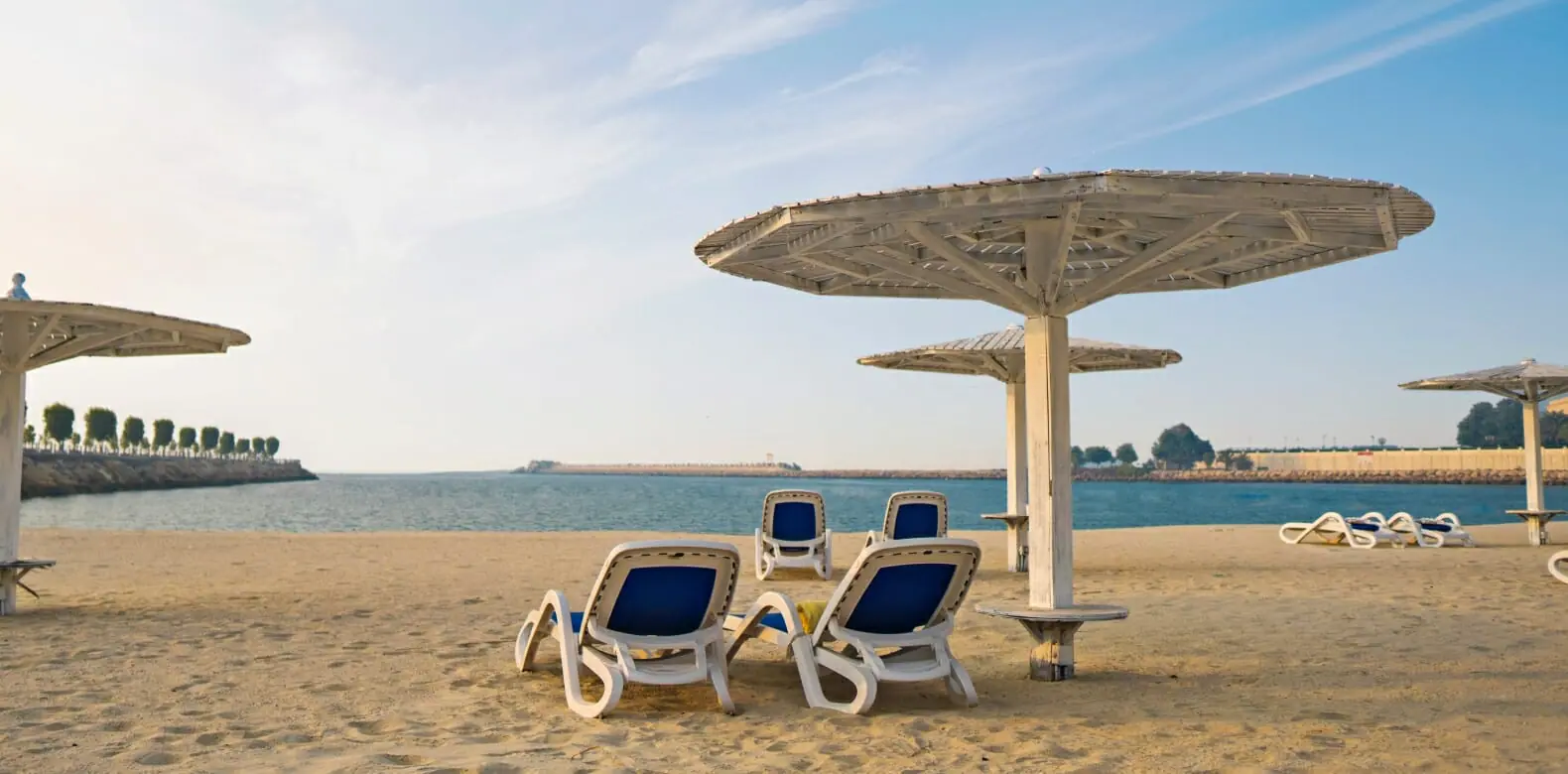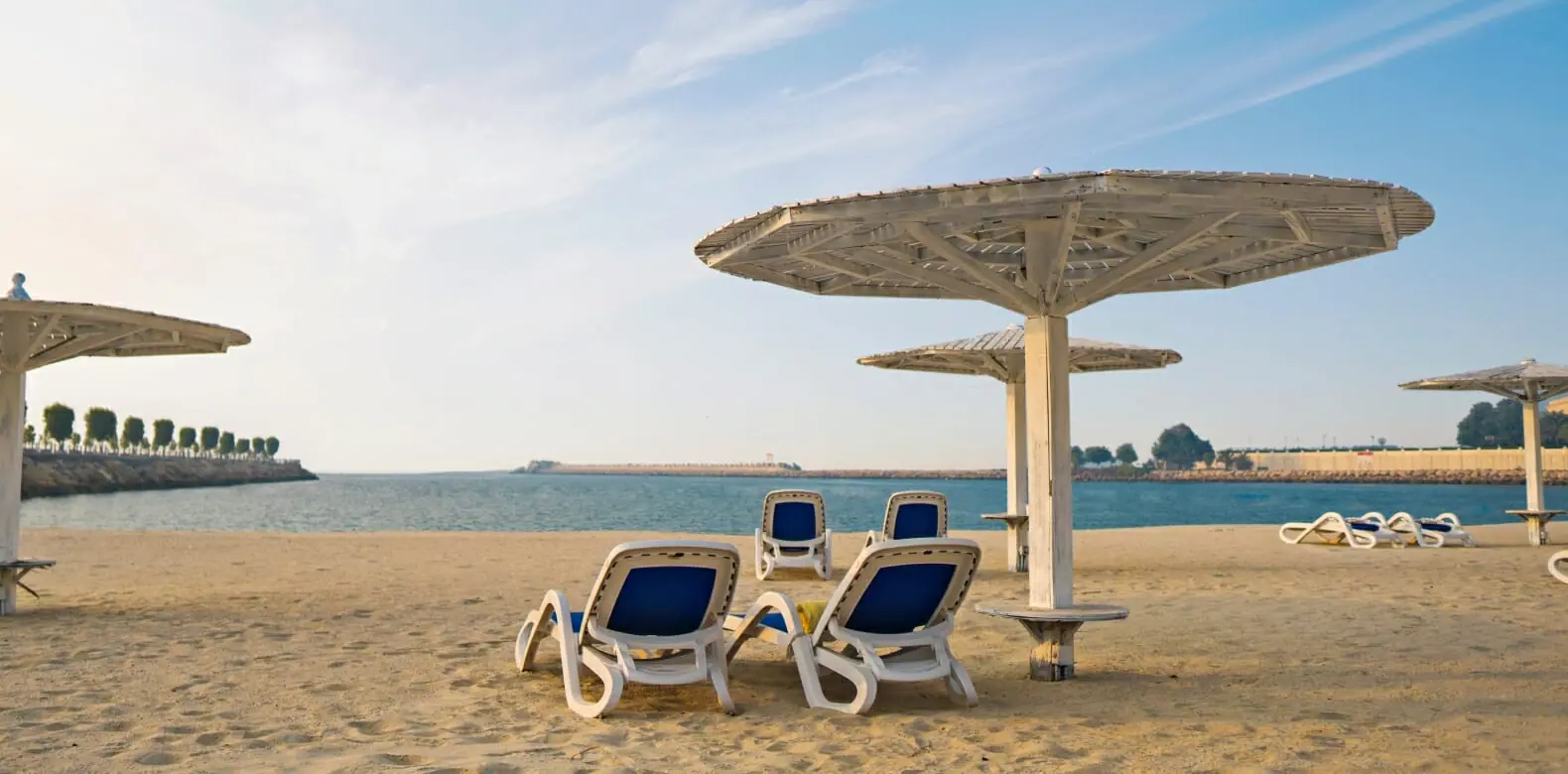 Indulgent luxury awaits in an exclusive stretch of beach which is only five minutes away via return transfers in our Mercedes limousine.
LUXURY ACCOMMODATION AT THE HEART OF SHARJAH
A mere 25 kilometres from Dubai, the Emirate of Sharjah is in the midst of an exciting cultural renaissance, with the Emirate's largest and most ambitious historical preservation project at its nexus. Here at the Heart of Sharjah, where Islamic heritage meets an inspiring contemporary scene, GHM has converted a collection of historic manor houses into The Chedi Al Bait, Sharjah, a 53-key Emirati luxury five-star hotel that delivers bespoke services where beauty, unparalleled hospitality and a sense of home become inseparable.
The unique collection of five heritage houses at The Chedi Al Bait were once occupied by local families in their distinct cultural settings. These preserved historic structures paired with newer building compounds are a testament to Sharjah's rich culture, from its carpentry and woodwork to its classic Emirati hospitality. Across the luxury bedrooms and suites in this single-story resort in the UAE, GHM sophisticatedly incorporates its contemporary Asian-inspired interpretations with the hotel's Arabic influences in ways that preserve Sharjah's indigenous culture and charming history. A new addition to the city's hotels and resorts, The Chedi Al Bait offers travellers in the UAE an opportunity to indulge in traditional Emirati graciousness in a leading luxury accommodation at the heart of Sharjah.
READ MORE >

THE CHEDI AL BAIT, SHARJAH – YOUR LUXURY HOTEL DESTINATION IN UAE

A jewel of the Emirates, Sharjah is GHM's newest destination for a luxury escape beyond compare. Meaning 'The Home', The Chedi Al Bait, Sharjah is nestled within the fulcrum of the UAE's vibrant landscape, with convenient access to all the wonders this glittering Emirate has to offer. Our enchanting luxury hotels in Sharjah combine the best of modern comforts and amenities with echoes of the old world. This ambitious restoration and conversion project of these historic manor houses was undertaken with the vision of embodying the cultural renaissance that has swept the Emirate. During your stay, you'll encounter first-class gastronomy with traditional and international cuisine, indulgent spas to rejuvenate and more, all in an atmosphere that will take your breath away. Experience the height of Arabian splendour on your trip to the Heart of Sharjah. Our luxury five-star hotel, The Chedi Al Bait, Sharjah, UAE will exemplify the convergence of history, society, and culture as you receive world-class Arabian hospitality in our exclusive resort.

EXPERIENTIAL STAY

Among the luxury hotels in Sharjah, The Chedi Al Bait's range of premium facilities aim to serve guests with exclusive comforts that every traveller looks forward to, whether they are the keen explorers of Middle Eastern flair or business executives on work trips in the UAE. Our sanctuary of wellness invites guests to experience the best healing methods of the Far East at The Spa, while chefs in our kitchens prepare a rich Arabesque culinary affair that is at the heart of Emirati hospitality.

Our Concierge team also opens the doors of luxury experiences for guests with our premium five-star hotel and accommodation services at The Chedi Al Bait Sharjah. These include a curated selection of luxury hotel chauffeur services to and from the airport in Sharjah and within neighbouring cities in the UAE.

Show Less