It's impossible to decide whether Mohammed Nasrallah's store in Sharjah's Souq Al Arsah is a repository of delights or an aesthete's worst nightmare. The 73-year-old caught the collecting bug in the early 1960s and his two outlets in the venerable bazaar are a testament to an obsession that could only be described as being rather out of hand.
The display windows of his shop are piled high with a mind-boggling array of ephemera. There's old-school Hindi vinyl from India, vintage photography equipment from Eastern Europe and some slightly questionable dictator kitsch such as an alarm clock emblazoned with the image of Mao Zedong and a bronze bust of Benito Mussolini. Deep in the bowels of his main store, the Iraq-born Nasrallah himself cuts a diminutive figure in amongst shelves bulging with items.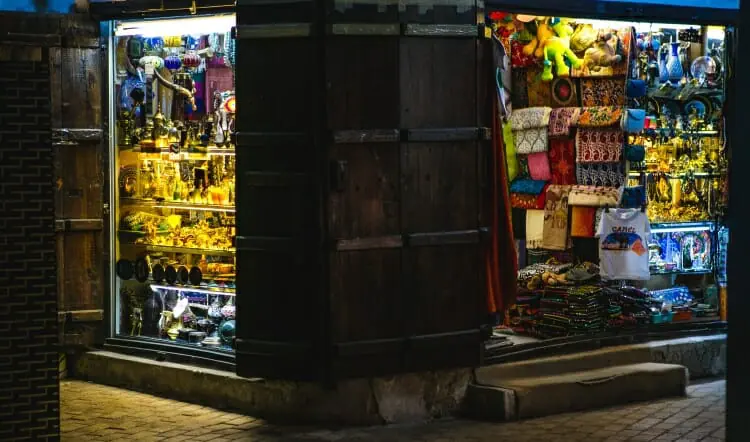 The 'arsah' in Souq Al Arsah refers to a large open space or courtyard in a residential area. Its vendors sell new and antique handicrafts, wooden Arabic bridal and pearl chests, copper coffee pots, handmade jewellery, perfume bottles and incense, handmade woven garments, palm-leaf baskets, medicinal herbs, carpets, shawls and souvenirs.
"I can name everything in the shop from memory," says the shopkeeper, who moved to Sharjah from Baghdad over half a century ago. "I don't have a computer, but I know what I've got, where it is from and what it is worth." He may seem like the man who has everything, but – alas for Nasrallah – his extensive inventory is missing the one thing I have a specific need to buy.
"I really hope that you can find one," implores my wife as I bid her a fond goodbye before jetting out to the Middle East. It's not Persian rugs, fine Arabic textiles or the pungent perfumes that perk up the passageways of every souq in the Gulf that I'm being requested to buy. No, the sole valuable I am tasked with grabbing from one of the Arabian Peninsula's most intriguing shopping destinations is a toy camel for our little boy.
My initial impression of Souq Al Arsah suggests that I'll complete this simple task in no time. While the market is full of unique and intriguing gems, neither is it short on tourist tat.
In fact, the first thing I see as I push through the doors that lead directly into the souq from The Café at The Chedi Al Bait Sharjah – one of the most beautifully realized luxury hotels in Sharjah — is a shop window full of souvenirs: among them an inanimate herd of cuddly humped mammals.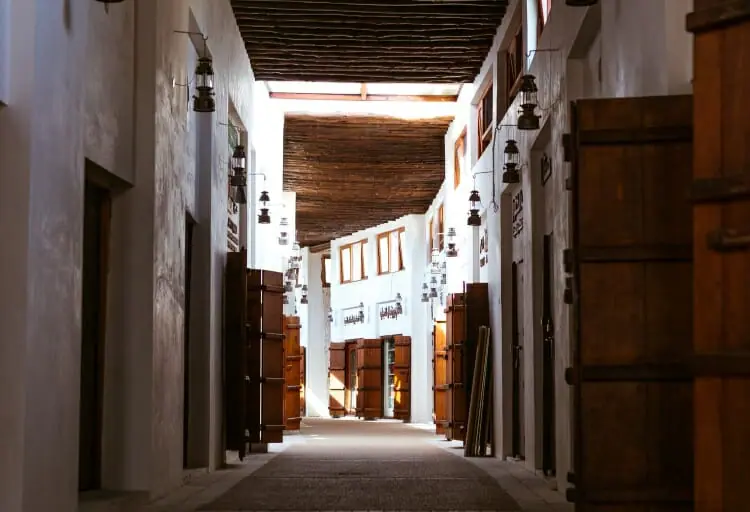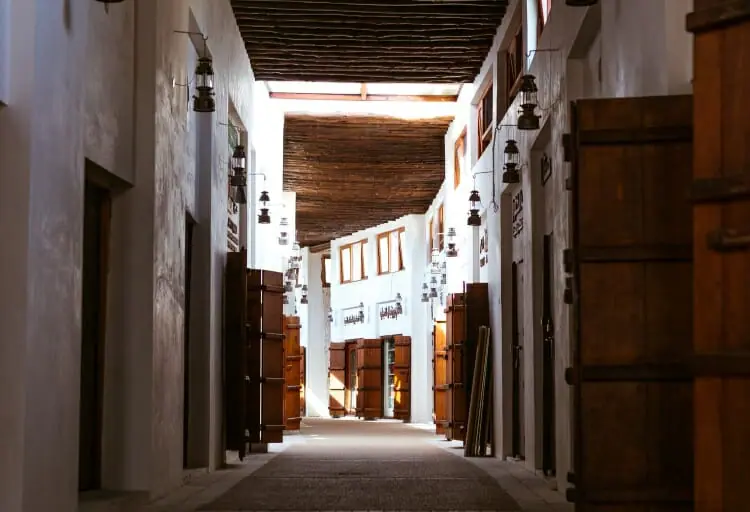 Located in the Heart of Sharjah, the Souq Al Arsah is accessible from The Café at the Al Bait Sharjah.
"Result," I think to myself. Unfortunately, the facial expressions on the beasts are a little too stoic for my purposes. I wander further into the labyrinthine center of the souq with my mission as yet incomplete. The instructions have a specific caveat. "Try and find one that is smiling," I recall my wife saying. "Those ones are cuter."
While this late proviso has made my task exponentially more difficult, it has also forced me to linger a little longer in some of the region's most atmospheric markets. Indeed, if Sharjah is a treasure trove, some of its most alluring gems can be found amidst its souqs.
Clustered together with Souq Al Arsah in a compact area in the Heart of Sharjah – the cultural heritage project of which Al Bait Sharjah is part – are Souq Saqr and Souq Al Shanasiyah. All are ideal places for both habitual browsers like me and for customers who are more inclined to put their hands in their pockets.
William Gifford Palgrave, a renowned English priest, traveler, soldier, and Arabist, wrote of Sharjah's souqs in 1863 that "all the shops are neat and well-built and the whole area has an air of solidity and wealth." Such is the case today as it was in the 19th Century. And no visit to Sharjah is complete without an exploration of these charismatic traditional shopping districts.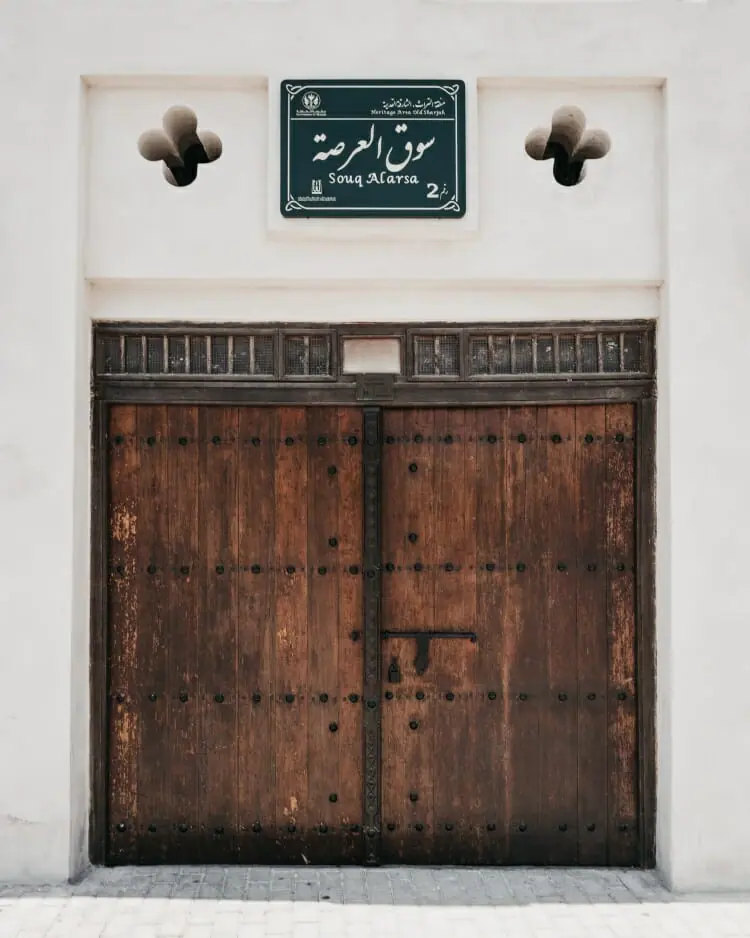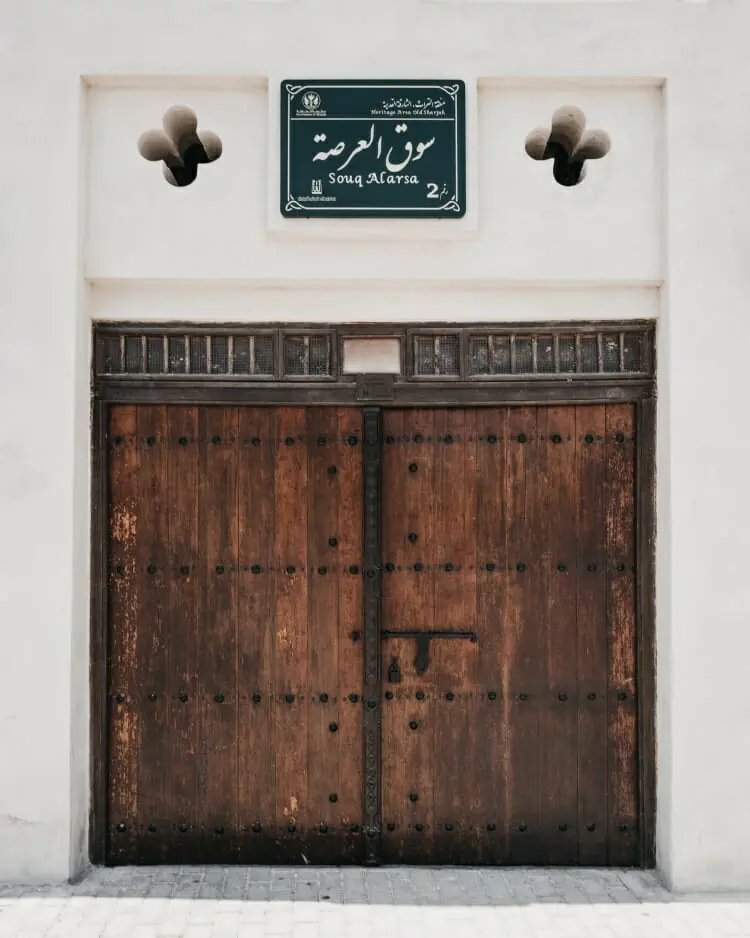 The doors to a souq are portals to a wonderland of products in Sharjah.
Nasrallah's fascinating store is one of many hidden gems to be found in Souq Al Arsah. Although I fail to locate the elusive, beaming beast my son requires here, my fruitless search is enlivened at least by quaint stores purveying a veritable Aladdin's Cave of regional delights. There's new and antique handicrafts, Arabic bridal and pearl chests, copper coffee pots, ethnic and handmade jewelry, palm-leaf baskets, medicinal herbs, carpets shawls and novelties. For those, like me, who quickly get to the end of their shopping tether, the unique atmosphere in this hub of Arabian commerce – and other traditional souqs in Sharjah — is as alluring as the retail options.
Thought to be one of the oldest markets in the UAE, Souq Al Arsah once crawled with traders from India and Persia, in the region to do business with local Bedouin. There are no longer camels fastened to the posts outside. And the introduction of air-conditioning has sanitized the shopping experience somewhat. Modernity may have encroached, but the market's heavy wooden doors, coral brick walls, and hanging lanterns embody old Arabia.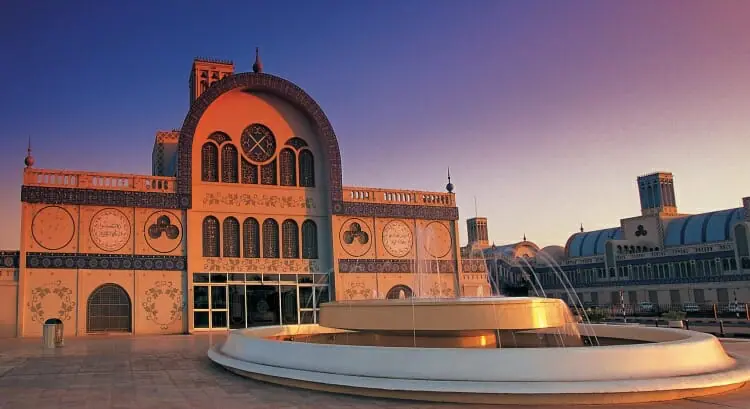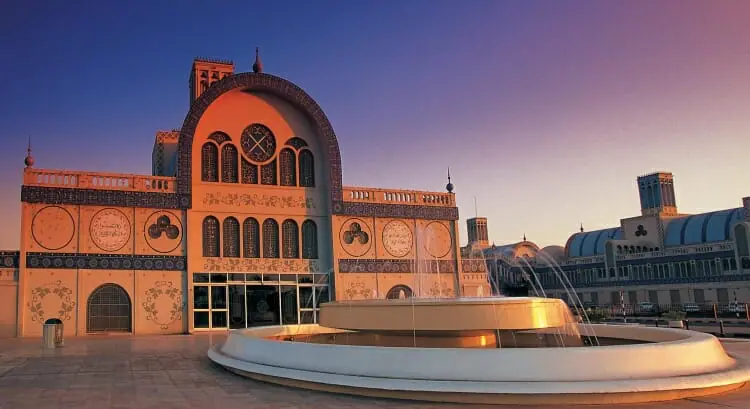 The Central Souq or Blue Souq was built in 1978 to evoke the character of a traditional bazaar. More than 600 shops sell gold, jewelry, gems, perfumes, souvenirs and gifts, as well as electronics, clothes, cosmetics and household goods over 80,000 sqm.
It's a lovely place to linger, no doubt, but I've got business to attend to and I'm hopeful that one of the other souqs in Sharjah will come up with the goods. Next on the list is Sharjah's Central Souk, a short drive from The Chedi Al Bait, Sharjah. The iconic building – commonly known as the "blue souq" due to its beautiful Byzantine-inspired roof — houses over 600 shops stocking anything from gold, diamonds and authentic Bedouin jewelry to the latest electronic gadgets. It's another fantastic place to go for a typically Arabian retail fix. Sadly though, chirpy, stuffed camels still appear to be in unfathomably short supply.
By this time though, I've hit the market groove. So much so that I make detours to two of Sharjah's rawer retail experiences. The city's animal market seems relatively tame while the buzzing fish market proves that the emirate's fishing industry is still going strong and stenchy. For casual visitors, however, Sharjah's historic, bustling bazaars are the motherlode for a typically Arabian retail fix. They are also, it eventually turns out, my best bet for a gift – the cuddly camel turning up in a shop in Souq Saqr.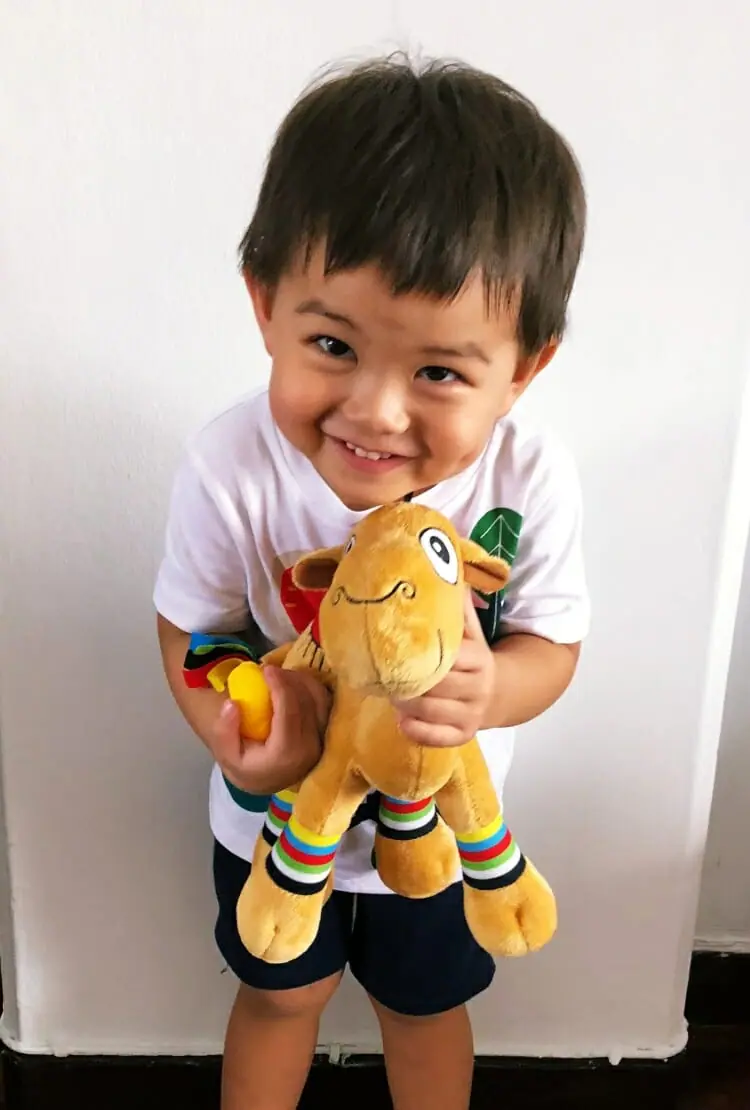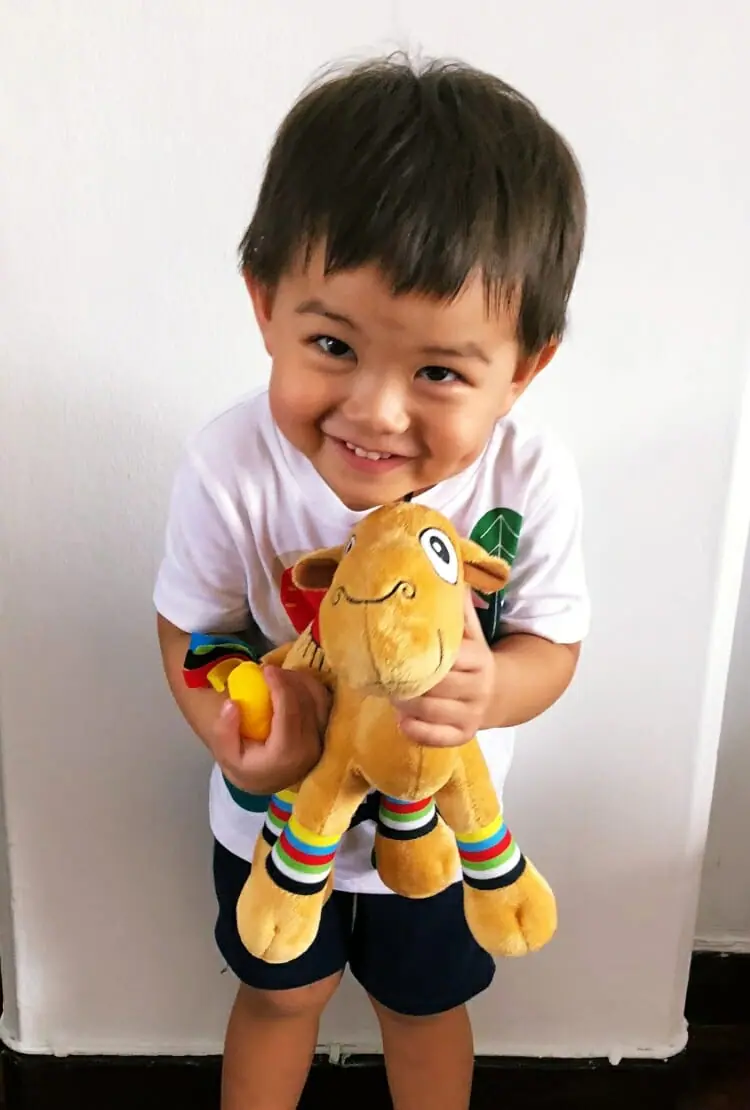 Duncan Forgan was charged with bringing one thing back to Bangkok for his son, Alexander. In Souq Saqr, he found it.
Having captured my quarry, I decline the opportunity to purchase a complete set of British Empire-era Indian banknotes from Nasrallah. Instead, I purchase some sweet, sticky Omani Halwa and head back to Al Bait. There I take some mint tea in the courtyard at The Café under the shade of the venue's circular wind-tower and bless the total absence of buyers' remorse.
For luxury accommodation in Sharjah, stay in Al Bait Sharjah's regal Heritage Rooms or Heritage Suites, each one richly embellished with Arabian grandeur. The Sharjah Untold package is available through 31 December 2019 and can be book through [email protected]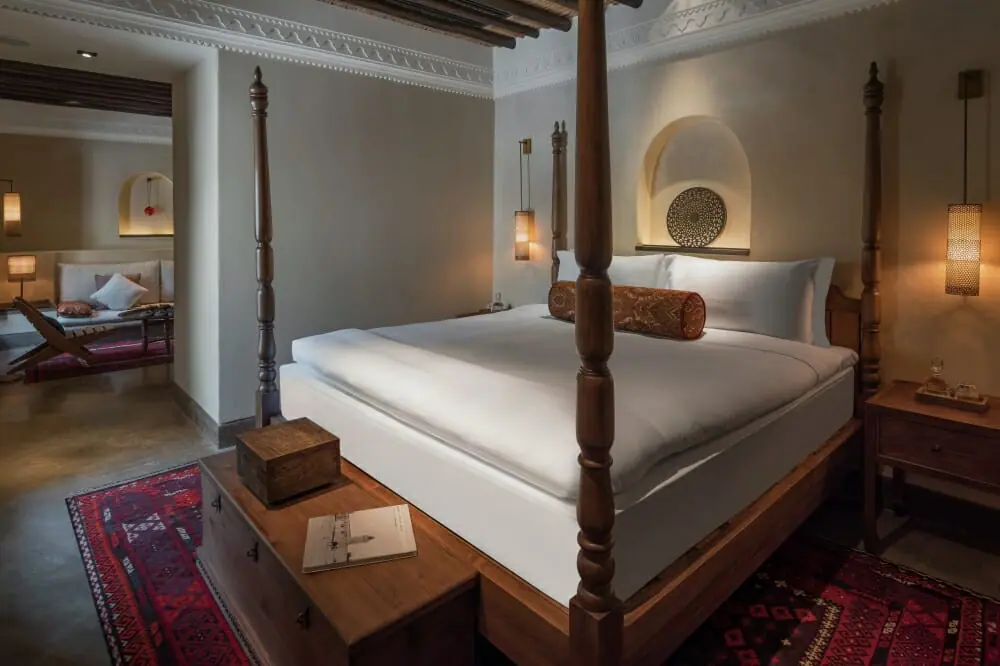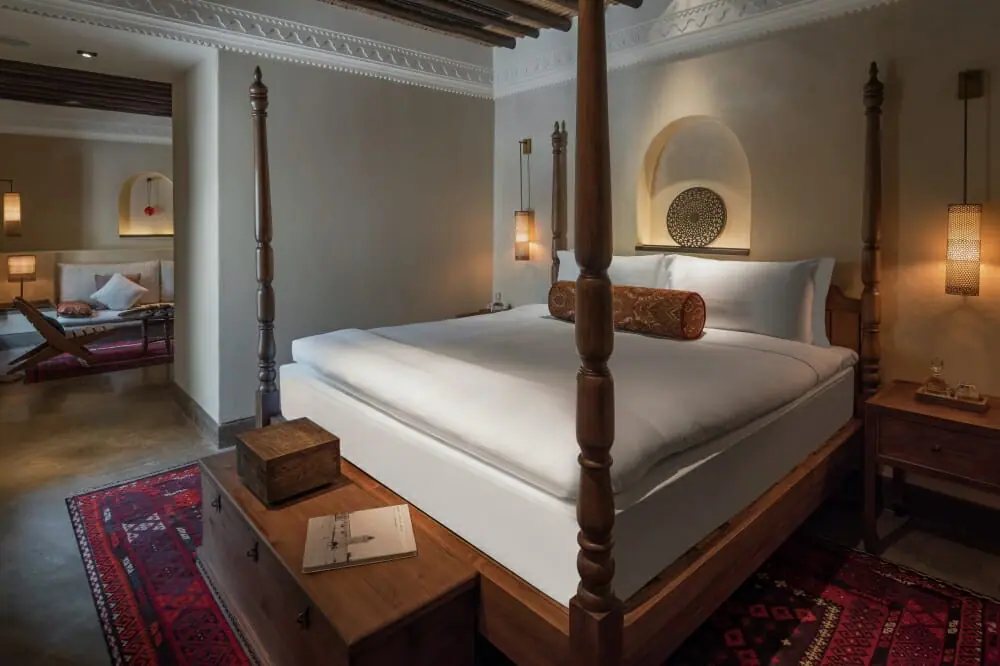 ---
Text by Duncan Forgan for GHM Journeys.
First published on 17 July 2019.