It's barely past breakfast in the high pastures near Andermatt. But the hills are alive with the sound of music even at this early hour.
There's no Maria Von Trapp-like figure cavorting around the grassy uplands while belting out an uplifting song — at least not today. Nor are there any yodellers hollering melodious messages into the echo-rich voids between the towering peaks.
Instead, the melodies are coming from the century-plus herd of goats currently enjoying a repast in the lush meadow that marks the endpoint of our morning hike.
As the animals munch on the mountain manna, the bells fixed around their necks emanate a wall of sound that could very well be the ultimate Alpine soundtrack. Soothed by the calming tones of the bells, I kick back and soak up the incredible scenery.
"In the Himalayas, they've got monastery bells. Here in Switzerland, we've got goats to provide the chilled vibes," laughs Christian Näf, owner of the Gessenparadies (Goat's Paradise) farm and operator of summer goat treks in the countryside around Goscheneralp, a 30-minute drive from Andermatt.
Christian's connection with the region and its agricultural traditions runs deep. Although he is from Toggenburg in eastern Switzerland, he's been a regular visitor to Goscheneralp since he was a young boy.
Over the years he familiarised himself with the trails that extend into the mountains that surround the Goscheneralpsee dam. His love of goats, meanwhile, saw him volunteer as a goat farmer.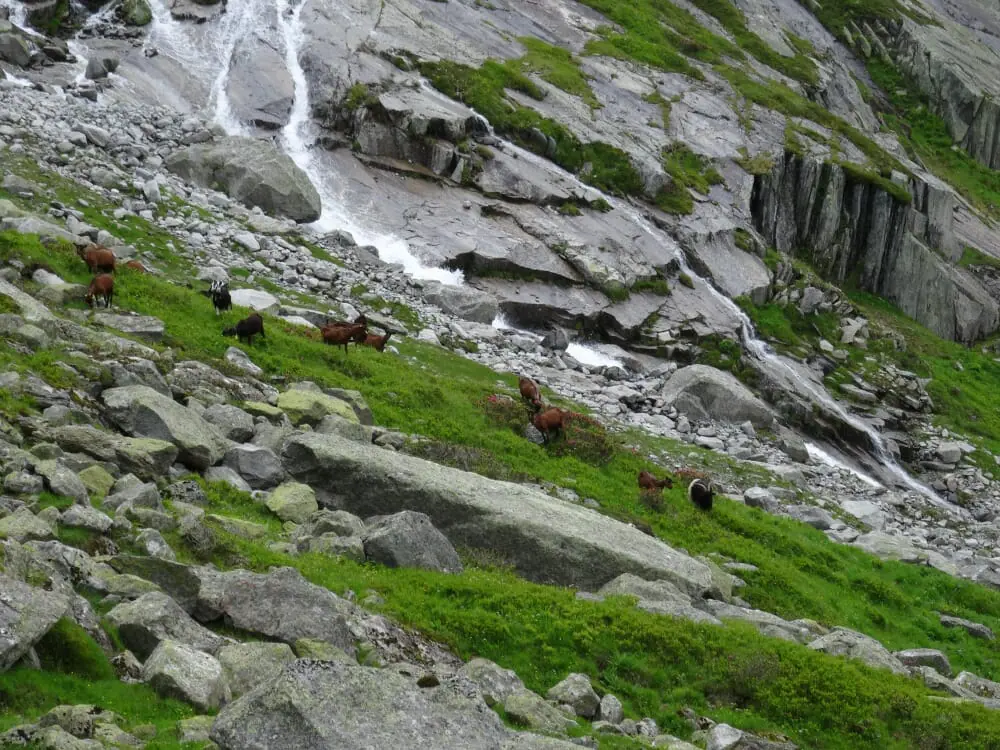 Humans and goats have been interacting for 11,000 years.
Given his affection for the animals and his affinity with the stunning Alpine landscapes, it was inevitable that he might want to combine his passions.
This he has done courtesy of the Gessenparadies initiative he runs alongside his wife Lydia. A working mountain farm that keeps around 170 goats, the initiative also doubles as the nerve centre for one of the Andermatt region's most unique trekking experiences.
A goat trek with Christian involves an early start, 6 am to be exact. The route starts at the dam before heading up via rocky paths towards the high pastures where the goats are grazing. Along the way, Christian regales guests with information about life in the Goscheneralp, local Alpine lore and goat farming traditions.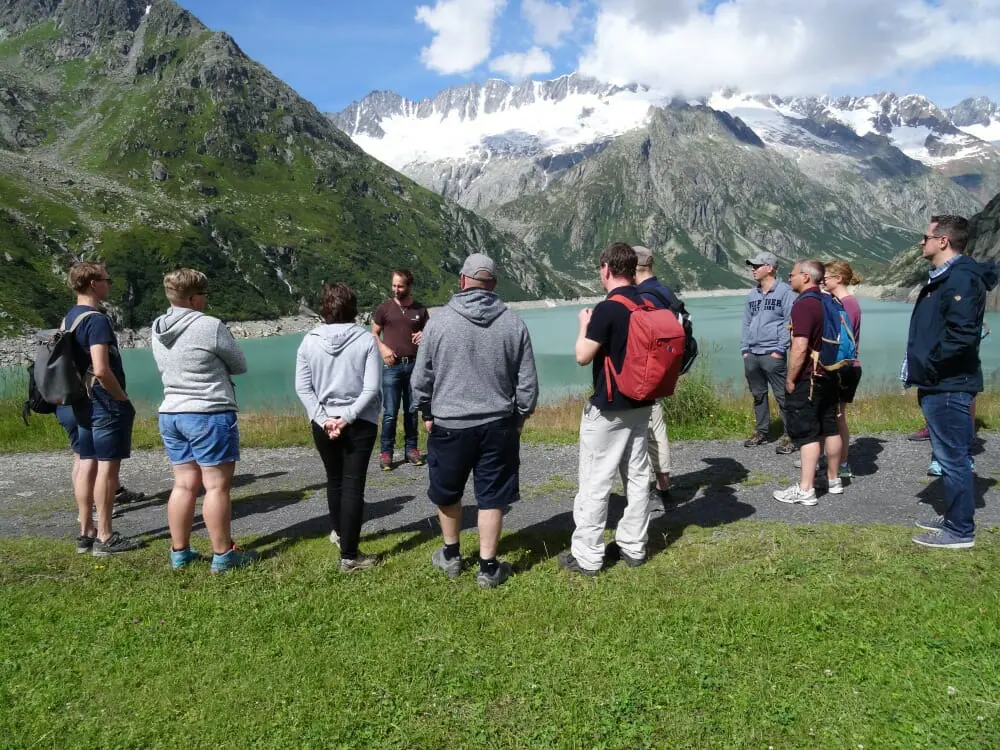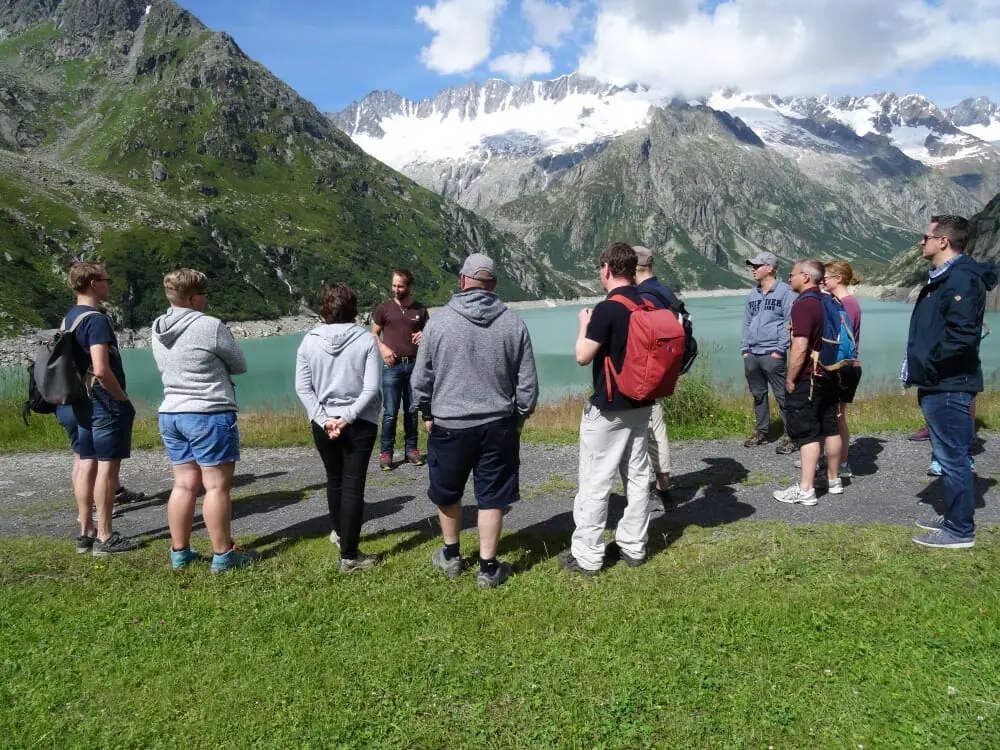 Everyone gets his goat when walking the hills of Andermatt with Christian Näf.
Indeed, if you've ever wondered how docile-seeming Alpine goat breeds like the Walliser Schwarzhalsziegen (which comprise half of Christian's flock) hold their own against tough guys like grey wolves, then Christian is the man to ask. The trick, he will tell you, is in the horns.
Other fascinating nuggets of info cover Alpine goat personality traits — friendly and highly curious yet independent and strong-willed — and the long-standing bond between humans and the animals.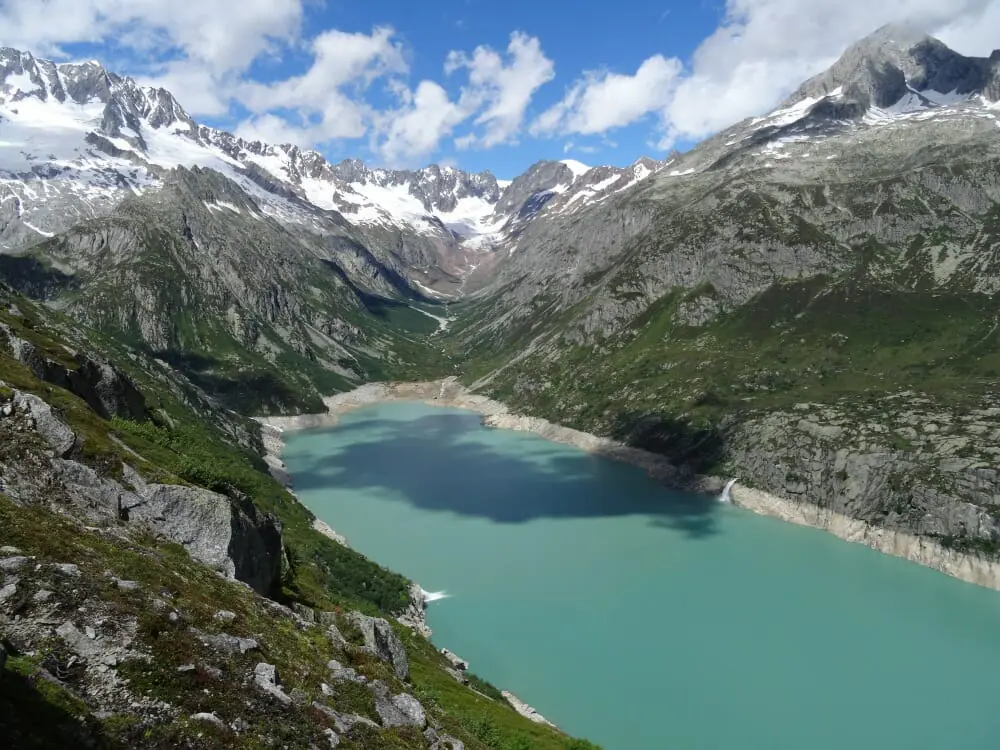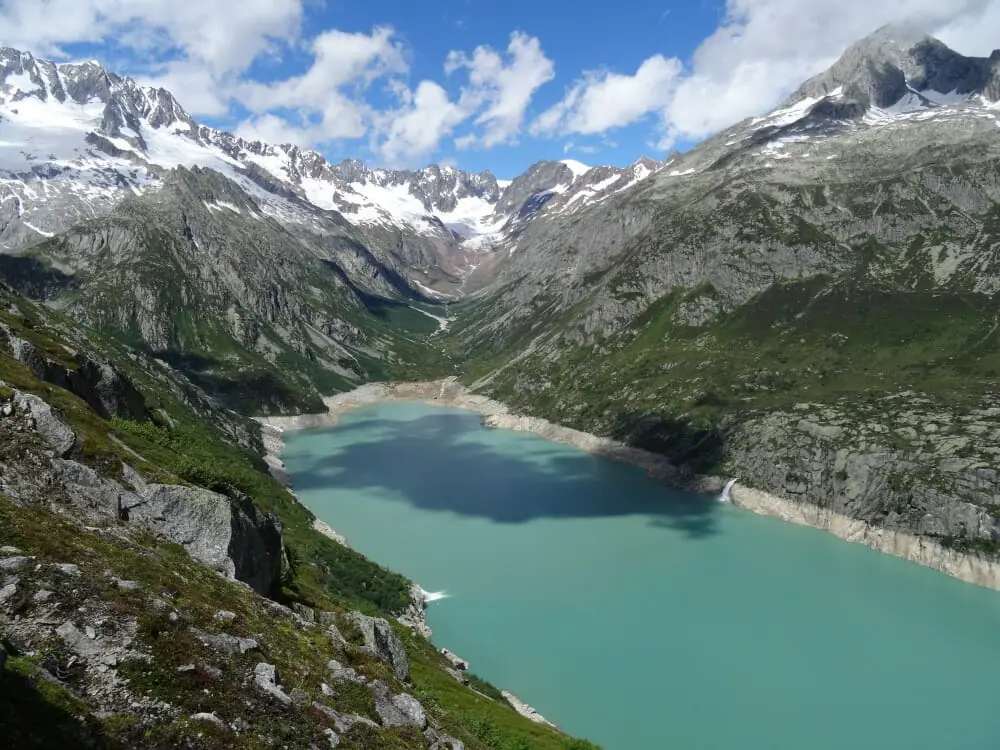 The most lethal threat to goats in Switzerland is wolves, which went into extinction in Switzerland in 1821 but made a comeback in 1995.
I'll freely admit to not expressing much of a prior interest in Alpine goats beyond a predilection for the deliciously tart, creamy cheeses made from their milk. Nevertheless, it's rather humbling to consider a link dating back approximately 11,000 years when goats are believed to be the first animal domesticated by man.
As I observe the goats gambolling around the grassy meadow where they pause periodically to chow down on a highly nutritious menu of herbs and rich grasses, I find myself falling into a mellow mountain reverie. It's easy to see why Christian — like countless generations of goat farmers before him — has forged such a strong connection with the animals.
"The goats help to keep the Alps beautiful," says Christian as we tuck into a picnic of our own consisting of fresh bread, goat's cheese and sausage washed down with Alpine spring water fetched directly from a crystalline stream. "They eat grass, herbs and leaves from the bushes. This serves to cultivate the landscape. They are also providers. We can milk the goats and make cheese from the milk."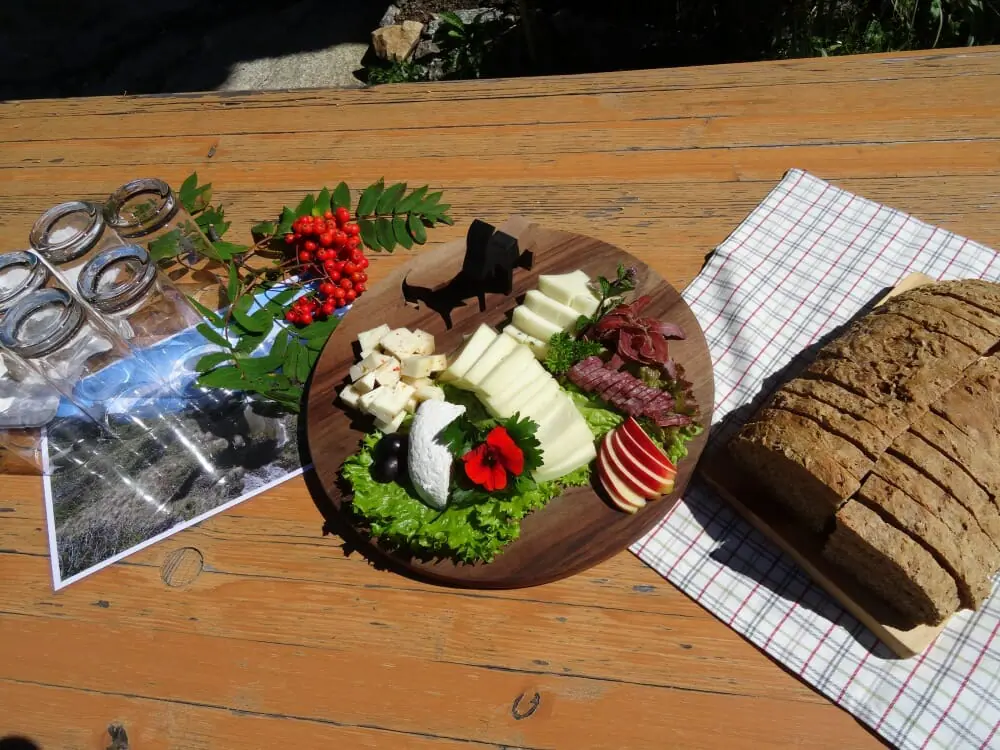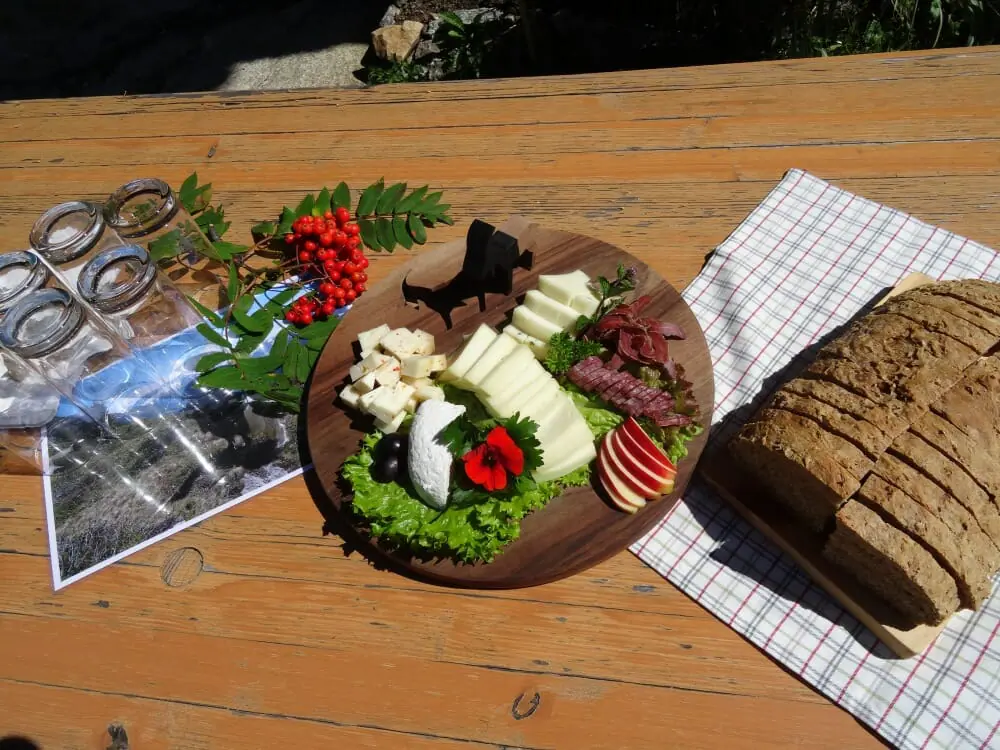 Enjoy the luxury of tasting some of the freshest goat cheese accompanied by breath-taking views.
Indeed, the opportunity to milk the animals is an undoubted highlight of one of Christian's goat treks. Alpine goats are renowned as heavy milkers, and the meadow resounds with shrieks of delight as my hiking companions fill up a succession of milk pails.
"We'll make a goat farmer of you yet," jokes Christian as I nudge an udder into action with seemingly consummate ease. "Let's talk about your future work plans over some cider."
I'm not sure I'm quite ready to change my city slicker ways just yet. But, as we settle back down to our picnic in the Alpine sunshine, the news that we'll be staying on this pasture a while longer is like music to my ears.
The Chedi Andermatt offers a one-and-half-hour goat trekking experience with Christian Näf. For more information, click here.
---
Text by Duncan Forgan for GHM Journeys.
Background image:  Once considered "the poor man's cow," goats are especially prized now as a source of cheese.
Published on 3 August 2021.