Fused with a blend of Arabian and Indian influences, the traditional food of Oman on the south-eastern coast of the Arabian Peninsula incorporates influences from around the region, anchored by hearty staples such as curry, rice and vegetables. Grilled meat also features heavily, and the ubiquitous use of spices and herbs means that dishes pack a punch, offering a whirlwind of bold, tantalising flavours. When travelling to Oman, you'll want to fill up on a hearty breakfast — the most important meal of the day – before setting out on your sightseeing adventures. For the best breakfast foods to fill up your tank, don't miss out on these traditional dishes that are worth hunting down.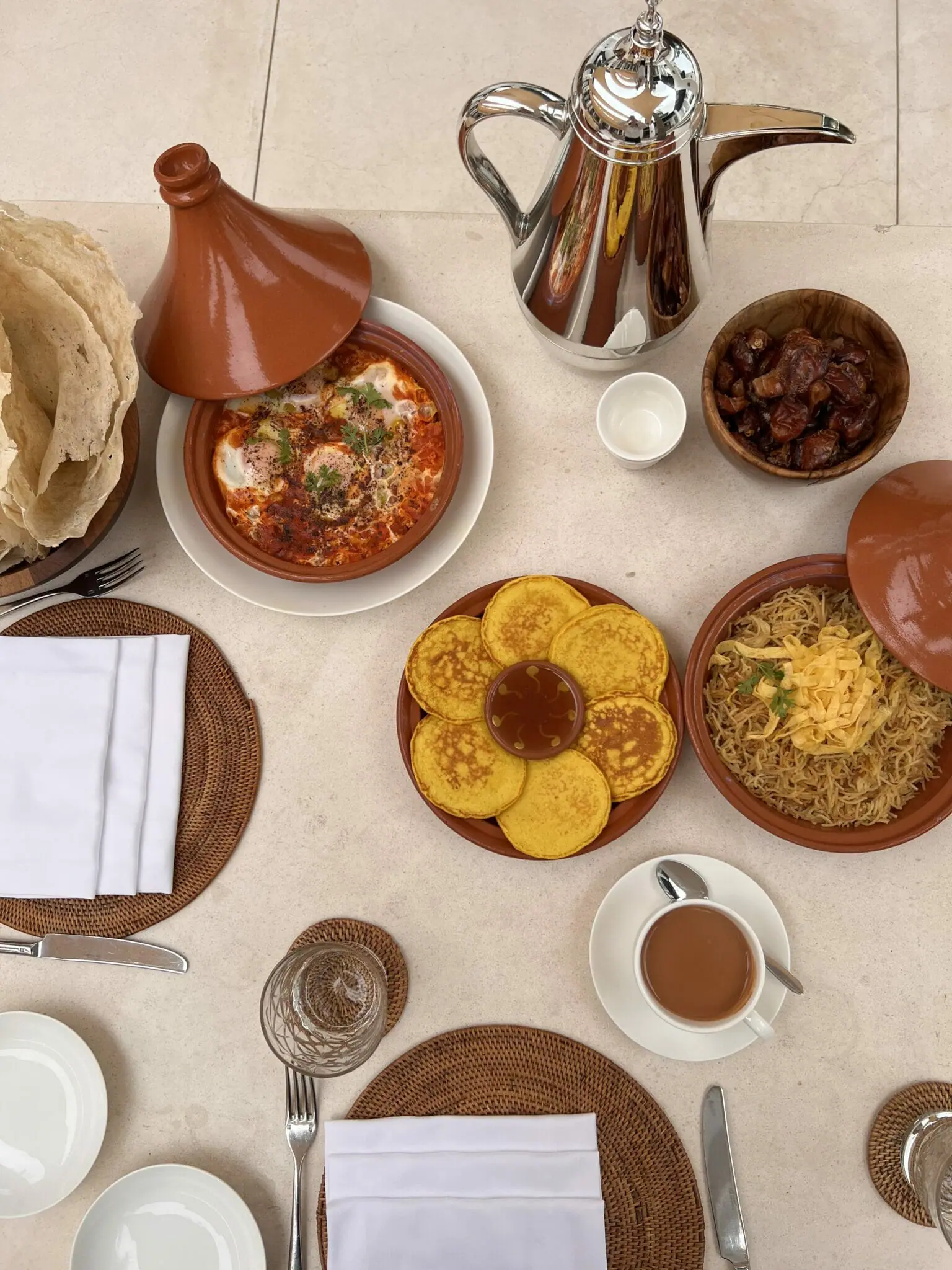 Khubz Rahal
Also known as riggag or Omani khubz, khubz rahal can be thought of as Arabic-style pita bread, featuring a thin coating of crispy wheat flour bread. While typically served with servings of eggs and beans for breakfast, khubz rahal can also be consumed with cream cheese, honey and even potato chips. The three-ingredient batter is simple – flour, water and salt – but what makes this bread stand out is its ultra-thin, almost lace-like appearance, a blank canvas for pairing alongside a variety of foods, or for enjoying as a snack on-the-go.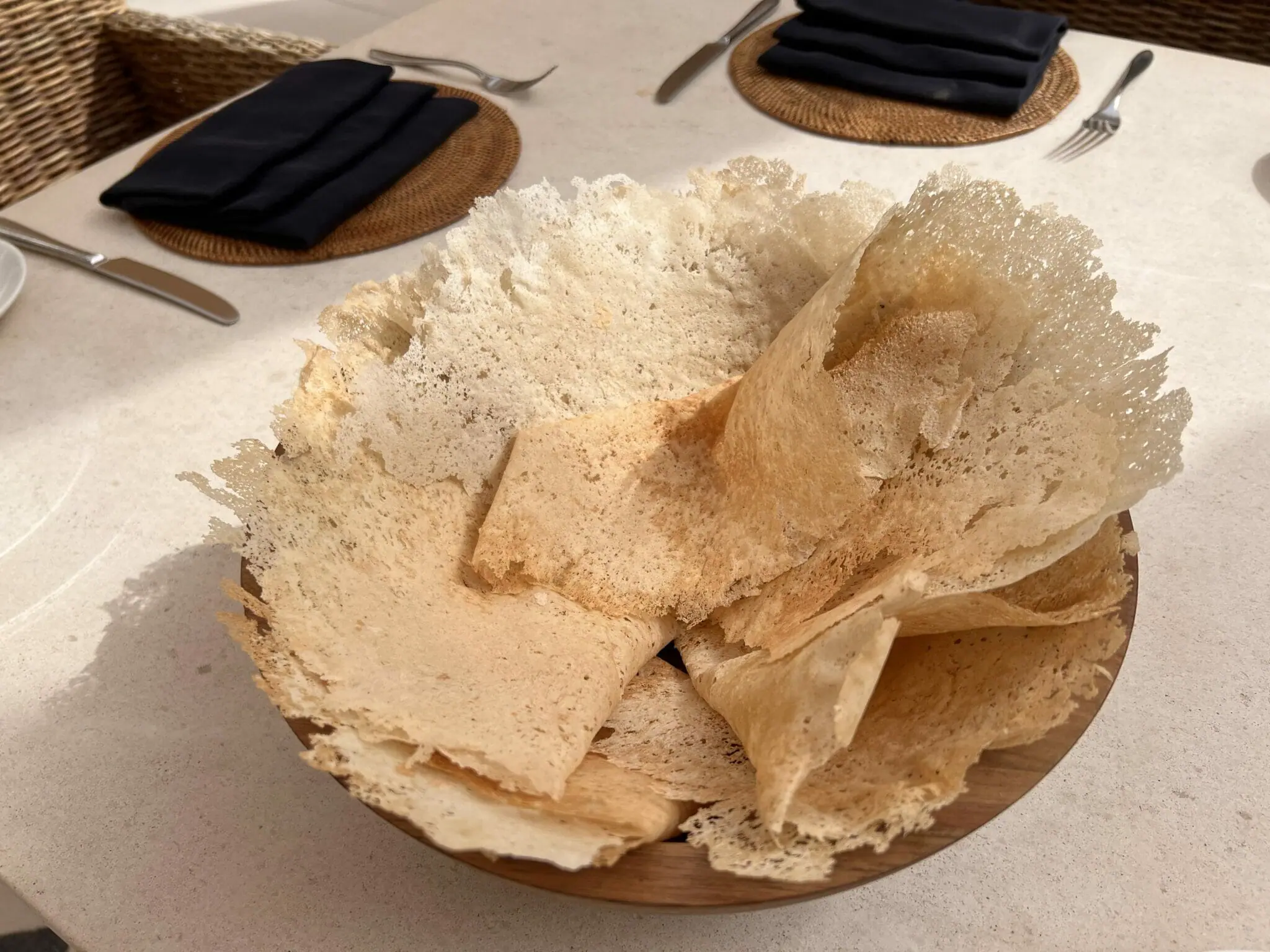 Khabeesa
Consisting of milk, semolina and butter, khabeesa is a soft pudding that can be enjoyed as both breakfast or a light dessert. The easily adaptable recipe lends itself to a number of variations and flavourings, whether you're stirring in coconuts or nuts, adding in a drizzle of honey, or perfuming the bowl with saffron, cardamom or rose petals – familiar flavours of the Middle East. Served warm, the creamy pudding makes for a delightful way to start off your day.
Mardhoof
Flatbreads are part and parcel of the daily diet in Oman, and thus variations on size, shape and flavourings are endless. Mardhoof is a must-try, a traditional flatbread made with date syrup and ghee, for a subtle sweetness that plays well with an assortment of spreads ranging from Nutella to honey to strawberry jam. Have it for breakfast or afternoon tea – and don't forget to order up a cup of cardamom-infused karak tea or rosewater coffee to pair with it.
Qahwa Coffee and Dates
Oman's hospitality is legendary around the world: a nation of warm, welcoming people who are always ready to invite visitors into their homes, with a cup of hot tea waiting. Generosity and a caring attitude are typical traits of the Omani people, and if you do find yourself in the home of a local, you'll almost always be welcomed with a tray of dates, fruits and "Qahwa" coffee. "Qahwa", the Arabic word for coffee, is integral to Omani culture and heritage, reflecting the warm and welcoming essence of the Omani people. It is served as a sign of welcome hospitality, sometimes infused with the invigorating aroma of cardamom, with sweet dates to balance out the bitterness of the drink. Custom has it that the pleasant aromas are meant to clear one's head and lighten one's burdens. You'll find this traditional respite around the country, as a gesture of welcome in both hotels and homes.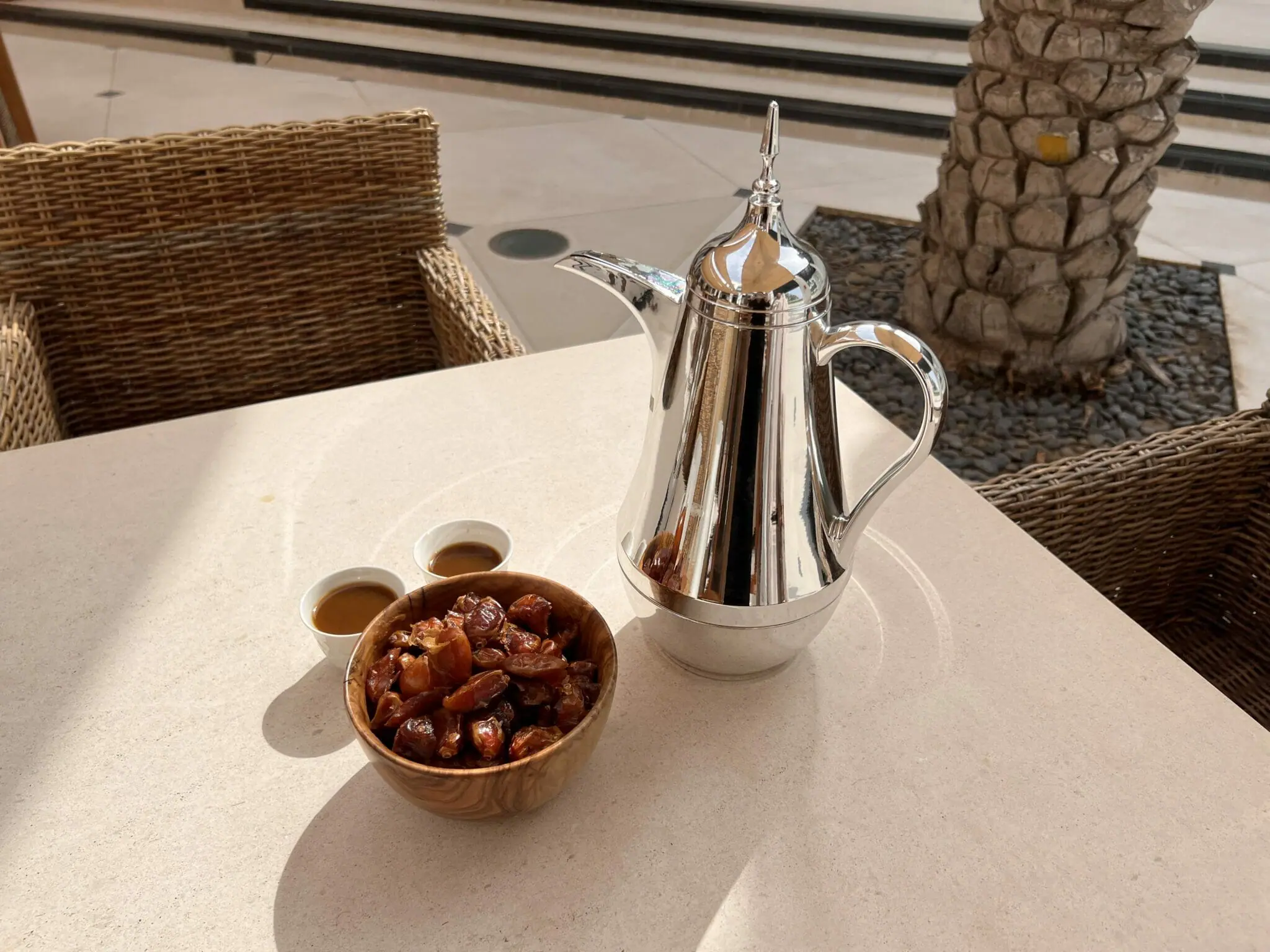 Sweet Karak Tea
When you're in need of a refreshing drink to cool off, or looking for an invigorating way to start the day, you can't beat a cup of sweet karak tea. The beloved beverage of Oman is easily found in streetside cafes and in the explosion of karak tea stalls across the country. Infused with cardamom, the sweet tea delivers an early-morning punch that is sure to perk up your day. As with most popular beverages, karak tea now has its own endless variations to be tried: with or without milk, jazzed up with mint, thyme or saffron, and served hot or iced.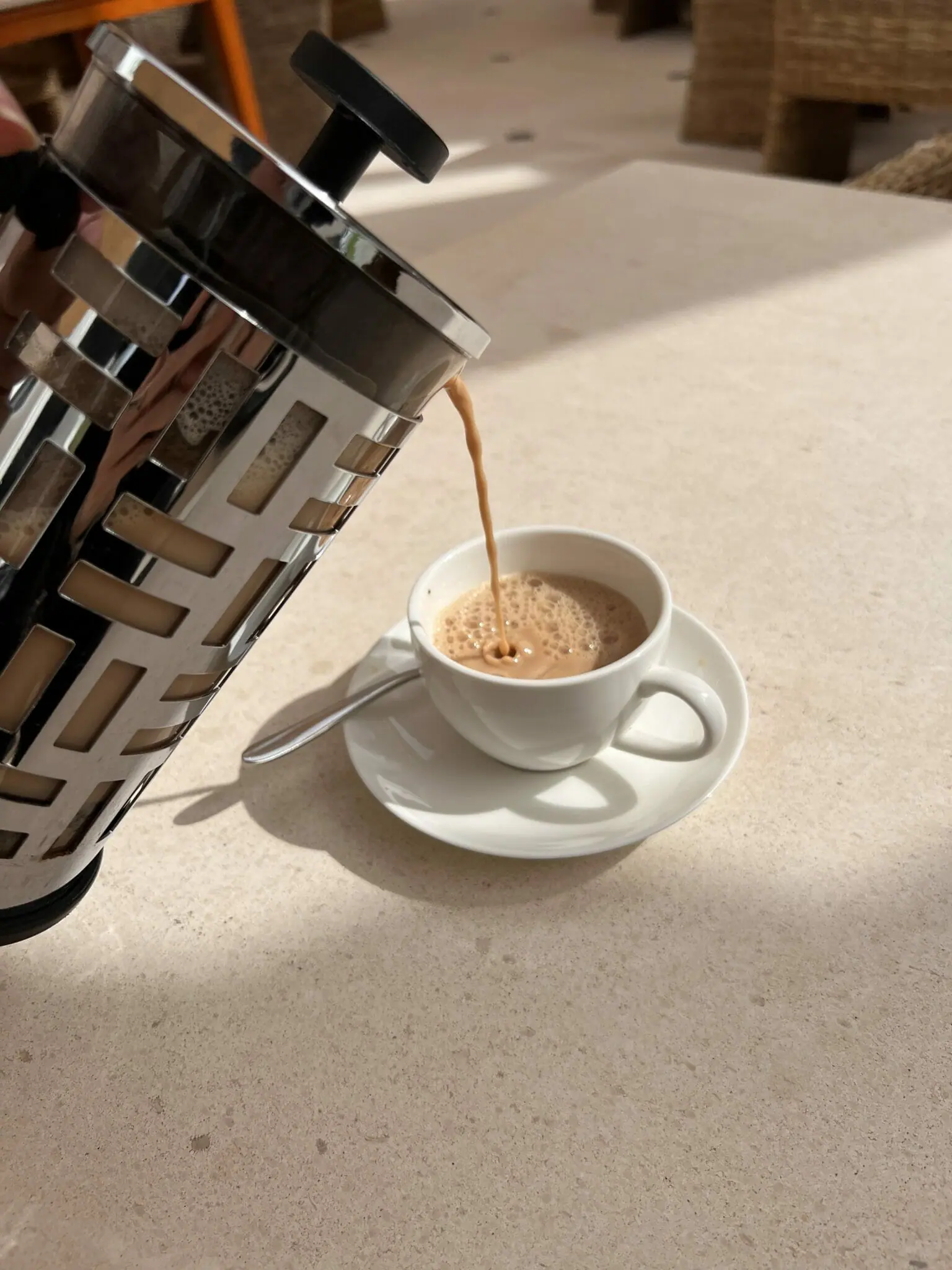 Al Bagla
If you're seeking a flavoursome, protein-packed breakfast, you can't go wrong with a skillet of bagla, a tasty breakfast plate prepared using boiled and dried fava beans, customarily eaten with bread, an eggy omelette and perhaps some fresh vegetables thrown into the mix. Moderately spiced and tossed with herbs, the hearty plate provides plenty of fuel to get you through the day. Enjoy at local cafes and breakfast stalls, while you watch the morning rush go by.
Balaleet
Another breakfast dish that incorporates Omani food's ubiquitous use of sugar and spice is balaleet, an Emirati-style sweet vermicelli and egg omelet. Simple yet delicious, the juxtaposition of sweet and savoury offers a welcome contrast, with the noodles lightly spiced, and the omelette either tossed throughout or draped over the noodles like a golden cloak. Packing a one-two punch of protein and carbs, balaleet offers another tantalising taste of Oman, and will sometimes be served with sauteed onions, beans or potatoes.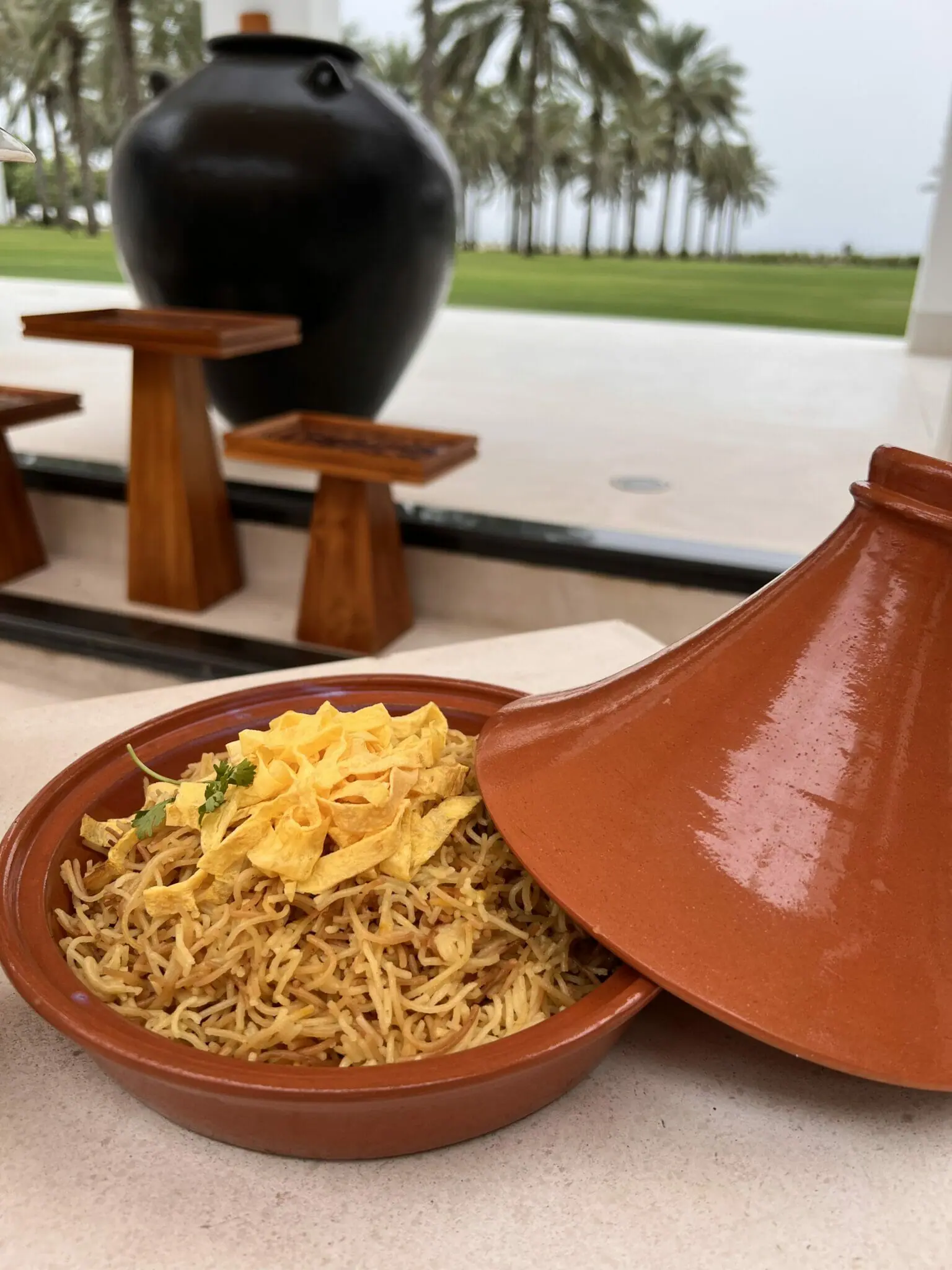 Filled with myriad spices and a riot of flavours, there's no denying that a food tour around Oman will take your taste buds for a ride. After a day of sampling all that the country's cuisine has to offer, there's no better place to fall into a food coma than at The Chedi Muscat, one of Oman's most luxurious properties, set amongst magnificently landscaped gardens.With 160 rooms and suites, this stunning property offers unparalleled views of the Hajar mountains and Gulf of Oman, while a total of no less than six restaurants and two lounges offers a further exploration into the sumptuous, mouth-watering flavours of the region.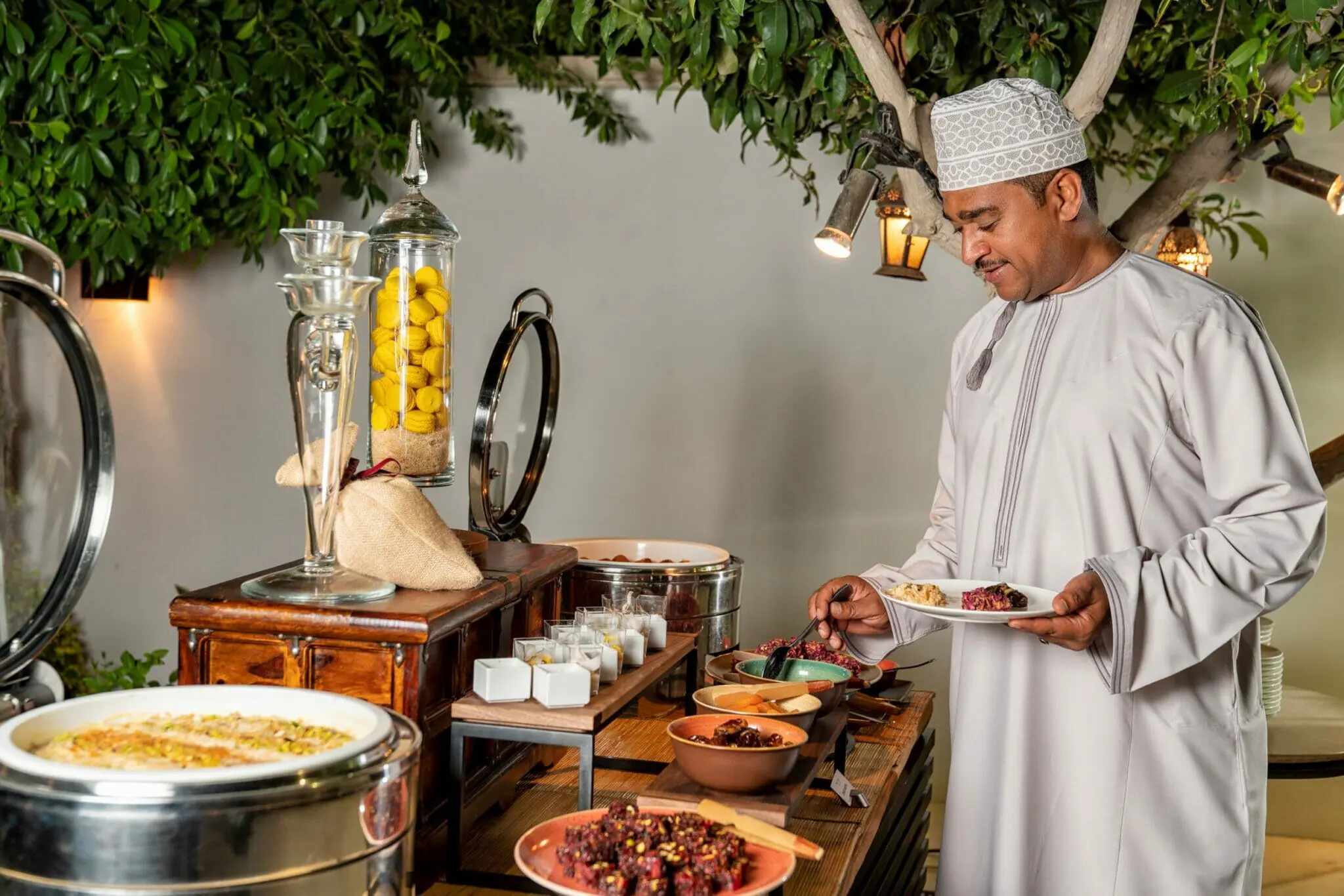 ---
They say people who love to eat are the best people. Eat like a true Omani the next time you visit us at The Chedi Muscat, and make yourself #chedimemories of gastronomic proportions to last until your next meal. Learn More.