A Sophisticated Respite
The Spa is divided into men's and ladies' sections with two treatment rooms for men and three for women. In each respective area, guests will find separate relaxation lounges, hammam, steam and sauna (the ladies' section also has hot and cold plunge pools) as well as individual reception areas and spa boutiques.
Indulge in rejuvenating oriental rituals for a luxury spa retreat during your stay at The Chedi Al Bait Sharjah, the first premium resort hotel in the UAE just a whisper away from the city of Dubai. Our spa and wellness packages include the following:
The Spa
Experience holistic wellbeing and revitalisation when you enjoy a luxury spa and wellness retreat in Sharjah. If you would like to incorporate wellness into your Arabian getaway, check our spa's opening hours below to effectively plan your itinerary.
Hours Of OperationDaily: 10:00 am – 9:00 pm (last appointment at 8:00 pm)
LocationAl Mareija – Block 2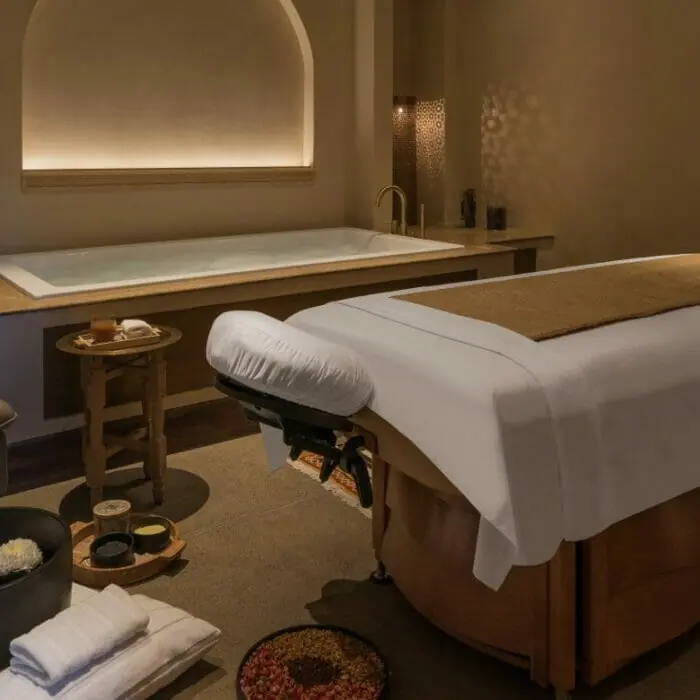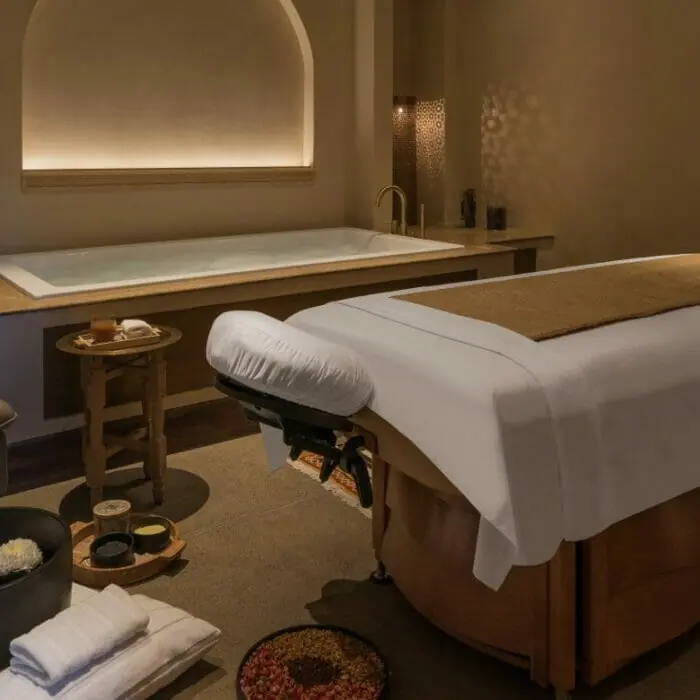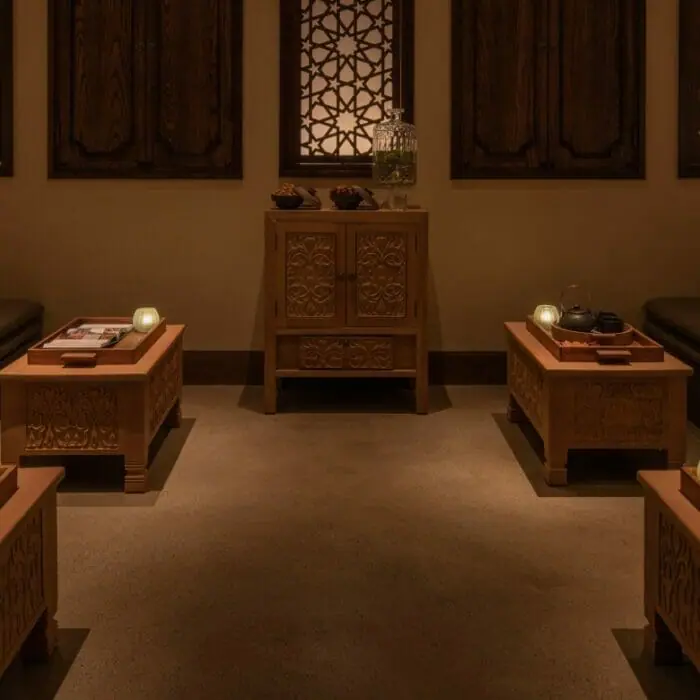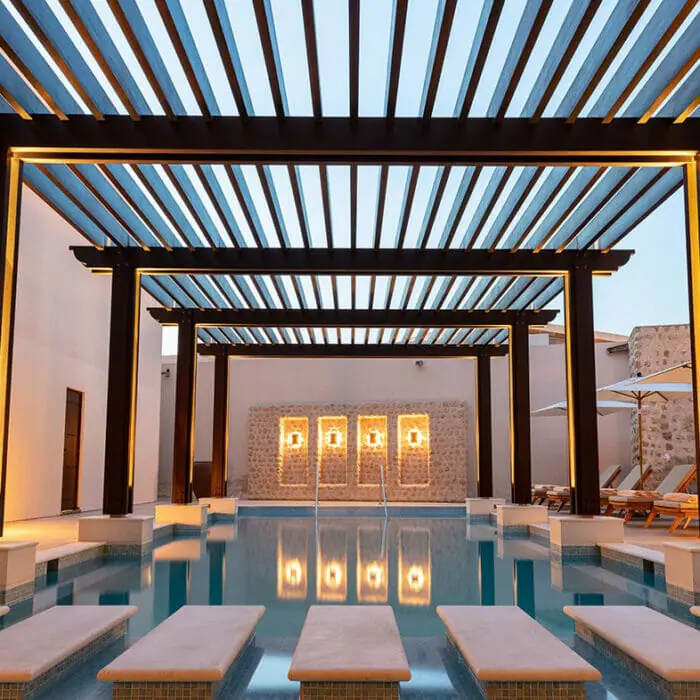 The Gym
Hours Of OperationDaily: 24 hours
LocationAl Mareija – Block 2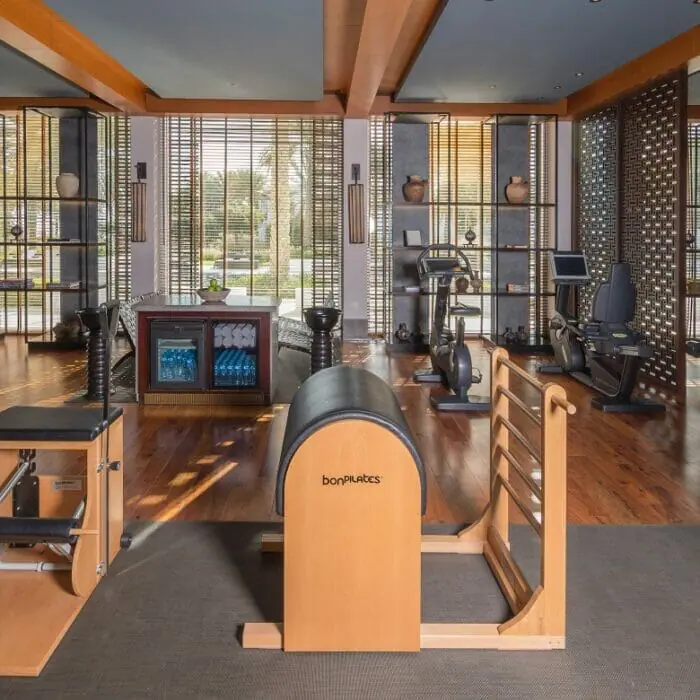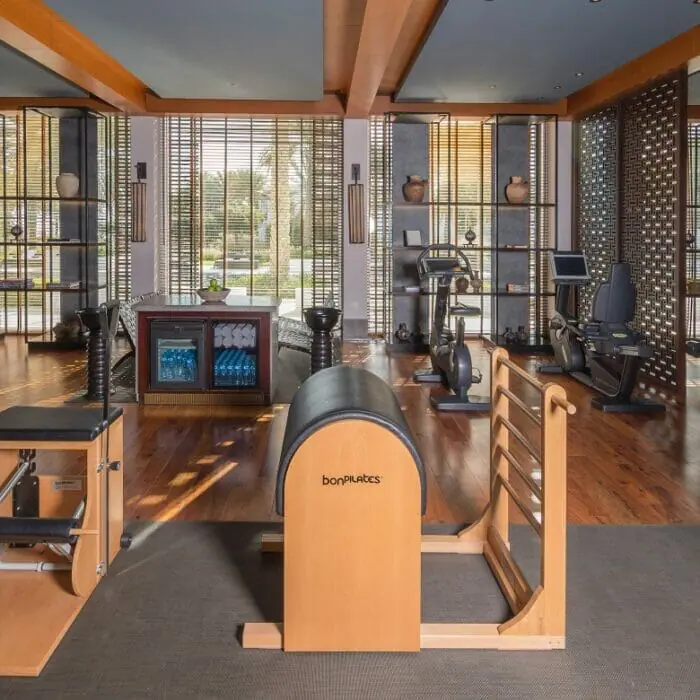 Ultimate Wellness Experience
Once you are sufficiently relaxed after a luxury spa and need a good wellness routine to complete your retreat, you can get reinvigorated at the world-class studio gym at our hotel's Fitness Centre nestled close by Dubai. With modern equipment to suit all fitness routines from cardio to weights, you can look after your mind, body and spirit all in one at The Chedi Al Bait Sharjah. Apart from the gym, 5-star recreational facilities such as the 15-metre long swimming pool provide options for guests looking to indulge in nothing short of extravagance at the Heart of Sharjah. We promise you luxurious comfort in this cultural capital city of the UAE.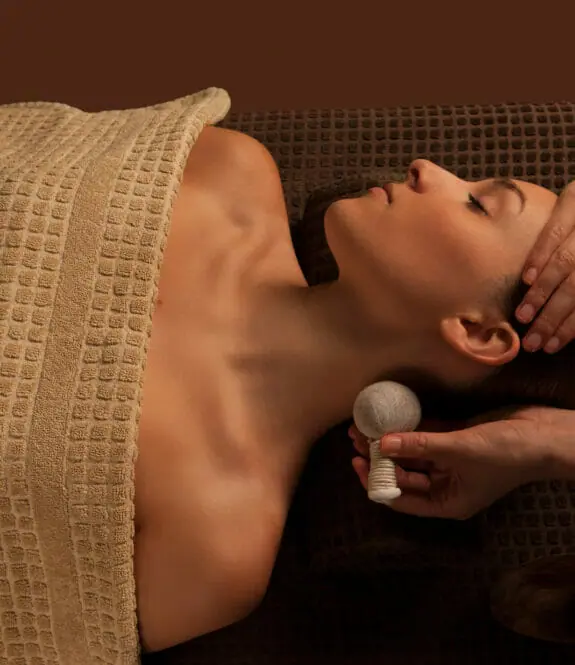 Beauty Refining Facials
Unlock the secret to youthful, radiant skin with exclusive Prickly Pear Oil Facials at our luxury spa centre. The Spa at The Chedi Al Bait, Sharjah uses exotic oils carefully extracted from the seed of freshly-harvested fruits. Expert technicians use these oils alongside precise and dynamic techniques to reduce the appearance of wrinkles, sculpt the contours of your face, and reveal a brighter, more youthful complexion while also providing a holistic sense of well-being through it all.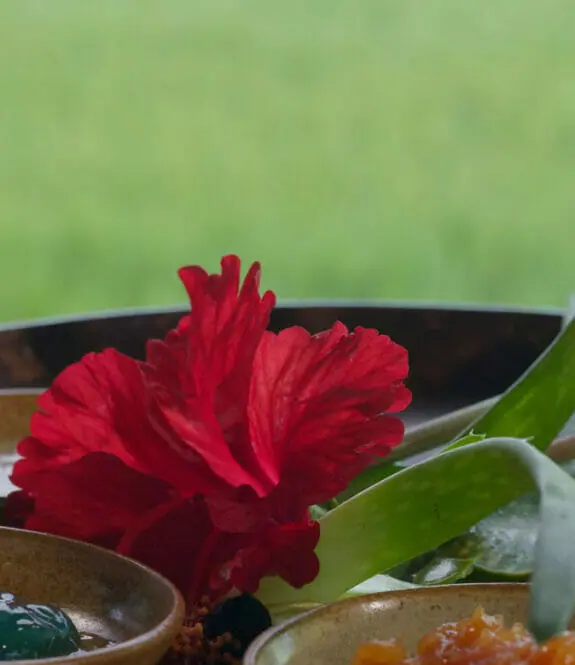 Reviving Body Polishes
Treat yourself to the ultimate indulgence with Miel De Ambre Body Polishes at our deluxe spa in Sharjah, in the vicinity of Dubai. Inspired by traditional black soap, gourmand exfoliating and detoxifying body balm frees your skin from toxins and dead cells, leaving it feeling purified and rejuvenated.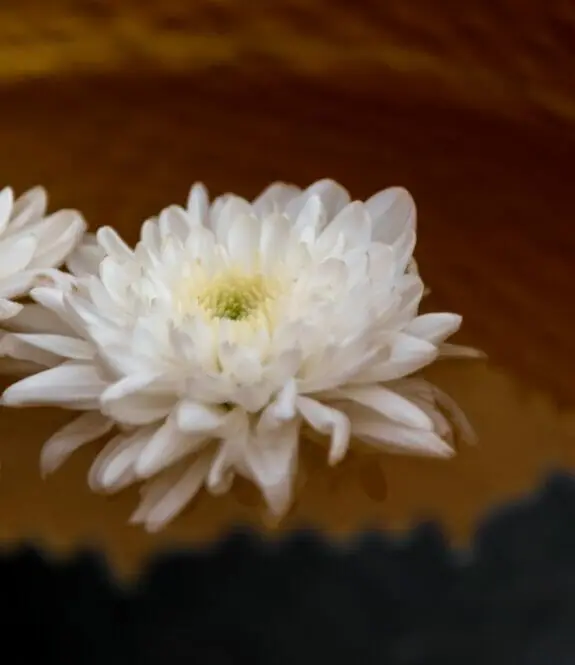 Purifying Envelopments
Indulge in the epitomising skin nourishment and hydration with our Roses De Sucre Hydration Envelopment at The Chedi Al Bait Sharjah Spa. This 60-minute body envelopment treatment wraps your skin in absolute comfort and softness with our rich body cream, leaving your skin feeling utterly moisturised and rejuvenated.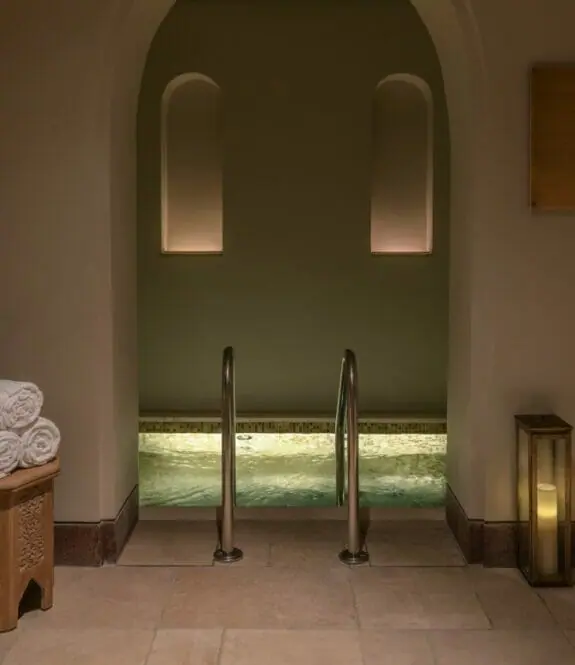 Relaxing Bathing Ceremonies
Unwind indulgently in our Therapeutic Whirl Baths at The Chedi Al Bait Sharjah Spa & Wellness Center. This 30-minute bathing ceremony is the perfect way to start or end any massage therapy, and is designed to bring therapeutic benefits to your body and mind. The use of French clay, organic argan oil, essential oils, and magnesium bath salts will tone, firm, and nourish your skin, while also relieving muscle fatigue and soreness.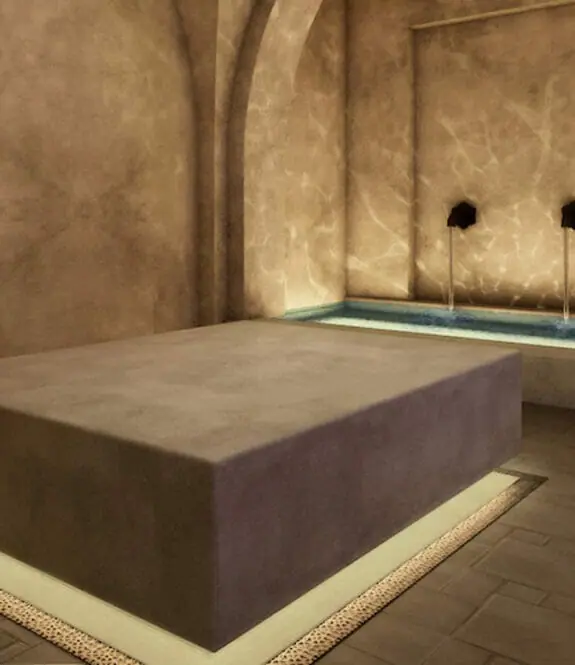 Deep Cleansing Hammams
Immerse yourself in enchanting beauty tales of Morocco with marocMaroc, and discover a universe of warmness, colours and fragrant landscapes. From our 60-minute Beauty Refining Facial Hammam Ritual to our 120-minute Ultimate Hammam Ritual, the expert therapists at our luxury spa neighbouring Dubai will use natural formulas free of silicone and mineral oil to deeply cleanse, exfoliate, and nourish your skin. Our treatments include a warm herbal steam, kessa glove exfoliation, facial scrub, scalp massage, and more.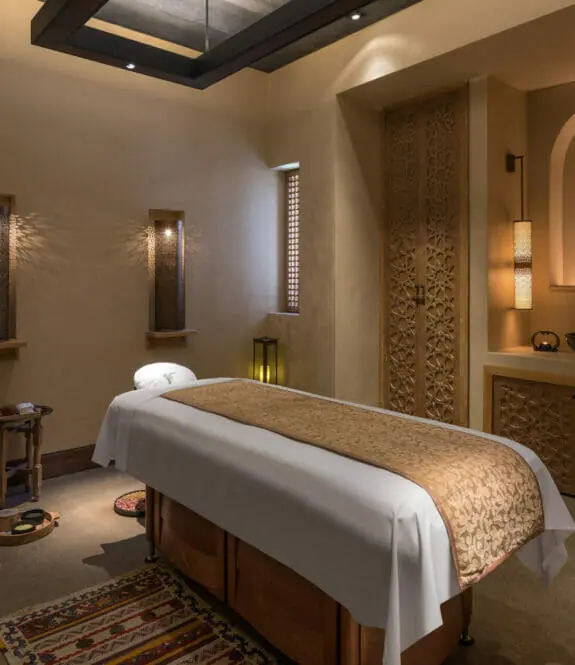 Therapeutic Massages
Experience the exceptional in relaxation and rejuvenation at The Chedi Al Bait Sharjah Spa & Wellness Center. Our therapeutic massages make for luxurious respite for individuals and couples searching for sensory serenity nearby Dubai. From the healing practice of Thai-style foot reflexology to our signature Chedi Massage, our expert therapists will use a variety of remedial massage techniques to dissolve deep muscle tension, soothe the spirit, and bring a sense of balance and well-being.
Find out more about our ladies' spa treatments and men's spa treatments at The Chedi Al Bait Sharjah Spa & Wellness Center.
Luxurious Spa Treatments
A sanctuary in the truest sense, The Spa at The Chedi Al Bait, Sharjah UAE opens the door to traditional Middle Eastern beauty and wellness, while incorporating the most effective healing secrets of the Far East. This luxury spa is an oasis of retreat from within the confines of our hotel in Sharjah, offering all the splendour of an escape in close proximity to the vibrancy of Dubai, right at the Heart of Sharjah itself.
Natural artisan products are used in our holistic treatments – which include stimulating body polishes, nurturing envelopments, rejuvenating beauty rituals and therapeutic massages. All are designed to pamper and restore.
Our luxury spa and wellness facilities span a total of 500 square metres across The Chedi Al Bait, Sharjah, and are some of the finest near Dubai and in the UAE.